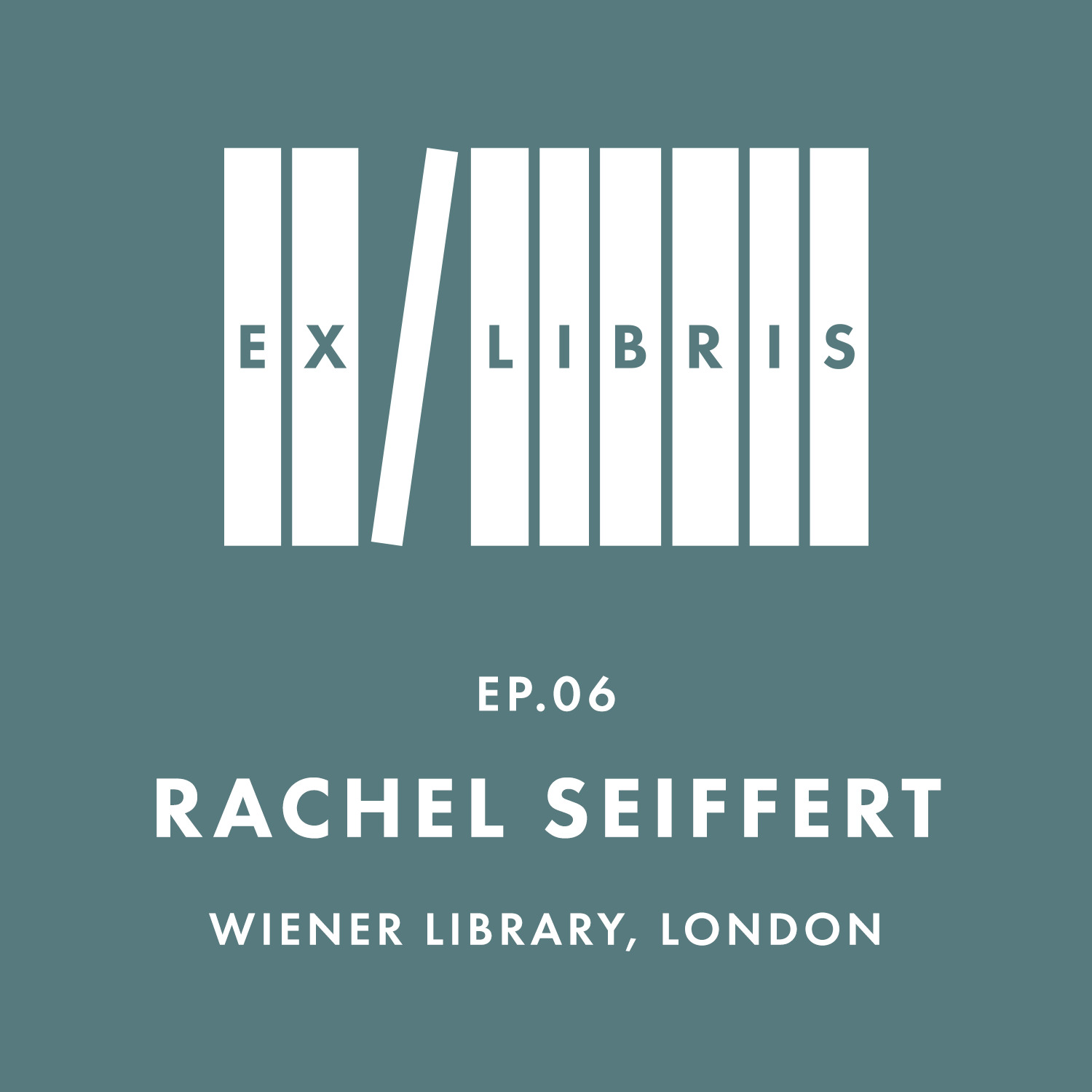 The library featured in this episode of Ex Libris is truly inspirational and remarkable. It is a shrine, a beacon, a memorial. Sacred ground, no less.
Moreover, the conversation that takes place there - with acclaimed novelist Rachel Seiffert - is visceral and compelling.
The Wiener Holocaust Library - found in an elegant Russell Square townhouse in Central London - holds one of the world's leading and most extensive archives on the Holocaust and Nazi era. Formed in 1933, the Library's unique collection of over one million items includes published and unpublished works, press cuttings, photographs and eyewitness testimony.
It is a place that holds huge resonance for Seiffert: a fertile ground of inspiration and a professional home-from-home. Moreover, the library afforded her a voyage of self-discovery at a key time.
Rachel first entered The Wiener in the hope of discovering the truth as to her German grandfather's activities during the Second World War, in which he served as part of the Waffen SS. That visit - as a somewhat 'lost' 20-something - would change her life. For Rachel found not only acceptance of that existential need to excavate her family's past but also a pathway toward becoming a writer. The debut novel that emerged from her family research, The Dark Room, would be shortlisted for the Booker Prize.
Rachel has since been shortlisted multiple times for the Women's Prize, won the prestigious EM Forster Award, and been selected as one of Granta's 'Best Young British Novelists'.
She here charts that journey, as well as her own research and writing processes, with tremendous verve, speaking very movingly of her own family history.
With the help of Howard Falksohn, the Library's Senior Archivist, Ben and Rachel explore The Wiener's fascinating past and crucial ongoing legacy. The expansive conversation takes in the parallels between our own age and that Nazi era of the 1930s, as well as an exploration of how history doesn't so much repeat itself as send the present warnings. Biblioclasm - the burning of books and historic destruction of libraries - is discussed too, as well as the positive lessons of restitution and reconciliation that institutions such as The Wiener can provide to us.
Plus Howard Falksohn explains the fascinating, exacting processes of how his team go about sourcing - even sometimes from rubbish skips! - the personal documents that preserve 'the lives of others'. Howard elucidates how he sets about archiving for posterity the genocidal crimes of yesteryear.
Lest we, or future generations, should ever forget.
...
A full transcript follows below of this episode of Ex Libris, featuring Rachel Seiffert:
Welcome to Ex Libris, the podcast that, with the help of the greatest writers around, champions libraries and bookshops. These are our society's safe spaces, particularly libraries - they are palaces for the people, free of charge, where everyone is welcome and nobody judged, yet they are in peril. My name is Ben Holden, writer and producer, and, more to the point, fed up with this state of affairs, so in each episode of Ex Libris, I will be meeting a great author in a library or bookshop of their choice, somewhere that has become resonant for them, and I hope that after you have listened to this episode, it will feel special to you too.
Introduction
Ben Holden:
Here I am in Russell Square, Bloomsbury, among the University College London and SOAS students walking by. I'm about to enter one of the stately old town houses here, for quietly behind the elegant, but unassuming, facade is a very special library.
I say library, but this place is also a shrine, a memorial, a beacon. It's a really sobering and serious institution, yet also a truly inspirational and humbling place to visit. I'm thrilled that Rachel Seiffert, the greatly acclaimed novelist who's been up for Booker and women's prizes for her fiction multiple times, as well as being one of Granta's best young British novelists and the recipient of the prestigious E.M Forster award from the American Academy of Arts and Letters is speaking with us today, alongside the library's head archivist, Howard Falksohn, and they're ready to talk with us inside, so in we go.
Interview:
Ben Holden:
Rachel, Howard, thank you both so much for joining us today here in the Wiener Holocaust Library. Rachel, this is a very special place. What does it mean to you, personally? I know you have a strong attachment and history here.
Rachel Seiffert:
Well, actually, I first came to the Wiener in its old location on Devonshire Road which was a townhouse; there it was a dark, cosy, a bit dilapidated, I say that very fondly, place full of books and full of fascinating people who could guide you through the labyrinth that is the Holocaust. I researched my first novel there while I was very young, I was in my twenties and a bit lost and a bit in need of guidance, and so the Wiener, despite the fact that its collection deals with great darkness, was a very comforting place to go, and full of knowledgeable people.
Here, now it's moved to Russell Square, to another townhouse, so it's still sort of a tall stack of knowledge with books in the basement right up to the offices on the top; it's a brighter, lighter, more designed place, very comfortable to sit in, full of knowledgeable people still, so it's the old place reincarnated, I would say.
Ben Holden:
And, Howard, what about you? When did you first start working the Wiener?
Howard Falksohn:
I started using the Wiener library as a student back in the 90s. I was doing research for a dissertation here, first came across it then; later, when I graduated in history, I decided to do a postgraduate degree in archive administration, and then, having worked at a few local authority archives, a vacancy came up here in the late 90s, early 2000s, and that's when I first started working here as a professionally trained archivist.
Ben Holden:
And can you talk us through your role and what that entails, but perhaps also, for listeners who may not be familiar with the library or its work, a little bit of the history of
the place and how it came to be, and Wiener himself?
Howard Falksohn:
Well, we go back to the 1930s. We didn't start out as a library as such, we started out as an information gathering bureau called the 'Jewish Central Information Office' in Amsterdam, in 1934. The remit then was to collect material that was documenting anti-semitism, specifically in Germany initially, but later more widely in Europe, and to inform the world what was happening.
And then just before the outbreak of the Second World War, the library managed to move to London, although not all the staff managed to escape. Our founder, Alfred Wiener, his wife and three children also didn't manage to escape, although they survived the war ultimately. But the library continued here in London during the war years, in fact, our main remit was to support the British government and its war effort. The remit kind of changed, and that's where most of our funding came from. If you look at the old library's visitor books, it tends to be the majority of users were from the British government, from various departments within the government, Ministry of Information and so forth; they would either access content within the library, or we would supply dossiers of information, and they would take them away. And of course, in those days, we would actually let out original documents, which is completely anathema!
Nowadays, of course, as I say, we weren't an official library stroke archive then, and of course, there was more prescient things to get on with during that era. The war came to an end, and then we started to really consolidate our holdings, and start the process and cataloguing in a way that is more consistent with being a library. And we focused on assisting in the Nuremberg war crimes trials, for example, we would help with information, supplying information, for prosecutors there. We also helped with restitution claims for survivors and refugees.
And another major project was gathering testimony for posterity, so we made a concerted effort to reach out to survivors for them to tell us their story. And it was quite a systematic and rigorous manner. So we would interview former refugees and survivors and transcribe those interviews, re-submit them back to the interviewee to make sure it's an authentic account of what they'd said. And then they'd be properly catalogued and indexed and ingested into our holdings. And that was quite an important project, because this was literally within just a few years after the end of the war. And of course, now, many of those testimonies have been digitised and translated and made much more widely accessible.
Ben Holden:
How many were there roughly?
Howard Falksohn:
About 1300. And they vary in length, some are book length and quite sizable manuscripts, others were shorter. But of course, in addition to that, people were actually offering us original documents as well, contemporary documents from the time. So when we talk about the Wiener Library Testaments Project, it's a bit of a misnomer, because they're not all testaments as such, some of them are actual contemporary documents, diaries or letters, things like that.
But that was just the beginnings of it. I mean, we've been collecting material for 60, 70 years. And if you ask me what I do now, which is one of your first questions, basically, my priority is to accession new material as it comes in, and we probably, I would estimate, I deal with between 50 and 60 new collections every year, coming in, approximately one a week. And of course, a collection could be 50 boxes from an organisation. Sometimes, people think we're only interested in the 1930s, but we're not, we're interested in anything and everything up to that point. So we have actually got material that goes back to the 18th century, not that many collections I have to say, but there are some, and some fascinating collections there. Of course, I just deal with the archival side, we also have a book budget, we're still buying books, pamphlets, we have quite a huge periodical collection as well.
Ben Holden:
And those testimonies are still coming in at the same rate? And what do you do when you get one have? Are you there to verify it, as well as, do you read, pour over everything, the ephemera, the documentation, everything?
Howard Falksohn:
Well, we get two types of content, we get archival content, original documents, which could be original letters, diaries, that kind of thing, and official documentation, documenting persecution, so in the 1930s, or it needs to be properly preserved in proper acid free folders and acid free paper like this kind of thing. Then, it needs to be described and catalogued according to an international standard, and that will get uploaded onto our website. And then and only then, can readers actually come in and actually access the collection in our reading room, in our invigilated reading room. There's quite a number of processes that need to be executed before you can make them available to readers, and part of my priorities is to accession new materials.
So when people contact me, I don't like to put them off and say I'm too busy, which I always am, and say, 'Oh, call me in six months', because they may either decide to give it to somebody else, or it can end up just being thrown out, because quite often people, second, third generation refugees who probably don't even read the language, maybe think 'Well, I can't find anyone else, let's chuck it out'. So I always prioritise them and say, 'When can we meet? When can we arrange to meet?', and there have been, there's one celebrated case where we actually found 19 pristine boxes in a skip in the street with amazing sort of original First World War photographs and these letters written home to their parents in immaculate condition which had been dumped by somebody who's making a house clearance. And so we rescued it. But at the time, I remember thinking, on the one hand, what a great result we've managed to rescue this archive. But on the other hand, how many archives out there do we not know about that had been chucked out, because by definition, what you don't see you don't know about. So that's another reason why I like to prioritise new material, because the thing about archival material, it's unique, unlike books, which you can, most cases probably obtain reprints of, or other copies, even sort of fairly rare items; with archives, by definition, they are absolutely unique and irreplaceable in that sense.
Ben Holden:
And that sounds like there's a fair amount of detective work involved. Rachel, you've done some of that here in the library yourself. How integral was the library to the construction of your novels? I should say, in particular, 'The Dark Room', which was your debut novel, and you've written several acclaimed novels subsequently. But 'The Dark Room', in particular, has a, as you described, you were there in the library when it came into being, the process is described in the novel, in the libraries in the novel as well.
Rachel Seiffert:
The library is absolutely in the novel, yes. And it's funny actually, the first question you asked is why is it special to me? It gave me permission to be curious, the library did. My background is, I'm not Jewish, I'm German by background, but I'm on the wrong side of history, because my grandparents were Nazis and it is extraordinary to come to a place like this which documents the crimes of my grandparents' generation, and the lives that they disrupted and blighted, and to feel welcomed, and to feel that my curiosity about the past is also welcomed, and that I can find help here. And that, to me, was extraordinary, as someone in their mid twenties in the 1990s when I first started writing.
Even Louisa, I have one of my characters talk about it, so one of my characters Micha is very curious about his grandfather's past. His grandfather is based, to some extent, on mine. He is curious about his family or his grandfather's role in the war, his grandfather was in the Waffen SS like my grandfather was, but he meets resistance from his family looking into the grandfather's past. But his sister, surprisingly, he thinks that his family is not curious, and then he discovers that his sister was actually for a while, and that his sister came to the Wiener, so I might read:
~
Rachel Seiffert reads and extract from her book, 'The Dark Room"
"I tried to find out about Opa too" Louisa tells him. The blood rushes in Micha's ears, he hears its high pitch singing over the hum of the fridge. They are silent for some time.   Louisa takes her hand away from her face. She looks like she will cry. 'Don't cry' thinks Micha. Sweat prickles under the skin on Micha's back.
"When?"
"While I was studying in London. There is a library there set up by a Jewish man, German. He fled in '33 I think. Anyway, they hold lots of information about the camps, survivors, about Nazis. They were very helpful, very kind. I used to go there every week. It made me feel better".
She is crying. Her voice is tight, pushed out of her throat.
"Better?"
"Yes, like it was okay. No, not like it was okay, I don't know. It helped."
Louisa smiles, wipes her face with her hands.
"And?"
"What?"
"What did you find out about Opa"?
"Oh, nothing".
"Nothing?"
Micha can't believe her.
"He wasn't on any lists. There were a couple of readers at the library, people with lists of war criminals, Nazi officials. They didn't have him. I called up one of the databases too."
"In London?"
"No, in this country."
"Yes, and?"
"Nothing".
~
Interview continues
Rachel Seiffert:
And I did that.
Ben Holden:
Yes, this was your process or a version of what you'd been doing at the Wiener, you'd gone specifically to investigate your own family history?
Rachel Seiffert:
Yes.
Ben Holden:
And in the novel, this section of the novel, because there are three, equally powerful but quite different, it's a sort of triptych; in this section, Micha's family and relationships begin to unravel as he investigates and becomes more and more obsessed, for want of a better word, of figuring out his grandfather's role in the war, what happened, what he did. Was this something that, again, it's not a memoir, but you know, this is very charged stuff within a family, was it a tricky process for you in that sense?
Rachel Seiffert:
Well, it was a tricky process, most definitely. But not so much with my family, because my family have always been very honest about it. There's never been a time when I didn't know it, it's how I always say, it never came as a surprise to me, because I was always told that my grandparents were Nazis. My mother came to the UK in the 60s, she had me and my brother, and so we grew up in Britain, but with very close connections to Germany - we went to Germany twice a year, I knew my grandmother very well, my grandfather died the year that I was born, but I knew my grandmother very well and loved her as well.   But I always had that knowledge about them.
Of course, a child's knowledge is very different to an adult's knowledge, and I have read more and more and more and more as the decades have gone by, and I feel there was a time where I had the same view of my grandparents as my mother. But, as I've got older, that has diverged somewhat. I'll give an example, my grandfather was in the Waffen SS, my grandmother was a social worker for the Nazi Party. My grandfather's brother was boss basically of the 'Reich's erste Kammer', so he was the deputy to Leonardo Conti, Chief Doctor under the Third Reich, very high up. So he would have known about the experiments conducted by Nazi doctors, for example. Leonardo Conti was one of the people who conducted experiments on camp inmates to see how they would respond to very low levels of oxygen, in order that they could see how high pilots could fly without requiring oxygen. And so many people died extraordinarily painful deaths because of this man's curiosity in the service of the war machine, and my great uncle was absolutely part of that, he would have known about all of that. But I was introduced to him, I knew him when he was an old man, and living on an estate outside Hamburg, and he had a donkey. He was a friendly old man, and my mother's relationship with him is that of friendly uncle. His own son says of him that he should have stood trial at Nuremberg, and he didn't, because, for various reasons, he didn't.
I was discussing this with my mother recently, and she said she was fine with the idea that he never stood trial. And I said, "You can't say that. No, Mum, you can't say that". So we have diverged as time has gone on. But at the time when I was researching 'The Dark Room', I knew enough about what my grandfather had done, that had come to me through my family.
Ben Holden:
Right, they were fairly open about it?
Rachel Seiffert:
They were open about it, so it wasn't like I was opening doors in the family house that were supposed to be kept closed.
Ben Holden:
And yet, the actual minutiae or gory details, or whatever the right wording is, of what he actually did, those are still doors that are going to be full of darkness once inside, potentially, and difficult for a family to deal with?
Rachel Seiffert:
Absolutely. So, for example, the way that my mother deals with it, is she says he was a doctor in the Waffen SS, we're talking about my grandfather now, he was a doctor in the Waffen SS, and we don't know whether he was involved in any massacres. We just don't know that. He's never come up on a list anywhere, the discussions that my uncle had with him and with the men who were in Russian captivity with him have never revealed anything, but then they wouldn't say anything, would they?
The way my mother deals with it, she says, he was a soldier in that criminal war and a doctor in that criminal war. So he would have patched together men who would have gone on to commit crimes, and therefore he is culpable. That's my mother's way of looking at it. My way of looking at it is, there is no way that he was not involved. He was in the Waffen SS, the Waffen SS is a criminal organisation by definition. I don't know, I don't have any evidence that he committed a war crime, but the likelihood is, or the likelihood of him not having committed a war crime, is vanishingly small. On that level, we have our differences, my mother and I.
Ben Holden:
And so, when you were investigating this and researching what became this novel, you came into contact with Howard or were you doing your own detective work, or how does that process work?
Rachel Seiffert:
So Howard probably would have joined just after, right?
Ben Holden:
But you went to the Wiener?
Rachel Seiffert:
Yes, absolutely. And then there were people who held lists of Nazi war criminals, for example, they would have their details up on the notice board with a number to tear off like you used to in the days before mobile phones. People also, you know, have their own informal archives, I guess, and the Wiener gave me access to people like that.
Ben Holden:
There's a very powerful other stretch in your novel, in the library, when Micha is, it's not, I don't think, the Wiener library, it's a different library that he's using, and it's his process which, if you don't mind, I'll read:
'He writes again, pressing hard with his pen, he underlines it. But even with emphasis, it still feels feeble, all wrong. Micha thinks his notes should say more not less than the books, should reveal something about himself, but beyond discomfort, he has nothing to show, no ready response. Micha thinks, 'She was Jewish', but when he writes the words down, they look so cold and indifferent, he quickly turns the page. Michael is frightened by the quiet of the library, the cool distance of his notes'.
There's a reaching there for your protagonist, and a frustration, as well. It's not sufficient this process, it's never going to be enough. Was that again, in line with your own experience was this quite a frustrating situation that you were in? And however hard you try, it wasn't going to be sufficient. Was that a feeling that you were....?
Rachel Seiffert:
Yeah, I was never going to find certainty, one way or another. And then, over the course of certainty about what my grandfather did or didn't do, for example, and then over the course of the writing and the research, it occurred to me that I do have a certainty. There is never going to be an absolution, he was in the Waffen SS, you're not in the Waffen SS if you're an anti-Nazi, you're just not. So he is culpable, and I have to own that.
Ben Holden:
And I think it's borne out moving sideways in your style as a writer in that novel, and it's a sparse style that is carried through your other novels, but from what I can tell, this one in particular, and perhaps this is just your evolution as a writer, whatever, changing times in your own approach, but it's so lean, it's so spare in the diction and syntax, there's a sort of forensic quality to it, and urgency, immediacy, etc. Is that again, borne partly out of, of course, it's the writer's MO to construct the perfect sentence and be as rigorous as you can to not use words in the wrong way or shape or order, etc, but is it borne out of partly what we're just talking about, in terms of you need to get this right, forensically as well?
Rachel Seiffert:
Yeah, I mean I do, I made decisions, such as it was going to be written in the present tense. So Helmut, the first character, so it's in three parts, and seen through three different characters' eyes at different times, so Helmut is in Berlin in the 1930s, and during the war, and Laura is in the weeks immediately after the war, a young girl travelling across destroyed Germany, from Bavaria to Hamburg to get home. For example, her journey is a journey, a physical journey across Germany, but also a journey of realisation of what her parents have done. That had to be in the present tense for the pace of it to be sufficient, but then I kept the present tense even though Micha's looking into the past, because it was about that internal journey that he's making, and the insistence and the urgency of that internal journey. And yes, it was, it was about trying to nail exactly how he should feel about this grandfather. What did his grandfather do? Nail that for a start, and he was never able to nail it, only to the extent that I'm able to nail what my grandfather did or didn't do, but also what position you should take on that, and how you should feel about it in the end.
Ben Holden:
And one offshoot or corollary of the style is that when your characters, thinking particularly of Laura, when it's her birthday, and she's on the ferry, and breathing in the air, and looking into the horizon, there's a release there. It's so tightly wound, because it's so to the bone, their lives are to the bone. Your writing is so lean and mean, I mean that in a good way, to the bone equally. It's visceral, and the story, as much the plotting etc, is so confined and oppressive, but exciting as well as a reader to, you know, you've got such a grip on everything, that when you let it go a little bit, it feels very cathartic. Was there equally catharsis for you? This was your debut novel, intensely personal. As you say, you'd entered the Wiener feeling slightly lost, perhaps. And then it was shortlisted for the Booker Prize, and hugely acclaimed, what was that experience like? Was that cathartic? Obviously, it must have been some satisfaction, you'd got something right, but how did that feel at the time?
Rachael Seiffert:
Honestly, it just felt really confusing and overwhelming, actually, you know, now looking back on it, and I'm extremely grateful that it happened, I was even grateful at the time; it's afforded me the ability to work as a writer, that's not something, not a gift horse to look in the mouth, definitely not. But it was, as you say, it was incredibly personal. You know, I came into the Wiener, and I said to one of the librarians on the desk, 'My grandfather was a Nazi, and I want to find out about him', and, you know, with my heart in my throat, and it was so normal to him. You know, there was just no judgement - that was an incredible relief. But being very public, even though I never said this was based on my family; at the time, I was entirely silent about that it was based on my family, but, of course, everybody who reads it is thinking this must be about her family, and I knew that.
There's a big difference between having a small, personal exchange with somebody whose entire professional life is about this subject conveying a sense of, 'You're alright, you're accepted' to having a very public declaration of 'My grandfather was in the Waffen SS'. So it's actually, it was just very confusing, very overwhelming at the time.
Ben Holden:
And then of course, it's called 'The Dark Room', and cameras, photography plays a huge role in, a motif, in the three stories. And then the second section of the book, Laura's story, was turned into a very fine film. So you were a film editor, or you've worked as an editor in film? Which again, speaks to your strip-back style, I would say. So there you have, okay, it's not Laura's story, it's not as personal as the third section which riffs a bit on your own family, but there you have the fictional version of the true stories that we might find in the Wiener Library that you've created, being shot presumably in front of you when you're on set, etc, and seeing them up on the screen ultimately, how was that experience, again, for a film that's about cameras as well, and the cameras are rolling on your fiction?
Rachel Seiffert:
Actually the second story, Laura's story, is based on my mother. So my mother was in Bavaria...my mother's family from Hamburg; they were, after the fire storm, they were evacuated to Bavaria. And at the end of the war, when the Americans came into Bavaria, my grandfather was already in Russian captivity, and my grandmother was taken into American captivity. My mother is the eldest of four, and she had to make the journey up to Hamburg to reach her grandparents. It's different than in the book, because my family were, they had a maid, so they were not alone when they made the journey, and they made the journey slightly later, when the trains were running again, when the allies had got transport up and running, so it was quicker.
There are elements in there that I took from my research, but there are also many things that happened to my mother on that journey. I remember the first time watching the film, I had my version of this story running in my head alongside this film that was unrolling in front of me on the screen, and there was a certain dissonance. It took me a while to just look at the film on its own merits. And I agree, it's a very, very fine film. For my mother, who was sitting in the same screening, she had her actual experience, my version of her experience, and then this film that was unfolding, so she had, you know, three things to separate out. She likes my book, and she also thinks it's a very fine film.
Ben Holden:
And there's enough this, okay, it could thoroughly do someone's head in, but there's enough distance because of those layers of narrative and refashioning that she could perhaps watch with some objectivity?
Rachel Seiffert:
Oh, absolutely. Some changes were made in the film, so they don't arrive back in Hamburg, for example - bombed Hamburg would have been far too expensive to recreate. So they end up further north, the family in the film are from further north, from Husum, that's a very marshy area, and so one of the final scenes in the film is crossing the [-], which is, you know, basically a tidal lagoon, and you can only cross it at a low tide, but obviously, it's still very muddy and difficult to navigate. And my aunt said, it was exactly right, because even, you know, as a small child, she arrived back in Hamburg, and all certainties had gone in her life. Her parents had been taken away, the country that she thought was a great country was the pariah of the world. She said it was like the ground shifting under your feet, it was like the mud of the [-] of Husum. So she said it was, for her, the metaphor for her experience, the film was perfect.
Ben Holden:
Well, that's a relief, but also, it must be very moving for you. And going back to your style for a moment, it's a little reminiscent of Cormac McCarthy, in my mind anyway, and you have this wonderful quote from his novel, 'The Crossing' at the front of 'A Boy in Winter', your latest novel, which covers different, but similar, terrain; the quote is: 'He said the wicked know that if the evil they do is sufficient horror, men will not speak against it, that men have only stomach for small evils, and only these will they oppose'. It's brilliant. It's brilliant, but cuts to the quick of quite a lot of what we're talking about, obviously hence why you put it at the top of the novel. Is this something that seams through these novels, obviously for you and what we're discussing in the Wiener Library, do you think?
Rachel Seiffert:
Oh, absolutely. And it's that where we are now as well, in so many ways. I mean, when I read that, I mean, I've read and re-read Cormac McCarthy, I'm very flattered that you compare me, but while I was writing, 'A Boy in Winter', I read 'The Crossing' and that quotation just leapt out for me, it was just like this is exactly what I've been trying to say forever and every day. I'm forever trying to write the small man in the massive horror, and how much do we see of it? How much can we act against it? How much are we able to do that? How much do we have the courage to do that? And what are the risks involved in doing that? The reason I wrote 'A Boy in Winter' was because I just felt like this is exactly where we are now, this unfolding of, or this dismantling of, what so many of us have thought was a liberal consensus, a post war, nothing like that will ever happen again. We have so much documentation, why would anything like that happen ever again. And yet, we have anti-semitism on the rise, we have populism in all its awful incarnations on the rise. This huge evil made up of so many small evils, how many of us small people are doing enough against it?
Ben Holden:
There's a very amazing moment in, going back to 'The Dark Room', again in that third section of the novel as Micha looks into his grandfather's past, when he comes across a collaborator in Belarus, and this character explains his actions or tries to rationalise his actions against the Jewish as a collaborator, and his guilt somewhat, at least, by saying that the Nazis fed him a lie that made sense. It's a line that is brilliant in terms of that character, and understanding their psychology, but also really struck a chord with me, as it does feel like that corresponds with a lot of the untruth that these populist governments are feeding electorates. And yet, sometimes voters know they're lies, yet they make sense, they offer some sort of restitution, or speak to a sense of betrayal they may have, again, we've, you know, it's a well worn parallel with our age and the '30s post-crash sorts of forces, but I was very struck by that parallel.
Rachel Seiffert:
If you look now at what's happening, I mean, I actually think we should leave the European Union, because that's the democratic thing that was decided. So we should do that. I say that with great regret.
Ben Holden:
Yeah, because it's also sense that we don't learn anything from all these mistakes and this past, and history lives in the past, but memory lives in the present. And this place is, I've heard that you point out that you've lived in Germany, right? And the German word for Memorial, there are two meanings.
Rachel Seiffert:
So you have 'Denkmal', which is the call to thought, a memorial called to thought, and you have 'Mahnmal', which is a memorial to warn. And we're not looking at the warnings. History doesn't repeat itself exactly, of course it doesn't. It feels such a parallel to the 1930s, because I know people in Germany also, at the time, I've read enough diaries of people at the time who were looking at what was happening in their democratic structures, and saying 'How do we stop this'? and people were rationalising that it was okay to be putting the Nazis in charge, because it was better than the Communists. You know, so there were all these strange rationalisations for eroding democracy and it ended in mass murder. And it didn't even have to end in mass murder for it to be appalling. You know, even if the Nazis had never gone beyond the German borders, even if the Nazis had stayed within the borders in 1938, 1939, the crime against the German Jews would have still been a crime. So you erode democracy, at your peril, I say.
Ben Holden:
And we say that we're not learning from the mistakes of the past, but as I mentioned, you've lived in Berlin, or you've lived in Germany. My brother lives in Berlin, I've been there a few times, but Germany, it feels to me when I'm there that they do confront their past and they do try and learn as a society. Do you think that's fair?
Rachel Seiffert:
Yes, I do think that's very fair. However, it's not, horribly, I mean, I used to think this kind of thing would never happen in Germany. Germany is the last country that would fall prey to populism again. That was my very overconfidence for decades. But, you know, the AfD have got 25% of the vote, and they're using exactly the language, exactly the language that the Nazis used. And I know they're also doing it as a provocation, but they're still doing it and still getting votes for doing it. That's the terrifying thing. So they talk about 'Lebensraum' for goodness sake, you know, the AfD talk about 'Lebensraum'. They use that word, and they get votes. So Niklas Frank, you know, Stern journalist and son of Hans Frank, the Gauleiter of Poland (in WWII), he wrote recently, I mean he must be in his eighties now, Niklas Frank, he wrote a really blistering attack on the AfD for their terminology, it's terrifying. You know, it's not only terrifying that they use these terms, but it's more that they get votes on the back of it.
Ben Holden:
It's astonishing that they can, but again, it's a sign of the times that a word like that, which really should be completely off limits is being trotted out.
Rachel Seiffert:
I've never allowed a swastika on my book covers anywhere, but in the UK and in the US, book jacket designers have put them on there and I'm pleased to take them off, but in Germany, that's banned. You would never have a book cover with a swastika on it. So, in Germany, there is a heightened sensitivity to the use of that sort of terminology, to the use of the iconography of Nazism, and yet, the language is back.
Ben Holden:
And your fiction is often, or seems mostly, a lot of your inquiry in your fiction is about the dispossessed, and the people who are left behind by society, and these people are the ones who often bear the brunt of a lot of what we're talking about, the lies that make sense, etc, I don't think that's an unfair observation, do you?
Rachel Seiffert:
No, not at all. I've sort of skated closer and closer and closer to trying to write from the ordinary German's perspective, I guess. But I've skated closer and closer and closer towards people who were aligned with the regime, whether willingly or unwillingly. All my protagonists in 'The Dark Room' were children or young people, and therefore, not conscious of being aligned with the regime, but then 'A Boy in Winter', I've got a civil engineer, he's an anti-Nazi, he doesn't like the Nazis at all, but within that system, he's found a way of working that means he doesn't have to fight for the regime, but he is still part of the regime and he is still using slave labour, for example; he's in charge of building a road through the occupied territories, so he's in stationed in the Ukraine. I had to withhold from the reader for as long as possible, the knowledge that he's using slave labour, because I wanted the reader to like him, and then for that to be revealed bit by bit. And in the new book that I'm writing at the moment, it's a similar character in that, you know, somebody who has gained from the Nazi regime, and then has to, after the fact, come to terms with that themselves, or come to an acknowledgement of their own culpability. But the difficulty is, is getting the reader to like them in the first place. So you have to withhold a certain amount of information about them, and it sometimes feels like you're duping or a manipulation of the reader that goes a bit too far. But the reason I'm doing it is because I want readers to understand how you are also like a frog in boiling water, you yourself how much would you be aware of the temperature going up in that kind of situation? At what stage would you say 'Oh, no, it's just gone too far now'?
Ben Holden:
And at what point do we all become complicit? And you're also entangling us in those issues of morality, that people don't even realise, as you say, your protagonists, often, almost unawares, or, you know, things happen. Events move quickly. I mean, in their immediate personal lives, like all of us, and they're on the spot, and they're making decisions, which could have quite epic ramifications, in terms of the ripple effect on three generations of family etc, as in your case, or being swept up by the forces of the times.
Rachel Seiffert:
You know, how many of us, when they we vote for political party, let's say how many of us subscribe to absolutely everything in the manifesto? How many of us have actually read the manifesto for a start? We go on the basis of 'Oh yeah, my family have always voted for them, or they're sort of kind of like me, their general principles are like mine'. And there were hundreds of thousands of Germans who, or millions even of Germans, who, you know, didn't serve in the armed forces, didn't serve in the organisation, just thought about themselves as apolitical, as not political beings. And they voted for the Nazis, and then afterwards, had to, it took them decades to realise that the rest of the world now looks at you as being part of the slaughter, that's because you put your cross next to that man's name. And you know, because you carried on living your life, and life got a little bit better for you and, of course, your neighbours were disappeared, but you didn't really look at that, because life got better for you, and that you were part of the slaughter in the world's eyes.
Ben Holden:
And this place is a very strong sort of beacon and reminder of those individual stories, as well as the individual stories you process and look after and steward. Howard, as well as the bigger picture, and as Rachel said at the top, this building is a very light, very airy, you're sort of shining lights on things here and it feels very much like that in the interior. But it feels like this room we're in right now is a very pleasant and light room, but it's kind of a beacon this place in that sense, I would say. It's a very, very humbling place to visit as a, you know, visitor, I've come in here, but it's also quite empowering in a funny way, in terms of what we're talking about, in terms of taking ownership and responsibility for the past.
Howard Falksohn:
Yeah, I mean, I'm just thinking of the comparison with say, the Nazi party in the 1930s and AfD now; it's making me think, and I'm just thinking possibly then it's even harder to sort of get your head round, because they were quite blatantly anti-semitic and 'Mein Kampf' was already out there, so we knew what Hitler was about, what he wanted to do. And yet the AfD now, I mean, they tried to argue they're a broad church, don't they, so that's how they become more popular, I think; because, you know, there have many very right wing parties in Germany since the war, most recently you had the NPD, Republikaner…
And, in fact, in the immediate aftermath of the war, there was a party with some ex-Nazis in it as well, which I think got banned at some point. But I think the AfD, it has this very extreme, as you said, some of the rhetoric they use is very extreme. Not only do we document what happened 70-80 years ago, but we also subscribe to quite a number of current periodicals which are constantly shedding light on what's happening in Germany now. Not just Germany, but other places in Europe. So we do try to keep abreast of current events and let our readers make those comparisons, because we're not really here to make people's minds up for them, you know, we're here as a place where we can make our resources available to researchers and readers.
Ben Holden:
And you must be working in concert the whole time with institutions, similar resources in Germany, in particular, but all over the world?
Howard Falksohn: 
Yeah we do. I mean, in this country, we're fairly unique, but there are other institutions with similar collecting remits in France, Germany, most recently in Israel. We have a sister library there in Israel with similar collecting remits. Possibly ten years ago, we started to expand our remit to include post-Holocaust genocides as well. And so, the bulk of the material tends to be secondary material, but just recently, we've taken in an original primary source, from an NGO that was working in the Sudan, which has original drawings from children; they were asked to express themselves how they felt about the genocide that was going on in their country, and that's something that I'd be keen to obtain more of from other similar kinds of organisations, not least because they didn't know where to put this stuff - if we didn't take it, it may not survive. So it's very important that those things, and that's an ongoing genocide, I mean, I think just last year, there was more massacres going on. So going back to the point you made about, are we really learning from history? Well, clearly not in certain cases.
Ben Holden:
And yet, there's also a logic to the fact that to take on these sorts of forces, a library is, or an archive is, the best possible fight back, if you think obviously of the expression of Nazism or fascism, the truest expression, I think Orwell said, was burning books; and obviously, the Nazis destroyed many, many libraries. I believe a third of books in German libraries were destroyed under the Nazis regime and, of course, probably most infamously, those 25,000 non-German books burned in Bebelplatz. But again, these sort of examples of biblioclasm, they span, not just the Nazis, they go on through to Iraq, etc. today, and also they go back before Nazis, but to take them on, books and archives and memoriam is probably the best weapon surely?
Rachel Seiffert:
It's so important. I mean, it's important to have a place where people can come to feel like their enquiry, like I did, is legitimate and necessary and welcome. But it's also, you know, the collection put together helped at the Nuremberg trials. Having repositories like this is crucial, because, despite the fact that we seem to repeat ourselves, humans, we also do repeat ourselves in that we fight back against it, and some attempts are justice are made also throughout history, and, you know, we have to also remember that; and having places like the Wiener is instrumental in that, you know, in giving people the sense of community, like-mindedness, but also concrete evidence, places where things can be held that can be forces for justice in the longer term.
Howard Falksohn:
I think also libraries, in general, are more than the sum of their parts, aren't they? So people have argued, well, in the digital age, more and more content has been scanned and made available online. I know that the Leo Baeck Institute in New York has digitised all their archival holdings, and so you can literally sit back on your laptop at home and scrutinise all this material, but there's so much more to a library than simply those kind of de-contextualised documents that have been scanned and made available on your laptop. They're places where people can exchange ideas, and I was saying earlier that I've actually managed to put people together who have similar research interests who would never have been able to, had that chance meeting had they not actually come to this physical place. We have lots of events here, lots of gatherings where, again, people will rub shoulders with each other, and there is that sense that you really get more out of visiting a physical place than you would ever get by scrutinising stuff online. Even if we scanned our entire holdings and had them available online, it would only be a fraction of what we have to offer as a place, and that doesn't go just for the Wiener Library, that goes for libraries in general, I think it's fair to say.
Ben Holden:
Totally, and we've found that going up and down the country for this podcast, finding that libraries offer those safe spaces, non-judgmental spaces, whoever you are, as soon as you walk in, prince or pauper, you're treated exactly the same, or you should be, they're free at the point of entry as well, unlike most other places, and yes, they're non-judgmental, but there is also that resource or sort of collected memory bank that they offer local communities as well, which is so important. And obviously this is rich on a grand scale here and this is sort of sacred ground, this place. But those local libraries offer similar sorts of opportunities for people. And again, going back to the Orwellian, he in '1984' described, or at least the unapproved books in that novel were consumed by flames in a memory hole, and justice without memory is incomplete, in the words of Elie Wiesel. And this is what this place offers so crucially, isn't it?
Rachel Seiffert:
And also, there's, you know, the specialist knowledge here, people who are, you know, immersed in these archives all the time. So the reason I'm back here again at the moment is because I'm looking through the archives of the International Tracing Service, which houses I don't know how many million documents, 17 million displaced people after the war, and all the associated documentation with it, that goes with that. And the physical archive is in Germany, but there's a digital archive available here. You know, I can sit here for the rest of my life, looking through those documents, and it would take me forever to find the connections that I need to make a novel, and so the archivists here are instrumental, the conversations that I have with them, because they're familiar with the different strands of the collection. And also with, you know, one document will lead you to another to another, but they will find you that document that sends you in the right direction. It's the people, as well as the physical or digital contents of a library like the Wiener that are so crucial.
Ben Holden:
It's a pleasant place to visit as well and there's a brilliant exhibition space. If anyone listening hasn't been here, I highly recommend you come and check it out, if in the area, because there's some fantastic events like you said, Howard, but there's always a really, really riveting and interesting, and often exquisite, exhibition. There is one right now, photography downstairs.
Howard Falksohn:
Yeah, we tend to, every three months or six months, we'll have a new exhibition and then we'll have a series of talks and lectures loosely linked to that exhibition, so it might be more direct, it might be more kind of [-], but generally speaking, that's how we kind of model our talks and lectures. It's worth looking at our website for what's on next; there's nearly always something on every week, an event, or a talk, or lecture, or film.
Ben Holden:
Yes, highly recommended! And I always like to ask guests on, because we're talking so much about libraries and you're a pro, Howard, is your library at home, and Rachel, are your shelves, is your life archived meticulously and regimentally, Howard?
Howard Falksohn:
Well, truth be told, my archives, my current records are not too bad, there's a filing cabinet, but my library, if you can call it that, I know where things are, but nobody else does.
Ben Holden:
Rachel?
Rachel Seiffert:
I'm relieved, because that's exactly what my life is like, it's sort of loosely grouped into Australian fiction, because my dad was Australian, and German fiction in German and in English, and then everything else. And it's kind of higgledy piggledy, but I do know where things are, you know, you have a sort of visual memory or the last time I put it down was there, and it's on its side. Oh, yes, there it is again.
Ben Holden:
Thank you both. And maybe, if you don't mind, Rachel, we might go down with Howard to the Wilson Reading Room, which is a really, really lovely reading room, I have to say, having been in there, and you might browse the shelves and find a book, and whether that's something that's been seminal to you, your process or a new find, it would be great to discover that with you if you're up for that both of you?
Rachel Seiffert: 
I have something in mind already.
~
Rachel Seiffert is invited to select a book from the Wiener Library
Ben Holden:
So, you've gone straight towards…
Rachel Seiffert:
So this is where I've been sitting for much of the summer, which is looking into the International Tracing Service database. Every so often, I turn around and look to the books too, and found things that were important to my current research. But this morning, looking, I found something written by Beate Meyer about Hamburg; she's based in Hamburg, she's a historian part of Hamburg university, and has been very helpful to me in the past, and my family are from Hamburg, so I'm particularly interested.
Jews in Germany were forced into an association basically, by the Nazis, I think in 1939. My particular interest here is that my mother's best friend, post war, so my mother was a child of the Third Reich, my mother's best friend, post war, was a child of a mixed marriage. She became my godmother. So my middle name, I'm named after her. And so the child of a Waffen SS officer and the child of a Jewish - German, or Jewish - "Aryan", inverted commas, mixed relationship, became best friends in their teenage years. And I've always been very interested in my godmother's parents, so her father was categorised as aryan under the Nuremberg race laws and her mother was categorised as Jewish. So she grew up as a 'Mischling' as they were called then, but her father refused to divorce, so they lived a very difficult, very precarious existence, but it meant that his wife survived, and it meant all of his children also survived. Of course, had the war gone on for much longer, that might not have been the case, but, you know, the bravery of that kind of decision is extraordinary to me. Beate Meyer, I've done some research into my godmother's family and similar families in Hamburg during the period, and Beate Meyer has done a lot of writing, but this is a book that I don't know yet, and it's a history of the Reich Association of Jews in Germany, 'A Fatal Balancing Act', it's called, so these people were forced into an association, and were forced to administer, for example, the rations accorded to Jews; they were forced also, to a certain extent, to accept deportations, because they decided, for better or for worse, that it was better to go along with the authorities, in case they did something worse to people, so maybe it would be better that they go to Theresienstadt, than they are deported elsewhere beyond the Reich borders or beyond Germany, or that they are continually harassed in their homes, and these decisions now, with hindsight, seem catastrophic. But of course, at the time, people were operating within extremely tight parameters, and without the benefit of what we know now. So I'd be really fascinated to read about the lives of these people and some of the decision making that they had to go through.
My experience of coming here 25 years ago, to write my first book, and then 20 years later, coming back to the subject, to write another book, and realising the amount of scholarship that goes on all of the time and the amount of knowledge that you can draw on, it's really humbling, and the people like Beate Meyer have uncovered the history of the Holocaust in, you know, what I consider to be my hometown of Hamburg in the intervening period, until I now actually can know more than my mother does. Because even though she grew up in Hamburg, I can now access all of this and have discussions with my mother about what happened in her hometown that she didn't know about, because of the scholarship and the dedication of people like Beate Meyer and my association with the Wiener Library.
I'm continually humbled by the amount of writing and thinking and productivity that goes on around this pivotal point in history.
[END]
Thank you for listening to this Ex Libris podcast.
If you've enjoyed this episode, please rate, review and subscribe wherever it is you get your brainfood. That way, not only will you keep up with the podcasts, but you'll also help us champion libraries. To find out more about the authors and venues, as well as libraries and independent bookshops, please visit our website: www.exlibris.com You can also get updates on twitter and instagram. Find me @thatbenholden.
Write a really perceptive review, or big up this episode on social media, and you could win a signed copy of Rachel's superb novel, 'The Dark Room'.
Ex Libris is produced by Chris Sharp and Ben Holden.
Ex Libris is brought to you in association with The Lightbulb Trust - which illuminates lives via literacy and learning, providing opportunities to shine.