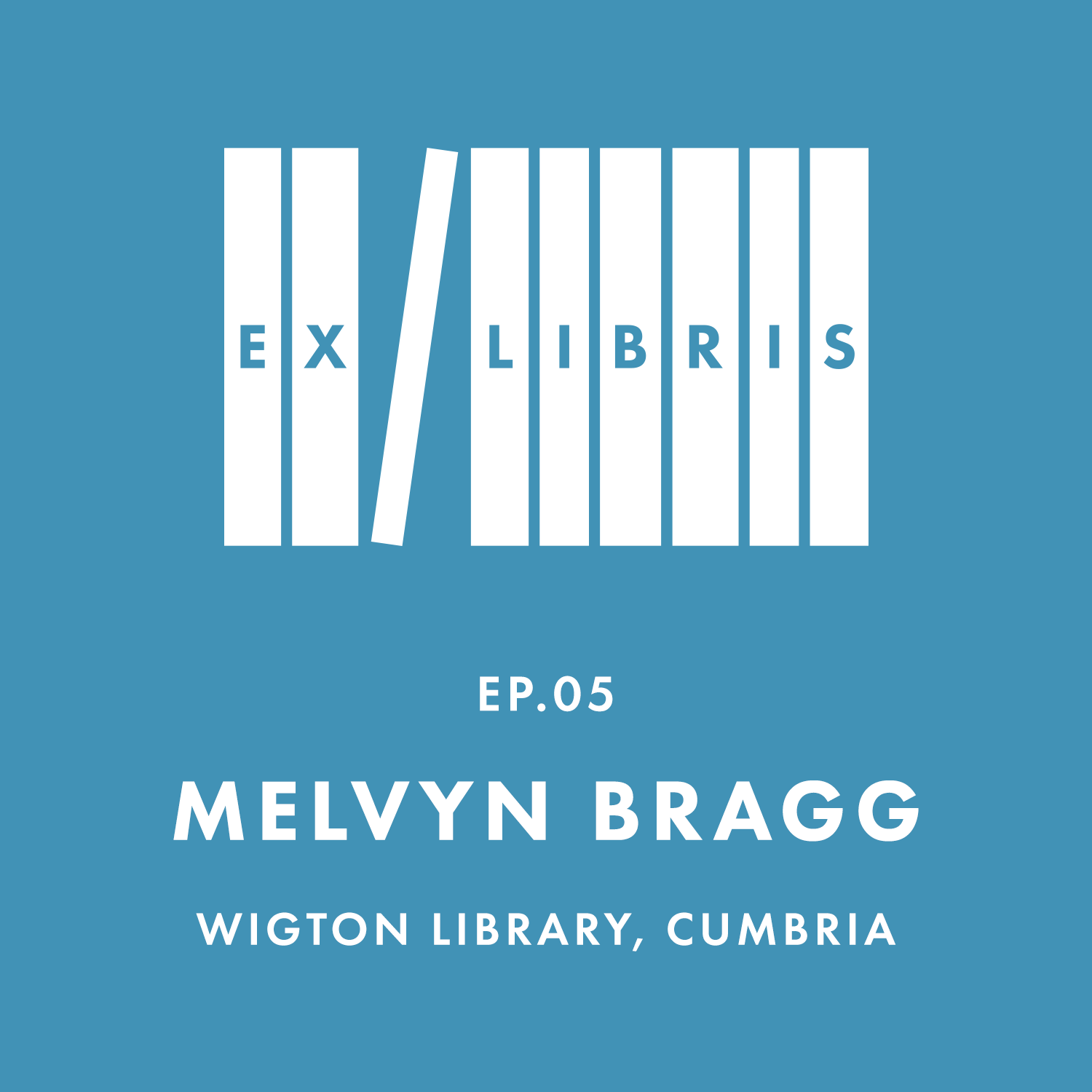 Melvyn Bragg is what people in Britain sometimes call a 'national treasure'.
The man is prodigious.
Notably for this bookish show, he has written several award-winning novels and works of non-fiction. In this episode, Melvyn discusses with Ben his bold latest novel, Love Without End.
Melvyn began his broadcasting career at the BBC in 1961. He has edited and presented The South Bank Show for the last forty years and chairs In Our Time on BBC Radio 4. He goes into the origins of both these mainstay programmes in riveting detail during this discussion, explaining how the beloved and enduring South Bank Show nearly got cancelled straight away…
An honorary fellow of the Royal Society and of the British Academy, Melvyn was given a peerage in 1998 and made a Companion of Honour in 2018. 
The drive and motivations that have propelled Melvyn Bragg can in many respects be traced back to his Cumbrian childhood. For this episode, Melvyn chose to meet at his hometown library in Wigton. He is still very much a part of the fabric of this beguiling market town. In fact, he opened this very branch library himself - back in 1975.
A 'local hero' then, you could say, as well as a 'national treasure'.
For the episode, Melvyn and Ben are joined by Kathryn Lynn, Librarian for Allerdale.
...
A full transcript of this episode of Ex Libris, featuring Melvyn Bragg, follows below.
Ben Holden:
I've always found the term national treasure a bit cringey if I'm honest, but today's guest does fit that bill.  His glittering qualifications for such status include honorary fellowships of the Royal Society and of the British Academy, a peerage awarded in 1998, and being made a Companion of Honour in 2018.  Yet, he's also a local hero. Indeed, I'm standing outside his hometown library in Wigton, Cumbria, which was opened in 1975 by, you guessed it,  said national treasure; he is, of course, Melvyn Bragg. 
So Melvyn joined the BBC in 1961, and he never looked back.  He's edited and presented 'The South Bank Show' for the last 40 years and chairs 'In Our Time' on BBC Radio Four.  He's also written several award winning novels, films and works of non-fiction. 
Kathryn Lynn, librarian for Allerdale region is waiting inside to talk us through the library, itself something of a treasure trove.  Melvyn still spends much of his time up here in Wigton.  I say he never looked back, and yet, he never really left in some ways.  And he has kindly come into town to join us today. So, without further delay, let's turn the page and start this conversation.  
Interview:
Melvyn, Kathryn, thank you very much for joining us today.  Melvyn, we're in your hometown of Wigton, but I have to ask, nevertheless, why here? Why Wigton library?
Melvyn Bragg:
Well, why Wigton, is the first part of it, and I was brought here when I was three days old,  brought away from the contamination of the city of Carlisle to the small market town in Wigton which had a population of 5000 people.  It was basically a market town, but there are two factories as well, one, as it were, for the men, one for the women;  women worked in a clothing factory, and the men worked in a factory which made that paper used to go around cigarette packets.  Otherwise, it was a market town, and it still is a market town, and there were great auctions in the place for cattle, for pigs, for horses, twice a year.  And it informed my imagination ever since.  It seemed to be a perfect town for a child.
I was brought up, first of all, at the bottom of a street called Union Street.  I don't remember anything about that.  We went down through an archway into a little yard, and there were four houses - each had one room upstairs and one room downstairs.  You shared a wash house, you shared a lavatory - I don't remember that.  That was when the war had just started.  My father went away to war, and we moved into another house in Council House Yard, down Station Road, which is an old house, but it was much, much bigger, but about three families lived there; my mother had been fostered there and other foster children had stayed there, and then others turned up, and that was an amazing place, and I've just been writing about in the last few days, actually.  It was an amazing place for trying to work out who was who and what was what - all these uncles who are not my uncles, aunts who are not my aunts, cousins who are not my cousins;  relationships that were completely false, and taken for granted, and very benign on the whole.
But in the corner of that yard, to come to the library, was the Wigton library;  the fire brigade were in that yard, and the man who cleaned the town with a brush and shovel, and there was a horsebox in the yard, there was an estate agents in the yard.  And that was the yard where everybody on Station Road, which was quite a long road, all the women could hang their washing on Mondays, so it was like some kind of Ingmar Bergman ghost town then - you tried to get to your house by going through the sheets without dirtying them.  And in the corner was the library;  you went up some steps and the library was run by Mr Carrick, the town clerk, and he was a fervent Wigtonian; he edited books of Cumberland tales, he spoke the dialect very broadly, but very clearly, so you understood what he was saying.  He was a big figure in the town, he was very helpful to me.  So, I would scurry down, it's only about 30 yards down the yard;  he would say, "Read this, read that, read the other".  So that was my first library, and it was a very fond memory because he was such a nice man. 
And the second library in Wigton, when that library closed, was the Quakers library.  There's 12 denominations of religion in this town of 5000 people.  The Quakers are very strong, and they had a lovely Quaker meeting house, not far from where we're sitting now, and the Quakers took over the library, and so we went to the Quaker House to the library.  They had panelling in front of the shelves, - if you went late on a Friday night, and I lingered as often as I could to see how many books I could carry, - they would put the panelling back, so it would become a room for the Quakers to sit in silence the next morning.
And then there's this library here, which I had the honour to open about 40 years ago, right in the middle of the town;  and, as you've seen, it's first class, it's well lit, well stocked, multi-purpose.  And that's the sum of the libraries.  I suppose in terms of libraries in general, I was completely dependent on it really, I mean, where else were we going to get books? Sometimes there was a sale and you bought a book or two, but, basically, let's cut to the chase, it was libraries where I got the books that I read.
Ben Holden:
I know that you've described yourself as someone who likes being solitary, but not lonely. And perhaps that's partly born out of being an only child, but that strikes me as perhaps linked to your love of a library, in terms of a library being somewhere where someone can be solitary and yet immediately part of a community?
Melvyn Bragg:
Yes, there are two communities, that's a good point.  I mean, the community of those of us who went to the library was, first of all, a little community.  As I remember, the Council House Yard library was only open on Friday nights and Saturdays, - Mr. Carrick was a busy man -, so you'd meet more or less the same people.  But the community was a community of writers.  Of course, you didn't think of them as writers then, you thought of them as stories and books, just like I never thought of films as anything to do with anybody but actors, until I went to Oxford and started to see Ingmar Bergman films.  And so that was this other imagined community, which was extremely rich, and I still remember quite a lot of the books that I read at that time, and they'd all come from libraries. 
Ben Holden:
Kathryn, today we've walked in, and as Melvyn said already, it's a thriving community heart, this library, you can tell;  there's kids out there in the main part of the library with their parents, and there's a knitting group having a lively conversation over their knitting.  That's just today though, but could you explain a little bit the current context for us of Allerdale and of Wigton library today?
Kathryn Lynn:
We're trying to be a really big part of the community.  Libraries have changed, they've had to move with the times.  We have reading groups, we have knitting-natter type groups, self-help groups; we have signposting groups - you can come along if you're a bit shy of going to an organisation for help, we can signpost and get people from that organisation to come to the library in a more relaxed environment, so it's not as intimidating.  Obviously, there's events for children.  Currently, we've got 'Feed and Read', which happens in three libraries in Allerdale at the moment, which is encouraging children to come to the library, get a free packed lunch, and read with their friends, their parents, with us, and then 'Rhyme Time' sessions which join onto that for younger children. 
We did have a bad reputation or a reputation that preceded us that it's taken a long time to dispel.  I mean, Melvyn went to libraries as a matter of course and so did I, because my parents took me, but a lot of people didn't, or people who went to libraries as children, and they have never been back.
Ben Holden:
And is that because of misconceived notions of what a library really is?
Kathryn Lynn:
Yes, the 'stern librarian' reputation, but it's just the wrong image, because there's nothing stopping you going to the library at any age; it's there from birth, we join children who are tiny, and we've got board books, we've got events going on to attract children.
The problem is keeping them when they get to teenage years, "Oh, the library's not for me", but it is, and it's to keep that interest.  It's not just about reading, even though that's the biggest part, it's about self improvement, education.  People can just come in and do their homework, that kind of thing, in a lovely environment.
Ben Holden:
Melvyn, in terms of painting a picture of Wigton for those who have not had the pleasure of being here or coming here before, you very kindly have offered to read a short piece that you wrote very generously for a new anthology.  I'm doubly grateful to you, a new anthology that I've edited, 'My first memory', which is the first memories of great figures.  It would be very special for listeners to hear you conjure those childhood memories in your own words, if that's okay?
Melvyn Bragg:
Just before I do that, just to give people an idea of why Wigton can be thought of as something that's deeply attaching, because most people have never heard of it.  It's a small, insignificant town in the North West, but there was a feeling until mid-late teenage, even late teenage, I didn't feel better supplied with opportunities when I went to Oxford for months, maybe for the first year.  I mean, when I say you have 12 churches, they're very different.  The Anglican Church, - I was in the choir from the age of six -, it had massive stuff to offer - we sang great music, there would be choir festivals, Kathleen Ferrier was in one of the local choirs, and there were competitions choirs with three choirs in the town, school choirs, and the Methodists there, you could go to their youth club - they were very good at ping pong.
The Roman Catholics came over, they were one of the first Roman Catholics to come after the Reformation.  There was a big Roman Catholic settlement with the nuns, one of the things they were famous for was the dances, and so we all went to the dances.  And so it went on, there were congregationalists, salvationists, the Salvation Army, Quakers and so on, so that was rich.  In another way, it was very severe and dampening, but it was very rich.
And also there were good schools, there was a very anciently established Grammar School, local primary schools.  I went to a very good primary school with excellent teachers, and the National School which is just along the road from here.  Good local shops, and local butcher shops, I mean, the cows really graze in the fields, then they were taken to the slaughter house, slaughtered, then they were taken to the butcher shops - Toppings butcher shop.  So there's a great deal there, an enormous number of clubs.  I think it's partly to do with after the war, when the men came back from the war and wanted to give something back for whatever reason, and there was a great public service thing, and I'm not idealising this, but the number of clubs was ridiculous. 
We were a strictly working class family, but I was in something called AYPA, the Anglican Young People's Association;  we met in the parish rooms, we went on outings to Keswick, we did debates with Carlisle AYPA.  I was in the Cubs and then in the Scouts, there was a very good Scout troop.  We went around the North of England on camps and that sort of thing.  There were obviously sports clubs all over the place.  There was a good swimming club, we've been endowed with a swimming pool by one of the big time benefactors in the late 19th century, and on and on, it went to Catholics and their own clubs.  So there was masses to do, and there's a beautiful river going through it where we could build dams and fish and all that.  All that said, it had an awful lot going for it.  So that's the background in terms of the place itself.
Well, I find that I was locked into it psychologically, I don't quite know why.  I mean, I think my mother locked herself into it, because she was born illegitimately.  And, in this town, when she was born, that was a curse.  And, on the whole, I'd say 90% of the time, either the mother or the child left the town, and her mother left the town, and she was fostered.  So when we moved into the council house, my grandmother was not my grandmother, because the woman had fostered my mother, though my mother called her mother.  And that was the beginning of all sorts of stories. So, that's a background to it.
~
Melyn Bragg reads an extract from the anthology 'My First Memory'.
~
Interview continues
Ben Holden:
And of course, this wasn't the first time that you'd revisited your childhood in a literary sense, because of your Cumbrian trilogy.  I was quite struck by 'The Soldier's Return', your much acclaimed, but very personal, novel about your childhood, that you started that with the library, and your protagonist's mother, Ellen, Joe's mum, but also the fictional surrogate of your own mother, she's in the library researching Burma, trying to understand where her husband is coming back from. It's also interesting in the context of this conversation, of course, that number one page was the library in terms of your way into the story of your childhood.
Again, doing my research, I saw in the second novel in the sequence, 'Son of War', that you described the library and Mr Willie Carrick who I know is a big figure, but you wrote:
"The library was in the Council Yard just off Station Road up a short flight of stone steps and into a muffled, mantled gloom, Willie Carrick, town clerk, town historian, town librarian opened the place up twice a week for two hours in the evening".
And then you write about Sam, the father, being there:
"Sam was there smack on six calculating that he would have a few minutes alone with Willie who greeted him with ill concealed surprise and open pleasure.  "Do you want any help Sam?"
And then here's Willie's description which is wonderful:
"Willie Carrick's face was broad.  Brown from his all-weather walking, eyes that missed nothing, long, thin lips, white hair neat around the tonsure of baldness, as reliable of faces you could want, Sam thought, and because Willie was friendly, he hurdled his embarrassment, "To be honest, Willie, I do".
It's lovely, and it's also very redolent of the ultimate librarian knowing exactly what you want in walking into a library.  It was interesting for me re-reading and re-visiting those books that you were returning, as with the first memory essay, homeward, and crossing the lines of innocence and experience, and these books are so powerful because they're not sentimentally written, they're unflinchingly written, and in beautiful prose;  but I think the moving qualities come from the visceral struggles of your characters to express themselves emotionally and rediscover a way of living together after the war; and you meeting your father for the first time, and finding a common ground in terms of how they can re-inhabit the spaces that they thought they would be in, and perhaps they partly were in before he went away, and, perhaps, before you were on the scene.  But also, I'm interested that you, not to get too meta, but in the process of writing them, you were yourself trying to find the right sort of grammar and the right sort of voice as a writer and transposing them into a fictional framework, of course, but there seems to be a coming together there in terms of the self exploration if I'm not being too fanciful?
Melvyn Bragg:
To take that particular book, 'The Soldier's Return', that started after my father died, and I realised how little I'd really known him, because he'd been away for the first crucial seven years of my life, more or less.  I'd seen little blurs of him when he came back on leave, and I could remember or mis-remember those little blurs, or hold onto things that never happened.  And then, as soon as he came back, he and my mother went into solid work.  He went back to the factory, and then he hated that, so he got a tenancy of the worst pub in town, and I'm not trying to be melodramatic here.  There were about 15 pubs in the town and it was a mess, a complete mess, and he took it on, because he could be his own boss.
He was a big drinker, but he stopped drinking. He never drank after he got the pub, either in the pub or out, and he always had good reasons for it.  I once asked him why, he said, "Well, if I give somebody the wrong change, I don't want them to be able to say it's because I was drunk".  Secondly, he never broke the law, he closed at ten o'clock, there was never any late drinking.  He said, "If I don't break the law, they can't throw me out".  So, he was his own man in that sense.  In those days, pubs were open seven days a week, you opened at eleven thirty in the morning until three, you opened again at five thirty to ten every day.
In that little bubble of four rooms, in winter, there were four fires to lay, my mother did all that, cleaning this that and the other.  So they were hard at it.  And before then, she worked at the factory, the women's factory, she made clothes, she was a button maker; and then, when she got married, the gift that the factory gave you was if you were a woman, they fired you, you got chucked out, you got a prodded rug, or a box of fish knives and you got fired.  And so she started cleaning other people's houses.  Before then, she went around delivering parcels in the country on a big heavy bike.  Dad worked at the factory, as I said first, and then he worked in the pub in the evenings and as a part-time bookie.  Looking back now, although they wouldn't have expressly said it, they wanted to get out of that house.  I think that dad just wanted to get out and find somewhere else.  The pub had a flat above it, which seemed to be wonderful.  So being that they worked like that, I was outside a lot of the time - I was either in my bedroom reading or outside roaming the streets looking for friends to play with, you would knock on people's doors...
We were the 'dog pub', the hound dogs, which is a big sport run here.  Sometimes, there would be 40 or 50 dogs in the pub, big dogs waiting for the buses to take them to where they had their dog races.  And there was a pub for the pigeon men, and there was the pub for the supporters of Carlisle United, and there was a pub for the darts men.  So we were the dog pub, so it was very busy and central.  You knew everybody, it was quite tough to start.  My dad had to keep barring people, which given that this was at one stage a very rough town, wasn't easy for him to do - they'd come back on Sunday morning and say, "Can you let us back in, Stan, I didn't mean it. I won't do it again", and he would say, "No, you're barred for six months".  I was watching some of those encounters and they were very tense. These are tough buggers.  My dad would say, "He's a nice lad, but he just can't take his drink".  They were nice lads, but they were tough as teeth.
It was an emotionally complicated childhood and the shadow of illegitimacy, which was hereditary.  Looking back, I mean, my mother was illegitimate, but, somehow, it landed on me as well.  There were these looks as if it had been my mother's fault that she'd been born, and then, the worst thing that she'd had a child which compounded the felony.  So it was quite complex, which, of course, made it interesting, and just doing so much, and then church was a massive factor, church music and the sort of...I was a fundamentalist Christian until I was about 14 or 15 - you could have said there was a miracle that happened in the High Street yesterday afternoon, and I would have said I wasn't in the bit surprised.
Ben Holden:
You wrote very grippingly in 'The Adventure of English' of the language's origins in relation to your own, writing that "Perhaps my interest in English began when I was speaking at least two versions of it in my childhood".  I enjoyed also when you wrote there, for example, that you would "thee and thou each other, as if we had just got off the Mayflower".  Are you able still to jump between those dialects?
Melvyn Bragg:
We did thee and thou each other, the dialect was very strong, and the accent was very strong.  I'm not making it up.  We had a little bit of Indian, because we're a very big army area.  The North West recruited big armies, and a lot of them were going to India, so they'd come back with [G] and [P] and so on which entered our dialect.  We were also placed next to a cemetery, [close to] a place where gypsies wintered, and so you got Gypsy words.  But the main thing was the sort of North impact and the way of pronunciation and the words.  There's a Cumberland dialect dictionary, I've got several, but one of them's as big as Middlemarch, as big as a massive novel by George Eliot and packed with words.  I'm looking at the glossary here from a man called William Dickinson, who did a lot of work on the dialect, a word called [F] that was used when I was a kid as [-] meaning 'very' and [-] meaning 'busy'.  And there are other words like 'beck' meaning 'stream',  [C] meaning 'donkey'.  The farmers would still count in old dialect, and they would often bid like that in the auctions around here.
My grandfather was one of 16 children, after being in the mines and going through the First World War with six of his brothers, he ended up, after a pit accident, as a park keeper in Wigton.  Next door, there was a detached house with a garden owned by the Barnes family, and they were very nice people.  Once, they had a professor to stay, and they heard my grandfather talking and copied it all down, because my grandfather talked pure dialect all the time, and so it was another language.  And it was knocked out of us, and it had an accent as well. It's called [L] on account of a festival day.  The significance [L] to me is that it was as far north as the Normans came, they didn't really penetrate this area at all.  Oddly enough, neither did the Romans, they built a circle of forts around it, they didn't go into the central Lake District, but the Norsemen did - they came over and went up the rivers with flat bottom boats and settled, and Wordsworth writes about them in the early 18th century, having their own language, having their own system.
~
Melvyn Bragg reads a short extract in Cumbrian dialect
~
Melvyn Bragg:
And that's the way we talked except rougher, and I didn't want to go rough, because you wouldn't believe it;  it's because I don't want to sound affected, I've lost touch with doing it naturally.  I can still understand every word they say, but I don't like to talk it myself, because it seems almost patronising, so you're in quite a difficult position, I am anyway, it's my fault.  Some farmers still talk two languages - a very simple, straightforward English, and a very broad dialect, still, and the accent as much as the words, and a lot of words, as I said, a book as big as Middelmarch, full of words that most people in this country wouldn't recognise, wouldn't use.  So, it was a second language;  it didn't have the ethnic force of Welsh or Gaelic, or even Cornish, but it has its own power.
Ben Holden:
And your passion for cultural history is renowned and stems, obviously, partly from those roots. But perhaps we could talk a little about your new novel, which is a departure in that it's not a Cumbrian novel.  Well, it's another historical novel, but many of your other historical novels have been Cumbrian.  It's about Heloise and Abelard, and perhaps you could explain the bones of that story for the uninitiated? I can kick you off by saying that it's a tale of literature and philosophy, theology and scandal, and romantic love in the high Middle Ages.  And if you enjoyed those words, that's probably because they're yours from 'In Our Time', so it's a cheat for me there, to set that story of Heloise and Abelard, but I greatly enjoyed it, but it's a complex book in terms of the telling.  Can you tell us why you were drawn to this?
Melvyn Bragg:
Abelard and Heloise came out of what was a set book for O Levels when I was 15, by a man called Charles Reade, then in the 30s, 40s, 50s, a very, very famous and substantial writer, a well known, and his most famous book was 'The Cloister and the Hearth' - that was a set book, and what I remember at the end of it, there's Abelard and Heloise;  he's a great philosopher, scholar, she is a woman who is also a great scholar, and they're together walking in what felt like a rose garden and talking to each other.  Now, I kept remembering that, and then I saw the letters and I read the letters, which were an astounding revelation, because that wasn't idyll, nothing like that, it was a violent love affair between the great, radical philosopher of the 12th century whose books were burned, - he was almost stoned to death for his opinions, but he prevailed and is still rated as a philosopher 100 years on -, and a woman, Heloise, is noted to be the cleverest woman in France, and those two are entwined.  And it was an enormous story.  I thought, well, I'll write that sometime, and I waited and waited.  Now, I just decided, after I finished a book called 'Remember Me', which is an autobiographical sequence, and 'Grace and Mary', I wanted to move to the Middle Ages; I did a book set in the Peasants' Revolt, which was an unacknowledged part of English history, the biggest uprising we've ever had, and it was airbrushed out of history, as the Gordon Riots were later airbrushed out of history.  And I thought I'd try Abelard and Heloise, it was very difficult.
Ben Holden:
It must have been very difficult in terms of transposing a 21st century novel into the high Middle Ages, and it's very beautifully constructed in a structural sense, but also, the diction of the novel was redolent of courtly love in a very beautiful, evocative way.
Melvyn Bragg:
It caught onto something about me, and I wondered why it clicked, because it's so foreign, literally and psychologically, and I think it was because I loved that book.  I remember all sorts of things about that book, but I was intensely passionate about books.  I remember when I finished the A levels, when I discovered 'Buddenbrooks' by Thomas Mann, and I just read it through twice, read it, read it again, and I was lying beside the tennis courts, because we finished exams.  Then I read everything I could get hold of by Thomas Mann. 
And so this image of this scholar, and I think, looking back, I thought I rather wanted to be a scholar, that must have been something to do with it.  And I thought that at that time, I wasn't going to be anything like a scholar, because I was supposed to leave school, - and I was 15 -, like all my friends did at that time.  You're talking about 1954, that's what happened.  Schools, they just cleared out the A Form, because if there were farmers' sons, they went back to the farms, they stopped coming into school when they were 14, actually, if it was a harvest;  a lot of the lads were sons of shopkeepers and they went to work in the shop, or they got good jobs, because their fathers were at the factory or in local government.  And I just thought I'd go down the factory and probably work in the accounts office, because I was quite good at sums, as they called them in those days. 
I didn't give it a second thought, and then I discovered four years ago, when I was 75, in a film that somebody made about me, I talked to my old school teacher, Mr. James, who's still alive, he's as sharp as a knife, and he's 97 now, and he said, "You don't know, but I went to talk to your parents three times, to tell them you should stay on at school", and they'd never told me, and he'd never told me.  And I wonder what the objection was, because my father was very clever.  He was one of eight, the eldest of eight, so he had to leave school, but he passed two scholarships, one for a public school for the parishes of the North of England, North West of England, and a public school in Liverpool, which he couldn't take, because he was the eldest and had to just get out and work.  So it wouldn't be that, it wouldn't be the work.  And I asked Mr James what he had said, and he said, "Son, he thought you wouldn't enjoy it. You'd liked it here and you wouldn't enjoy the people you'd meet and you would be happier here".  And my mother certainly didn't want me to go.  She wanted me to stay and get married, have a lot of children and she wanted to get on with being a grandmother.  It's a curiosity, but I'm pleased that it's gone down perfectly okay. And it's going to be published in America, and there seems to be a fair wind behind it there. So we'll see.
Ben Holden:
Going back to Wigton and moving perhaps more broadly into Cumbria, you said that it was tricky to write this new novel outside of that zone, as it were.  But you do keep coming back here, and I know that you've talked in the past about your depressions, one specific crisis as a teenager, and another as a 30 year old, and that Wordsworth's 'Prelude' was a tool of sorts to help you emerge from that fog, but this place has a very, very strong visceral importance for you?
Melvyn Bragg:
I don't know about the rest, but it inhabited my mind.  I think when you're at school in Cumberland, and you like English, you've got to make a deal with Wordsworth, you either think he's great, or just think he's terrible and ignore him, and you've got to make a pact.  And I like the lyric of it, but I wasn't all that interested until I read 'The Prelude' when I was about 14, and especially the sort of cracking up that the boy experienced in various ways, and I just thought, crikey, he knew about that.  And it's recognition which is a part of the power of literature, and then you read much more intensely, and actually, it was when I was about 14, and I had a horrible crack up that lasted for about a year and a half, I didn't know where I was, and I was chucked out from the third A to the 3L, the lower third, full of farmers' sons who didn't want to be at school at all, and it was quite tough, not tough in a [Glasgow?] sense, but it was tough enough.  And I was told that I would be sent to another school if I didn't buck up. I didn't know where I was.  And I'd had this thing, and it was an awful thing, I had outer body experiences, and one of the ways I got through it, I'm sure, was that was when I just decided to, something made me start to read very intensely, and read good stuff and Wordsworth was one way in, and I remember just reading and reading, and gradually calming down and gradually getting a grip.
Ben Holden:
I can understand just from an outsider's point of view, having been in this area the last few days, and almost crashed several times driving through it, because of the stunning natural beauty outside the window every every minute.  But I understand there are 400 mountains, 33 lakes, and having studied Wordsworth and the Romantics a little bit, it suddenly all clicked into place somehow, the nature, the sublime, all these things that you've learned about and you've read about, so I can understand that whether knowingly or not you're writing in a tradition, but also out of this landscape?
Melvyn Bragg:
Wordsworth was one of the key persons at that time, some Germans have written about this, in fact, another Cumbrian man called Thomas Brown, wrote about it in a very important poem 20 years before Wordsworth, but the idea that nature of being a force, for calm and for intelligence, instead of being, just a century earlier, Defoe had been on a tour of Britain, he'd come to the Lake District, Daniel Defoe, and described it as horrid place, terrible, don't go up the mountains, rocks will fall on you and crash on you, barbaric, and nature was regarded as an enemy, as a terrible place, and Wordsworth said: 
One impulse from a vernal wood,
May teach you more of man,
Of moral evil and of good,
Than all the sages can.
Saying, listen, listen to nature.
There are lines like that all over the place - the force and the power if you listen.  And you could if you wanted to politicise it, say this was an intimation, to use another word he liked, of what would become people fascinated by Gaia - the idea of the earth being one thing and we being part of that one thing, and the climate being something that we could destroy, the climate and other life on earth, as well as benefit from, so that must have meant something to me and to thousands and millions of other people.
Ben Holden:
But you mostly write still up here in Cumbria, not in London? Is that correct?
Melvyn Bragg:
No, I sort of write everywhere.  I mean, I'm in London most of the time.  I've come up here, I wrote a book called 'Credo' set up here about a seventh century nun.  And I just came up here to be absolutely…, you come up, I go to the shops, and we can store up for 10 days or 14 days and go up to the house and cottage, and I can write for 12-15 hours a day, because it was already in my head, for better or worse, there it was.
Ben Holden:
And I started to think, again, I'm over doing, perhaps over-egging this, but coming here to this library to discuss libraries with you, there's an archivist in you as well, whether, again, not necessarily by design, but over time, the longevity and the power of those two shows (The South Bank Show and In Our Time) has led to this - you've built a formidable library?
Melvyn Bragg:
I didn't start off saying I'll do it.  I mean, I got a two year contract, but The South Bank Show, it was such a disaster in the first year that I thought it was a one year contract.  I mean, it started off calamitously.  I discovered the great rule if you're starting anything new, don't write a manifesto.  I wrote a manifesto and the critics loved it, and they tore to shreds.  The manifesto was, because ITV put a lot of money into this programme, and what they wanted was big, classical orchestra, and I wanted pop music and I wanted television drama, as well as stage drama, and I wanted comedians, as well as poets.  We started deliberately with Paul McCartney, and then we had the Berlin Philharmonic Orchestra, and then we had the Royal Shakespeare Company come in.  The first play we did was a television play, and the critics didn't like it. 
When you run an arts programme, you're on the margins, especially on ITV.  There are three things that are important:  You've got to get a big audience, well, we couldn't do that, we were on too late, and we couldn't do that; you've got to get the critics on your side, which we didn't have; and the third thing, you've got to have the executive in the company on your side, and they were losing faith fast.  And so halfway through the first series, I went to Michael Grade, and I said, "It isn't working is it Michael?", and I said, "Some of the items are ok, the Paul McCartney was very good and all the new stuff is very good".  I said, "What I'd like to do is for you to stop the programme for three or four months, and I'll sort it out and we'll come back, okay?".  And he said we couldn't do that, and I had 26 programmes then, and we'd done about eight or nine.  So, I went back to the office, and I talked to the guys, and I said, "I know what I'm going to do.  Myself and one other guy, Tony Cash, we're going to do these programmes ourselves for seven weeks, just the two of us.  And the rest of you are going to make subject films, and I'm going to do films about people I want to do if I ever make a programme;  I'm going to do the first ever English film on Ingmar Bergman, I'm going to do film on Pinter, a film with Hockney, that's what we're going to do.  And you go and do that, and we'll keep the show on the air".  It was it was a nightmare.  It was so knackered trying to get it!
And the other thing that keeps you on air is you win prizes.  And that year, at the end of the season, we won everything, but because of these one-offs, we won the first ever Prix-Italia award for ITV. And it was the big thing then, it was like the Emmys then, and we won that and then we won another prize.  And then when we hit our stride, so we were okay. 
You're talking about archivist, it's now archived at Leeds University and they're archiving it. We're a big part of it, building it up, because they have a lot of special sections, they have the biggest number of special collections in British universities.  I was Chancellor there for 15 years, nothing to do with me the special collections, but I did suggest that to them, because not only did they get the films, but for every film that we made, it's about a sixth of the material, sometimes a tenth, let's say always a sixth. So for every hour shown, we've got another five hours, and we've preserved all that, so they're getting all that as well.  So let's say, I interviewed [M] three times.  So say, three hours at a time, nine hours, and say you put out a programme of 15 minutes, half an hour, an hour, there's at least seven hours of completely unseen material, therefore, people are interested.
As for 'In Our Time', I mean, they gave me a six month contract, because they thought doing intellectuals on a Thursday morning was a dead duck, and it happened to take off just a little bit;  you just need it to take off a little bit, now it's really taken off.
Ben Holden:
It feels again that this is maybe something built in from your childhood too?
Melvyn Bragg:
If I'd been asked what I wanted to do when I went to university, to make them shut up, I'd have said to be a teacher.  My first job that I applied for at Oxford was to be a WEA lecturer, Workers Education Authority, you might remember that, it taught working people in the evenings.  Brian Walden got that which was a bit of a nuisance, but he's far cleverer and better able than I was, so I got the job at the BBC. 
Both of them (shows) would be part of libraries.  The South Bank Show, eventually, it's going to take a while, - the copyright things are just dreadful -, but we'll get to it.  But the radio thing is already a library.  And, because of the technology, now, 'In Our Time', when I took it on, got 400,000, now it gets two and a half million (listeners).  But that's not the real thing, the podcast thing, because we're doing an extension to it now because of the new technology, we had 10 million podcast (listeners) in the first three months of this year, and they were all around the world. 
You literally do get letters, honestly, from a guy who works nights in a factory in Toronto;  we were doing something on China, on Confucius, and we got very angry letters whilst we were on air from the University of North China, saying we hadn't taken this into consideration.  So there we are.  There's a guy who drives a lorry in Melbourne who's a keen listener.  And it's lovely.  That's the great thing about radio and television, the greatest thing, you only have to press a button, like putting on an electric light, you don't have to dress up, you don't have to have an education, all you do is click a button and you're there.  And that's been always this basic attraction for, me more than books even.
Ben Holden:
It's a very rigorous show, 'In Our Time', but also there's no room for snobbery at all, in any of this.
Melvyn Bragg:
In the library, when people come in, there's an immense democracy of knowledge, it's just getting it to people, and that's what you do in the library here. It's making it available.
Kathryn Lynn:
I think there's making it available and they're very nervous, some people, there's an invisible barrier.  And it's like, they call it a reference interview, you're dragging out of them what they want to know, rather than asking you what they think they want to know, which is a different thing. It's finding out what they really want to know, because they're nervous for whatever reason.
Ben Holden:
Well, there is also the element that you walk through the door and there's a limitless resource.  It's a bit like 'In Our Time', there's such a wealth of information here. I mean, going back to Cumbria, you have a beautiful section all around the local area, which I presume is that still well thumbed and a go-to section?
Kathryn Lynn:
Yes, we have local studies collections in most of our branches. They're not archives or local storage collections, and they have been a bit sporadic, but we do keep them, we've got microfilm, microfiche, you know, we've got newspapers in working on microfilm, you can go back and have a look at.  And it is used, we get people searching family history, or I get enquiries from all over the place, but obviously, I need a reference point. You can't just look at the microfilm - you need a date or some kind of date, but they are well used.  We have a local history month every year, because they've got a great display case, and they've got a local society that come and do a display, or the staff will do it, and it's absolutely fantastic, because they really promote it, dialects, tales, history of Wigton.  Like Melvyn said, there's factories, we've had people bringing stuff in from their shop as a museum piece, they'll bring in, and they'll do a little piece on it.  And it attracts people, and gets them in, and they ask questions.
Ben Holden:
And the libraries are still thriving in the region as a whole?
Kathryn Lynn:
Yes, like I said earlier, we're trying to get people in all the time, we're becoming part of the community, if there's a need, we'll try and satisfy that need.  The whole culture of getting online, that's big, people have to do their Universal Credit online, maybe they've never used a computer before, they're very resistant, they're scared of it, they think they're going to break it, and it's getting them beyond that barrier.  I do IT taster sessions with people. It's a case of little and often, it's like driving your car, you're not just going to get in it and do it, you've got to have lessons. And it's getting them across over that barrier of saying, "I need to do this, because I won't get any money if I don't".  I do internet tasters with people, to get them used to a computer, get them online, that kind of thing.  I do family history with people, family trees, because I've been doing mine for 30 odd years.  It's that little spark that makes a difference and they come back.
Ben Holden:
They are societies safe spaces, as I like to say, and again, listening to you immediately any notions of the library as the fusty old book repository is immediately dispelled, and the importance of these places and communities and, sadly, so many of them are closing down, up and down the country.
Kathryn Lynn:
I mean, I've been a librarian for 30 years, but when I was a child and I went to some library in Bolton, they had a men's reading room.  For one, it was a reading room, and second, it was just for the men.  I've had lots of experience in different types of libraries, so you bring all that with you.
Ben Holden:
Again, there's a trend also for volunteer libraries, and librarians' jobs are under threat as well, which is crazy.
Kathryn Lynn:
We don't currently use volunteers.  We try and keep our libraries open with the staff we have and be flexible. And we also have community groups in when we're closed, they can use it as a meeting place.  And we promote groups that meet within our library, so that we have reading groups that meet, many, many reading groups, that meet within our libraries;  they use our facilities, that means they're in the library, you know, and if they're in the library, they can see what we do, what we offer, the cultural offer that we have for everybody.
Ben Holden:
Melvyn, can I ask, thinking back to that kid in the library in Wigton, and also your prodigious career, which seems to me to be partly built on that kid's insatiable curiosity, as much as your work ethic, it seems to be this intense curiosity across science, religion and culture, everything.  You're ravenous for knowledge and to spread knowledge.  What do you make of the library closures more generally?
Melvyn Bragg:
I think it's a disgrace.  It's short sighted.  I don't want to expand into the present state our political condition, let's leave that to one side, there's only about three words for it and let's keep away from that.  It's a disaster, different tributaries have come into the area of knowledge, but the library, and I think it's been explained here very clearly and well, it has the flexibility to be more than just a place where knowledge is stored, it's a place, as we've heard, where knowledge is shared, where knowledge is developed, where different sources of knowledge can come.  It becomes a place, as well as something that's an ambition, and in these areas of learning, I think that association and companionship is essential.
We go back to Mr Carrick, he was a companion. You go back to school, Arthur Tillotson Blacker, he was a teacher, and then other people in the class read what you'd read, because we all had to read aloud in those days, we read poetry aloud and so and so forth. And here, people are coming to the place…as a social force, it's been very, very fruitful and important.  And as an intellectual force, and the great thing is in a library that the choice is yours to a vaster extent than I think you will ever be able to countenance, and also you can browse.  Where's browsing when things are coming at you? Where's flicking through the old pages? Where's that?  Where's the feeling of being in an ambience where this is a regular thing to be surrounded by books?  It's a big cultural force.  It's not for nothing that everybody, when you think about ancient civilization, one of the things you think of, Christ, they burned alive in Alexandria.  Just think of what we lost.  Scholars are still tearing their hair out with the books that were lost in the library and Alexandria, because it was that important.
There are all sorts of other ways of passing on knowledge, but that was what mattered.  And I think in matters like that, it's terribly short sighted.  If you're a fairly well-off community as we are where I live in London, and there's others, you keep it going, we keep it going.  It's voluntary, but that's not the best way, and we give books to it and give money to it, but you can't do that for libraries in places where people have got very little money to do that.  It's a shocking development, and it's just part of what's going bad about our country, frankly, that's the mildest thing I can say.  It's ridiculous and to keep it going as has been done here is remarkable and to be applauded, and I hope that from hearing it grows again, people will see how important it is.
Ben Holden:
I have to ask, I always am curious in this podcast, as we're in the library and we've been talking books, how, Melvyn, do you organise your books, are you very fastidious?
Melvyn Bragg:
Up in the cottage here, I've got a Cumberland room, but there's nothing alphabetical, so I'm not very good at that.  In London, it's even worse, but occasionally you get a set, you buy a set of old Dickens, not valuable or anything, but just big print, but they're on the shelf, so you know they're there, that's easy.  No, I'm not very good at it to tell the truth.
Ben Holden:
Would you kindly browse the shelves, Melvyn, perhaps find something to borrow?
~
Melvyn Bragg is invited to browse the shelves of Wigton library to select a book of his choice
Ben Holden:
Is there anything you're drawn to?
Melvyn Bragg:
I'm looking for a book about the dialect.  Do we have any here?  But the local dialect.  We've got 'Walks', we've got 'Travels', do you have specific dialect books?  We don't have anything by Willie Carrick here, do we?  He wrote a very good history of Wigton, that's another thing he did, he was quite a man.  James Rebanks, that's a good book that isn't it? It's very well done.
[END]
Thank you for listening to this Ex Libris podcast.
If you've enjoyed this episode, please rate, review and subscribe wherever it is you get your brainfood. If you'd like the chance of winning a signed hardback copy of Melvyn Bragg's new novel "Love without End', then all you have to do is write a thoughtful review of the podcast, mentioning this episode.  To find out more about the authors and venues, as well as libraries and independent bookshops, please visit our website:  www.exlibris.com  You can also get updates from me on twitter and instagram.  Find me @thatbenholden.
 Ex Libris is produced by Chris Sharp and Ben Holden, with Grundy LeZimbre.
Ex Libris is brought to you in association with The Lightbulb Trust - which illuminates lives via literacy and learning, providing opportunities to shine.