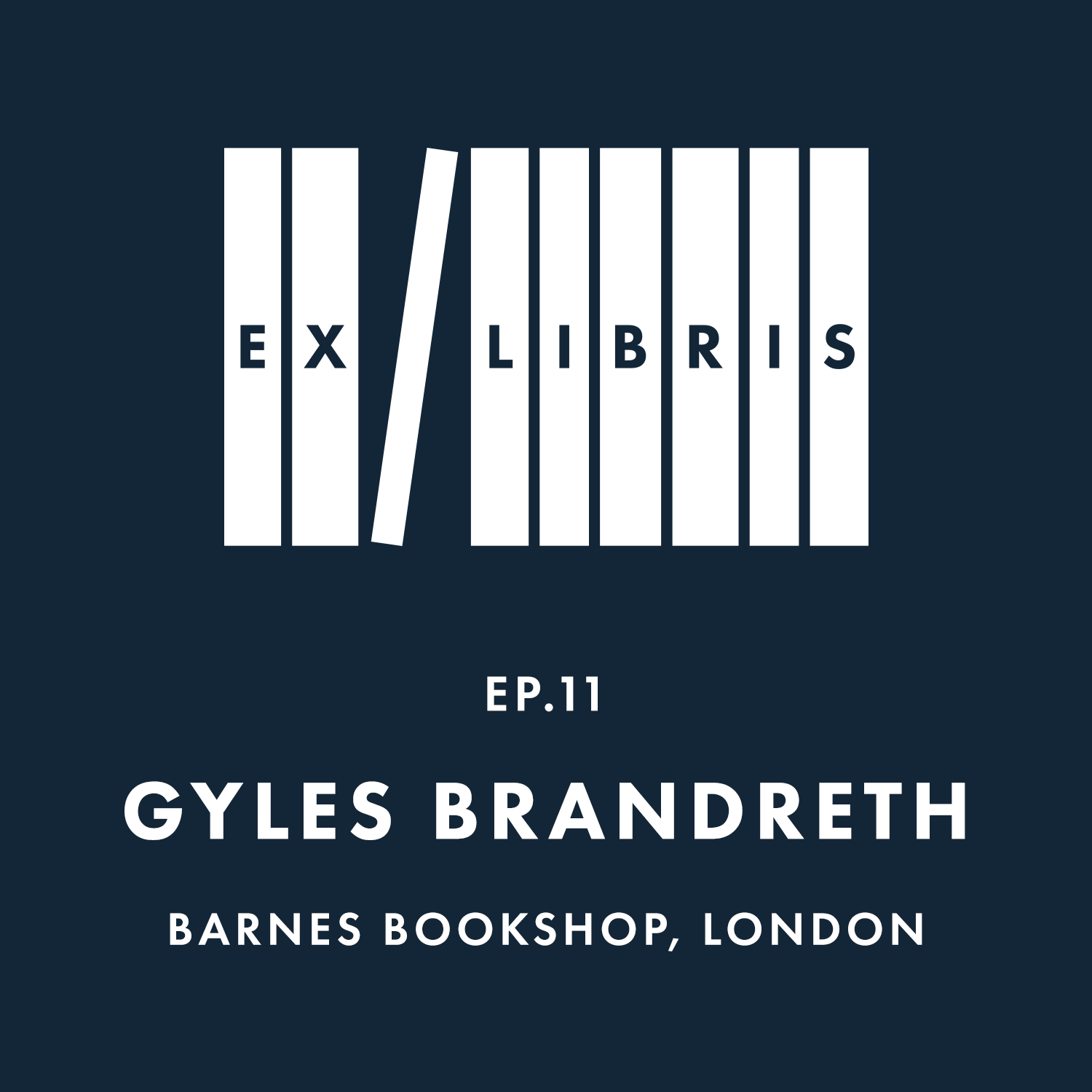 Gyles Brandreth has been entertaining Brits for decades - charming multiple generations on shows such as Just A Minute, The One Show, Celebrity Gogglebox and Countdown. 
His many books include a series of novels featuring his fellow wit Oscar Wilde and a recent best-selling celebration of good punctuation, spelling and grammar, Have you Eaten Grandma? 
His latest offering is the anthology Dancing by the Light of the Moon, which celebrates the magic of learning poetry by heart.
'Words have been my life,' Gyles says during this episode's conversation. He also describes bookshops as 'safe havens in an uncivilised world' and talks of his time in government, during the 1990s, when his remit at the Department of Culture included crafting policy for libraries.
Gyles lives in West London and selected Barnes Bookshop, run by Venetia Vyvyan, as his home-from-home venue for Ex Libris.
It is a beautiful local bookshop of more than 30 years' standing. When making that choice, Gyles described Venetia as 'a model of everything a brilliant independent bookseller should be.'
...
A full transcript of this episode of Ex Libris, featuring Gyles Brandreth, runs below:
Gyles Brandreth has been entertaining Brits for decades and his broadcasting brilliance continues to charm multiple generations, be it on 'Just a Minute', 'The One Show', 'Celebrity Gogglebox' or his regular appearances on the likes of 'QI' and 'Have I Got News for you'.  Gyles is also an actor and Chancellor of the University of Chester.  He served in government as Lord Commissioner of the Treasury.  It is primarily his writer hat, though, that I want him to don today.  Charles's many books include a series of novels about his fellow wit, Oscar Wilde, and a recent best-selling celebration of good punctuation, spelling and grammar, 'Have you eaten grandma'?  His latest offering is the anthology 'Dancing by the Light of the Moon', which celebrates the magic of learning poetry by heart.  Gyles lives in West London and has selected Barnes bookshop run by Venetia Vyvyan as his home from home for today.  When making the choice, Gyles described Venetia to me as:  "a model of everything a brilliant independent bookseller should be". 
So here's a really bad, unwitty, little poem for you: 
"lest there be repetition, or repetition
or dread deviation, oh, and by the way, we happen to be recording this on Valentine's Day,
let alone hesitation,
let's commence this very minute... the conversation."
Interview
Ben Holden:
Gyles, Venetia, thank you so much for seeing us here in beautiful Barnes bookshop today.   Gyles, question number one, obviously, is why Barnes bookshop, it was the first place you wanted to come to today?
Gyles Brandreth:
Because I love a bookshop, anyway.  A bookshop for me is one of the safe havens in an uncivilised world.  If one is feeling low, you've got to walk down the high street or side street, or whatever, and find a bookshop.  And suddenly, as you go through the door, you'll feel less low.  As you begin to browse the shelves, your spirits lift.  As you come down into the basement of this bookshop, you think, "Oh, the world's a good place.  After all, everything's all right".  And that's been part and parcel of my life, all my life. 
As a child, I was brought up in London, and Barnes is in south-west London, and it's south of the river.  And, of course, until I was an adult, I'd never been south of the river, didn't think one dared go south of the river; and I was brought up really in the West End; my parents lived in a block of flats, Victorian mansion flats, in Baker Street.  Near us there was a bookshop called 'Bumpus', older listeners will remember Bumpus, but almost all your listeners really, whatever vintage, will remember 'Foyles'.  'Foyles' bookshop still exists on the Charing Cross road, they now have other branches, but when I was a boy, going back a long way now, in the 1950s, as a child, I discovered Foyles bookshop.  It was heaven on earth, because it was chaotic, it was completely chaotic.  Did you go to Foyles in the old days?
Venetia Vyvyan:
I did, but I was more of a John Sandoe person, I'm afraid.
Gyles Brandreth:
That's good.  We have got middlebrow, I represent middlebrow, and we have highbrow.  Let me tell you what the middlebrow child did, the middlebrow child went to Foyles.  Now, Foyles bookshop was run then by a lady called Miss Foyle, Christina Foyle, who lived to a great age, and she ran this chaotic bookshop, I say chaotic, it truly was.  Books were never properly unpacked, never properly put on the shelf; there were boxes everywhere, books, trailing everywhere, and to get a book was quite a complicated process - you chose your book, you then took your book to one counter where you got a receipt for the book, you took that receipt to a till, you paid at the till, your money was then sent in a tube around the shop, you got another receipt back, you took that receipt back to the person to get your book, but by then the person will have often put your book back on the shelf or sold it to somebody else; it was complete chaos!  And sadly, it was discovered, one of the reasons it was chaos, was that ultimately Miss Foyle did not have her..., ultimately she was being taken advantage of, in fact, I think some of the staff eventually had their hands in the till and it all became a little bit, anyway...
Fortunately, her nephew, Christpher Foyle, came on board and put the whole thing pointing in the right direction.  But I loved going there, and what was wonderful about it was, on many floors, you could spend a whole day in the bookshop, and I realised my parents didn't really like me very much, because I was sent out every day after breakfast, I was sent out, on Sundays it was alright, because I could go to church, and I would go to several churches, I would sing in two choirs, I was the server at St Stephen's, Gloucester road, - when we come to dropping literary names, that was when I met T.S. Eliot, but we'll come on to that -, because she's got better names to drop than me, because of her John Sandoe years; but, eventually, I discovered Foyles on a weekday, and I could go in there literally at ten in the morning, and be there at five - so many departments, so much to discover, coffee shops nearby.  There's nothing more fun than going into a bookshop.  And you meet lovely people, the other customers by definition, and the staff.  Tell us about your childhood in bookshops.
Venetia Vyvyan:
Well, I was brought up in Chelsea, my parents built their own house just off Cheyne Walk, and so, I had John Sandoe near Sloane Square.
Gyles Brandreth:
What kind of bookshop was it?
Venetia Vyvyan:
That was shambolic in the days of John Sandoe himself.  Now it's much cleaner, but I remember going in there, and I preferred it to WH Smith, which was in Sloane Square, and in those days, WH Smith were proper book shops.  And I suppose, we also had a place in the country, and in Wantage, there was also a wonderful bookshop, and it was there first that I really found a bookseller who understood me, and he would always put things on one side and say, "I have this, it's just come in", and my father would raise his eyes to the heavens, because it meant another book being brought into the house.
Ben Holden:
And your fate was sealed.  You've since become a great bookseller yourself, was that where it all started?
Venetia Vyvyan:
It was, but actually I couldn't read by the age of nine, because I had dyslexia, and nobody knew and it wasn't really very well known in those days.  And so I memorised things at school, and that's how I got away with not being able to read until I was nine. 
Gyles Brandreth:
I'm surprised you weren't sent to my mother.  My mother was a pioneer teacher of people with dyslexia.  She worked with a man called MacDonald Critchley in the 1950s, and through the sixties and seventies, she was one of the leading people in London helping children with dyslexia.
Venetia Vyvyan:
Was she at the Helen Arkell Centre?
Gyles Brandreth:
She was indeed!
Venetia Vyvyan:
I went to the Helen Arkell Centre.
Gyles Brandreth:
Well, I'm surprised you weren't put under her charge.
Venetia Vyvyan:
I might have been.
Gyles Brandreth:
You would have remembered, people did remember my mother.  My parents did, of course, like me, but when I was sent away to boarding school, I started a school bookshop.  And the mistake I made, bless my heart, was, because I could order all the books, you see, to sell in the school bookshop, so I ordered the books I wanted, I couldn't understand why none of them were selling, because I was just ordering the books I liked.  And I quickly learned that you actually have got to choose books that the customers want.  How did you learn about book selling?
Venetia Vyvyan:
Well, I learned from the greatest bookseller I've known, which was John Saumarez Smith at Heywood Hill books (in Mayfair), and he was very generous with his knowledge.
Gyles Brandreth:
How do you stock a bookshop?  How do you choose what to have?
Venetia Vyvyan:
Well, he would say you start with the things that you enjoy, because those are the things you can recommend, but then you learn from other people, you learn from the customers, you learn from the authors that come in.  And I learned a tremendous amount from him.
Ben Holden:
So which books in your youth, or childhood in Foyles, which are the key ones?
Gyles Brandreth:
Well, formative books, I do remember 1960 when I was at my prep school, ordering the copy of 'Lady Chatterley's Lover'.  'Lady Chatterley's Lover' was originally published in the 1920s by D. H. Lawrence, and it was a banned book, it couldn't be published in this country, and it was prosecuted.  Penguin decided that they were going to publish 'Lady Chatterley's Lover' in 1960, and a prosecution was taken out, because it was deemed to be obscene.  There was a great, famous court case, and it was found not guilty.  So Penguin published it.  I was about 11 at the time, but I read about this, I was an enthusiastic book collector, I loved books, books have been my life.  I'm much happier with books than with people, to be honest, I'm coping with you; and Venetia, I'm happy with her, because she basically smells of books in a good way! 
So I wrote off, because I thought I can't, don't dare go into the shop, because they're not going to sell it to a 11 year old, I wrote off to Penguin, and I got a copy sent to my prep school, and unfortunately, it was in a brown envelope, but it had a Penguin label on it.  So, clearly, the teachers saw and they guessed, but well done them.  The teacher read it first, and then let me have my own copy, and said, "You may read it".  So that's the book I remember buying.
But I love physically having books; I've got tens of thousands of books at home.  My wife says, "You must get rid of them all", or most of them, because she's told me that I keep everything.  I've got 1000 jumpers, 1000 teddy-bears, tens of thousands of books.  She says, "When you die, before I call the undertaker, I'll be calling the people who supply the skips and it's all going!"  Because I've acquired books, most of which I've never read.  I don't think you need to read a book, but owning a book is part of it.
Interestingly, my preference for schoolboy books was Frank Richards, do you know who I mean by Frank Richards?  Now, Frank Richards was the most prolific English author of the 20th century and nobody's heard of him.  Frank Richards - in excess of 80 million words.  His real name was Charles Hamilton; he lived, he died; I saw him once at a distance in about 1960 just before he died, in Broadstairs.  I couldn't believe it, my hero.  He created one of the great characters of the 20th century, in about 1904; he inspired Harry Potter, his books, in fact, are very like the world of Harry Potter.  Frank Richards created 'Billie Bunter', 'Greyfriars school', 'Fat Owl of the Remove', 'Mr Quelch'  - all those boys, those schoolboy yarns; he also created a series about a girl who was tubby called Bessie Bunter.  He wrote two comics - 'Magnet and Gem', they call them comics, they weren't strip cartoon comics, they were like stories for boys and girls; and he wrote those in the first decade of the 20th century, in the teens, in the twenties and thirties.  He had a bit of a gambling addiction, lost all his money, made a lot of money on the tables in the south of France, and then wrote novels about Billie Bunter.  And I'm one of the presidents of the Billie Bunter Society. 
But I'm also involved, I think, in the Enid Blyton Society, the Rupert Bear society, I'm into all that, I've never really left my childhood, and I think that probably is why I like being in a bookshop.  This used to be the children's….we're downstairs at your bookshop.
Venetia Vyvyan:
We are, well, we do have a whole wall of children's books, but it was because the perambulators got bigger and bigger, and parents didn't want to leave their babies upstairs.
Gyles Brandreth:
Where's the new shop going to be, still in Barnes?
Venetia Vyvyan:
Oh yes, it's going to be just down the road near the Wetland Centre.
Ben Holden:
So the shop's been here for thirty plus years?
Venetia Vyvyan:
Yes, it has.
Ben Holden:
You're the latest custodian.
Venetia Vyvyan:
I am the latest custodian.
Gyles Brandreth:
Just to finish on childhood reading, I discovered when I was quite young at prep school, Agatha Christie, and I adored Agatha Christie.  The more sophisticated teachers said, "You should try Ngaio Marsh, because you're a bright boy", and they felt Agatha Christie was a bit…
Ben Holden:
Ngaio Marsh?
Gyles Brandreth:
I think she's a New Zealand writer.
Venetia Vyvyan:
Yes, she is.
Gyles Brandreth:
And she wrote murder mysteries in the Agatha Christie vein.  I loved Agatha Christie, it's rather like people are snobbish about Enid Blyton as well.  But some of Enid Blyton, particularly 'The Faraway Tree', - you remember that one?-, are magical stories, and I was lucky enough to become friendly with Enid Blyton's daughters, who had a very different view about Enid Blyton.  One adored her mother, thought she was the best thing who ever lived; the other had reservations about her mother, felt she'd rather blighted her childhood and wasn't necessarily a good influence on either her or the world.  So there are two views about Enid Blyton, but I'm on the side of Enid Blyton and Agatha Christie.  I'm on the side of people who popularise things, I think it's good to get children into reading, and I think it's good to read everything and anything.
Venetia Vyvyan:
Oh absolutely, and I would almost go so far as to say that you have to beware of school reading lists, because, very often, they're not updated.  And it's meant to be entertainment, reading; it's not meant to improve a childish mind, it's meant to be fun.  And with so many, you know, competitive things in this world, you know, screens and such like, it has to be fun above all.
Ben Holden:
Are you happy not to finish the book when you've started one, speaking of it being fun?
Venetia Vyvyan:
I'm a reluctant non-finisher of books.  I'd rather get to the end and then say, "That was rubbish!".
Gyles Brandreth:
I think it may be a generational thing.  I think once you've made a commitment, you keep going with it.  But I'm an unfortunately very slow reader.  It's two minutes in a page, whether it's Tolstoy or Tom and Jerry, for me, I'm just very, very slow. 
I'm currently reading amazingly, 'The Diaries of Harold Macmillan', who was the prime minister in the late fifties and early 1960s, in fact, at the time that Lady Chatterley was published - maybe I just can't escape my childhood!  And I'm reading this book, I've got it for research purposes in a second-hand copy, because I was writing about Prince Philip, the Duke of Edinburgh, and I heard there was some quite interesting stuff about cabinet discussions about what Prince Philip, what his title should be in the 1950s when the Queen became queen, what were they going to call him?  Were they going to call him Prince Consort, Prince of the Commonwealth...Anyway, I got this book, and Harold Macmillan was a voracious reader from the Macmillan publishing family; he would, even when he was Prime Minister, be reading 50 books a year, but he is now Minister for Housing and he's reading about 150 books a year, two or three books a week, and we're talking about big books.  Comfort reading for him was Anthony Trollope, he would go back to the Barsetshire Chronicles.  Every time there was a crisis, Winston Churchill playing up, he turns to Dr. Thorne, but he's also reading people like Macaulay, great Victorian history books, extraordinary, and it's clear for him, affairs of state weighing him down, he goes into his study or library, gets out one of these books, and it solves the problem.
Ben Holden:
Do you find it reassuring for a leader to be a great reader?  In the Obama vein?  Obama is a great reader and a great writer.  Nicola Sturgeon is a great reader.
Venetia Vyvyan:
And David Cameron too - he reads a lot.
Gyles Brandreth:
And the present Prime Minister has read quite a lot, in his time.
Ben Holden:
There's something reassuring about that.
Gyles Brandreth:
Well, I think that it shows that they've got what people used to call a 'hinterland' which is good.  I was lucky enough, when I was an MP, to know Denis Healey who was the Labour Chancellor of the Exchequer and the Defence Secretary, blessed with a marvellous wife and a great constitution, but he had a great hinterland, he was a photographer, he read voraciously.  I mean, books furnish your mind as well, you want to feel that people have lived a little bit.
So I'm glad you're a slow reader too.  What do you read now?
Venetia Vyvyan:
I just finished in proof, so it's coming out in April, the new Anne Tyler.  I enjoyed it very much.  Nobody writes about middle America, the invisible people, better than she does.  And I have to say that whatever time I get to bed, I always read, whether it's two o'clock in the morning, I will always read for maybe 10 minutes, half an hour.
Gyles Brandreth:
I can't go to sleep without reading, even if it's for 30 seconds, even if, as it were, my wife has already gone to sleep, the lights are out, I have to almost with a torch.  But I remember as a child loving going around with one of those torches that has three colours - red, green, as well as the yellow.  And I remember, this will amuse you, I do remember reading 'The Hound of the Baskervilles', at my prep school, red blankets, I remember, white sheets, green duvet, and going down there with this torch, and I made it green to make it more spooky. 
Venetia Vyvyan:
Conan-Doyle is wonderful.
Gyles Brandreth:
Isn't he?  Conan-Doyle changed my life.  I discovered the autobiography of Arthur Conan-Doyle in the library of the House of Commons, and I read that book and it changed my life.  But before we get to that, one of the things I keep on my bedside, are diaries, I write a diary, I've published two volumes of diaries, and there's talk of a third.  But anyway, I read other people's diaries, and the reason is they're perfect bedside reading, because often the entry is quite short.  I love Virginia Woolf's diaries.  I love political diaries, I love Chipps Channon, I love Harold Nicolson, I quite like Alan Clark.
Ben Holden:
Current diarists?
Gyles Brandreth:
Oh, the world since 1959 has been a closed book to me.  Who are the current diarists?  To be honest, if I can't be in my childhood, I want to be in the 1890s.  But I love coming into a bookshop like this, because it's timeless and it's like going into a time free zone.  You can be here, as modern as tomorrow, Venetia has got all the latest bestsellers; she's got books that are merely collections of emojis, hardly any words in them at all, she does all that, she needs to make her money, fair enough, but it's as modern as tomorrow, with a lot of time for yesterday.  And that's what I love about a bookshop, you can get it all.
Ben Holden:
Your new anthology is in the window upstairs and on the counter.
Gyles Brandreth:
Thank you for putting it in the window!  But in fairness, Venetia really does support local authors.  Does it make a difference having a book in the window?
Venetia Vyvyan:
Yes, I would say so.
Gyles Brandreth:
But you need to change them, because often my wife and I go for a walk of an evening, we say we'll walk as far as the bookshop and back, and we come to look in the window.
Ben Holden:
You were changing the window when we arrived…
Venetia Vyvyan:
Yes, we were putting fake grass in it.  Harper Collins have given us fake grass and fake spring flowers, because it's the anniversary of Judith Kerr's birth, or rather 'The Tiger who came to Tea'.  So we have a Judith Kerr window and a little bit of Roger McGough who's a local author.
Gyles Brandreth:
Come to Barnes Church Street.  When's the moving happening?
Venetia Vyvyan:
In a month's time. On your birthday.
Ben Holden:
Also your wife's birthday as I discovered.
Gyles Brandreth:
The 14th of March, also the birthday of Albert Einstein and Michael Caine, not a lot of people know that.  And speaking of poets, who is the best selling English poet today, without a doubt, a lady poet, with a new anthology out last Christmas?
Ben Holden:
I know, I know the answer to this. Pam Ayres.
Gyles Brandreth:
Pam Ayres.  [14th March] is also her birthday.  Tom Stoppard's new play just opened; great writer; gave me a poem, I told him my wife was born on the 14th of March; he said, "I'll give you a poem for your wife.  It's actually Albert Einstein's birthday too. I've written a poem called the 14th of March".  This is the poem which I will repeat with permission, no royalties required, given to me by Tom Stoppard, I can recite it to you:
14th of March
Einstein born
quite unprepared
for e to equal
MC squared.
Ben Holden:
And it's Pi Day.  Did your wife know that?  Every day has to be a celebration of some sort. So it's because of the American ordering of month-day-year, but 0314 means that our birthday is also Pi Day.
Gyles Brandreth:
Well, I'm pleased to hear that.  Isn't it also the Mad Hatter's birthday?  The day of the tea party?
Ben Holden:
I looked up, because your new anthology is also about memory, I looked up the record for the number of digits remembered of Pi, because obviously it goes on and on and on.  Can you guess how many roughly?
Gyles Brandreth:
Tell us.
Ben Holden:
70,000.
Gyles Brandreth:
Wow, and was there somebody who could remember them all? 
This book that I've done is called 'Dancing by the Light of the Moon', which is a reference, of course, to the lovely poem by Edward Lear, 'The Owl and the Pussycat'.  And it came about, it's a spin off really of a radio programme I did about memory, because I was banging on about how poetry is good for you, and a friend of mine is a radio producer, he said, "Yeah, we know it's good for you Gyles, you know, you banging on about how you were at school with Robert Graves's son and all the rest of it, and you shook hands with T.S. Eliot when you were nine, and we know all that. But is it good for everybody"?  And I said, "Yes, I believe it is".  "So will you prove it"?  So I went out on a mission to prove it. 
And we went to see some neuroscientists at Cambridge University and learned from them that if you speak poetry to newborn babies, unborn babies in the womb, and in the last three months before they're born, speak poetry to them, rhythmical poetry - it will improve their facility with the language, including children with dyslexia; it will make them speak more easily and more quickly, sooner; later it will help them with their reading and their writing - lots of research on this.  It's the rhythm in the poetry.  Judi Dench took part in this programme, and she told me that the first thing she learned as a little girl was Shakespeare.  And I said, "Oh, come on, we know you're Judi Dench, but come on".  And the neuroscientist said to me, "No, it's quite possible because, of course, the iambic pentameter is the rhythm of your heart - it's not called learning by heart for nothing".  She may not have understood it when she was a little baby, but you could easily learn it. 
And at the other end of the spectrum, I also learned that with older people, you can actually help delay the onset of dementia by learning poetry by heart, keeping the synapses supple, the brain is a muscle, if you don't use it, you lose it.  So all else being equal, you could help keep dementia at bay by working that muscle that is your learning poetry. 
And so I started a scheme called 'Poetry together', and if you're listening to this and interested, please go to poetrytogether.com, and if you know of a school or any old folks who might like to take part, basically we get children from schools and old people from old folks homes to learn the same poem, and then during National Poetry Day, that time of year in October, the schools and the old folk get together and have tea, cake and perform their poem together.
So I put together an anthology of poems that you could learn by heart - fun ones, silly ones, old ones, the classics, all the favourites.  What's the poem you remember first learning when you were little?
Venetia Vyvyan:
Oh 'Sea Fever' by John Masefield, which is wonderful.  And again, it's the rhythm:
I must go down to the seas again, to the lonely sea and sky.
And all I ask is a tall ship and a star to steer her by.
It's just wonderful, really beautiful.
Ben Holden:
You led me to find a video that I had somewhere in the bowels of my computer of my son, aged, I think three, performing from memory, because he couldn't read obviously, 'The Owl and the Pussycat', and we'd read it enough to him that it had gone in, and I found this video, it's incredibly cute, where he's sort of in pidgen, early words, reciting 'The Owl and the Pussycat'.  And also, it was around two years later that we, I was very struck, I went to a funeral, a family funeral, sadly, and the sons performed in honour of their mother who passed away 'The Owl and the Pussycat', because it was what they'd always been read as a child by her.  And then, the same month, same family, my in-laws, we went to, it was actually my sister-in-law was getting married, and she asked that my kids, partly because said video, would perform 'The Owl and the Pussycat' with us, and they were then aged five, so they were able to do it; so we stood up and we all did it as a family.  But isn't it interesting that the same poem in the same month could hit the same notes in such different circumstances and not a dry eye in the house both occasions, and it was the first one you learned?
Gyles Brandreth:
It is, and it's a good one for people to learn again, people, older people think, "Oh, I can't learn poetry".  To re-learn a poem from your childhood is a good place to start, because it's actually in there, in the memory muscle somewhere, so you can revive it.  People often think it's impossible to learn a poem after a certain age - it is if you try to learn the whole poem; if you take two lines a day, anybody can do it.  I'll give you an example.  Now, I'm going to teach Venetia a poem:
"There once was a man from Peru…", - I'll make it easy, to see if you repeat this after me.
There once was a man from Peru,
[Venetia repeats]
Whose limericks stopped at line two,
[Venetia repeats]
That's the end of the poem!  The point is, you'll remember that now, because it's short and sweet.  But all you need to do, at the end of the day, you learned it instantly.  You can learn two lines instantly.  Don't try and learn more than two lines.  Tomorrow, learn the next two lines, and gradually within a week, at two lines a day, you can learn a sonnet.
Ben Holden:
Yes, and then you'll have it forever.
Gyles Brandreth:
I like things in the evening to read that are short and easy, so a poem to read before you go to bed or a diary is quite good.  Sometimes, when I'm in a real hurry, I just read from a book of quotations, because they're very short the entries there, but they're a bit moreish.  It's like eating a box of chocolates with a book of quotations, you read one, then you read another.
Venetia Vyvyan:
But there is another thing you can learn by heart and that's hymns.  I love hymns.  They're really good.
Ben Holden:
And actually, lyrics somehow often get implanted because of the music.  I feel like I have a better facility for lyrics than perhaps poetry.
Gyles Brandreth:
In 'Dancing by the Light of the Moon', I've got quite a few song lyrics.  Sometimes they do stand up, [-] reads as well as he sounds actually, but you're right, 'Dear Lord and Father of Mankind', I mean, it's wonderful.
Venetia Vyvyan:
But I love the imagery.
Gyles Brandreth:
What is your favourite hymn?
Venetia Vyvyan:
'Hills of the North Rejoice'
Gyles Brandreth:
Oh, do I know that?
Venetia Vyvyan:
It's an advent hymn, and it's got lots of very un-pc things in it, which is why it's not often sung in its original form, but it is marvellous.  I do recommend it.
Gyles Brandreth:
It's like the national anthem, some of the verses are so un-pc that it's only the Duke of Edinburgh who still sings them.
Ben Holden:
But Gyles, do you not have a sort of elephantine memory anyway?  I sort of imagine you as someone who's got a great memory for jokes and for these, you know, quotations etc.  Is it something that you find relatively easy compared to other people?
Gyles Brandreth:
I mean, it's just using it all the time.  And I do a lot of after dinner speaking, and I host a lot of award ceremonies, so I try, as it were, to listen to what I'm being told, and I mean, I suppose I do a little bit of that American thing of repeating what I've just been told.
It can be challenging.  I was told a joke recently that made me smile, so I'll share it with you.  It's about remembering things.  A fellow's at home with his friends, and his wife's in the kitchen preparing supper, and they're having supper, and he's talking about the restaurant that they'd been to the previous night.  And the fellow is saying "It's a fantastic new restaurant, and it's in Barnes, and it's fantastic, and it's quite near where your bookshop is".  So, "It's a fantastic new restaurant, the food is completely superb, we had a brilliant starter - prawns - sounds old fashioned, but it was just wonderful.  And then the main course, I'm a vegetarian normally, but I just ran riot on the fish.  And then there was this incredible souffle of the pudding.  Anyway, fantastic, you must go!" 
And his friend said, "Well, we'd love to go, what's it called"?  
"What's it called? Oh, god. Oh, come on, what is it? Oh, I know, em, think of a flower with a long stem and red petals at the top, smells lovely, thorns at the side. A stork with thorns, rose, oh, oh, ah yeah, Rose! What was the restaurant called?"
So the point about my book is it solves your memory problems, and also gives to light...
I've been writing a series of murder mysteries featuring Oscar Wilde as my detective.  And Venetia has very sweetly stocked all of these and the joy, and I know readers like this, if they find something they like, they want more of it, don't they?  Which is why, for some authors, it is exhausting, because they've got to keep churning out the same, really, people want the same book again and again.  Is that fair to say?  And it disappoints them,you know, they want another Hercule Poirot mystery, and if it's an Agatha Christie without Hercule Poirot, they're disappointed, they really want the same thing again and again. 
So I've created a series of murder mysteries featuring Oscar Wilde as my detective, and it was born in a library, because when I was a member of parliament in the 1990s, my favourite room of the House of Commons, I took refuge in the library; the building, fantastic building, House of Commons, lovely interiors designed by Pugin, famous architect, and this library overlooks the River Thames, and the first two rooms are full of political books and biographies; the last room is really a room where the books aren't relevant to politics, a lot of fiction and biography that isn't political.  And I, in my day, they used to have all night sittings, so you'd be there literally all night waiting for votes, and the big leather chairs where people fell asleep, and I shared a table I think with Peter Mandelson, remember Peter Mandelson? still with us.  So he would sit on one side of the table, I'd sit on the other side of the table, writing my diary, making sure he wasn't looking at what I was saying; and we would chat, but he would fall asleep and I would think, "What am I going to read?", and I climbed up wonderful library steps and discovered the autobiography of Arthur Conan-Doyle, written in about 1926. 
Quite early on, I discovered him describing an evening at the Langham Hotel, which is opposite now to the BBC, still exists.  He'd gone for a dinner with an American publisher who had invited him and Oscar Wilde to have dinner.  And he didn't know Oscar Wilde at that stage, he was a few years older than him in his thirties, Oscar; Arthur Conan-Doyle was in his late twenties, he'd only written one Sherlock Holmes story.  This was the year after the Jack the Ripper murders, and this American publisher who published Lippincott's monthly magazine was looking for murder mysteries set in London to capitalise on the interest in Jack the Ripper, and wanted to commission these two young up and coming writers, the Scotsman Arthur Conan-Doyle, the Irishman Oscar Wilde, to write murder mysteries for him.   And as a result of that dinner at the Langham Hotel, Arthur Conan-Doyle was persuaded to write the second Sherlock Holmes story, there might never have been any more Sherlock Holmes had it not been for this dinner, and Oscar Wilde was persuaded to write what eventually became 'The Picture of Dorian Gray'.
So I discovered this in this book written in 1926.  What I also discovered that amazed me, because think of Arthur Conan-Doyle who was very, you know, butch and stocky with a moustache, you know, rather looked like a white hunter fresh from the jungle, you didn't think that he would necessarily get on well with the dandy that was Oscar Wilde; but he fell for him immediately, admired him, spoke of his delicacy, his gentlemanly qualities, but also what a great conversationalist he was, saying that he was able to, he listened, he gave, as well as took.  And he remembered it as the 'golden evening', and it suddenly occurred to me, let's make these my Holmes and Watson, Oscar Wilde and Arthur Conan-Doyle.  And that led to a series of seven murder mysteries featuring Oscar Wilde, and so that was the result of being locked in a library overnight.
Ben Holden:
So which other libraries, then?  This was obviously a seminal moment, but which other libraries for both of you over the years have been key places?
Venetia Vyvyan:
Well, I was in a boarding school in Sussex at a place called Southover Manor, which is happily no more, and the library was my refuge.  Nobody else went in there.  It was the sort of rather dim girls boarding school that had seen better days.  But the library was a place where I could actually escape the girls, escape any problems I had.  I read all sorts of things in there, Frances Parkinson Keyes, she was wonderful, not in print, but I remember finding this dusty volume and reading it and enjoying it.
Ben Holden:
What about you, Gyles, because you mentioned Foyles, but there must have been a library nearby?
Gyles Brandreth:
Yes, there was.  Well, my parents, as I mentioned, lived in a mansion flat in Baker Street, which is near the Marylebone road, and there was Marylebone Public Library; great, mighty Victorian building, and I spent hours there, hours and hours there; they had and still have a Sherlock Holmes, Arthur Conan-Doyle collection.  Because out of my bedroom window, I could see the building that was believed to be 221B Baker Street.  So my childhood obsessions were Oscar Wilde and Arthur Conan-Doyle.  So I really have never left my childhood, so I would go there to get into Sherlock Holmes in a big way. 
I was then sent to a boarding school, this place called Bedales in Hampshire, which was founded in the 1890s by a man called John Badley, and he was still alive in the 1960s, born in 1863, died in 1965 aged 102.  And I knew this man, because I would go and play Scrabble with him in his cottage on the grounds on a Wednesday afternoon, you know, a child was sent out to play Scrabble with him.  And we would have tea and scones made by his housekeeper and we would play Scrabble, and he won one every game.  I said he cheated, because he was using these words that were obsolete, and he said, "They were current when I learned them in the 1850s".  Anyway, he was a delightful old gentleman, and he told me that among his first parents at the school which he founded in the 1890s was Oscar Wilde.  So Oscar Wilde's eldest son went to this school, Bedales.  So I, when I was a teenager, I was a friend of a friend of Oscar Wilde, Venetia, shake my hand.  You're now shaking the hand that shook the hand that wrote 'The Importance of Being Earnest'.
Venetia Vyvyan:
Well, and Oscar Wilde named one of his sons Vyvyan, and I named our eldest daughter, well, her first name's Charlotte, but her second name is Constance, after Constance Wilde, in homage.
Gyles Brandreth:
Constance Wilde was the wife of Oscar Wilde and the mother of Vyvyan and Vyvyan's son, Merlin Holland, who now lives in France, I'm proud to say is a friend of mine, and has kindly read all my Oscar Wilde novels and given them his blessing.  So at this school, Bedales, founded in the 1890s, was this old gentleman who was young then, and it was very much in those days a Christian socialist school, blessed by people like Bernard Shaw, who, you know, founder of Fabians, lots of vegetarianism going on, open toed sandals, wholesome naked bathing, that kind of thing! 
And when the school moved to its present site, which is near Petersfield in Hampshire, they built a library that is undoubtedly the finest school library anywhere in the world; built by a man called Lumpton.  Lupton built this library, it's wonderful, made of wood, you must google it, anyone listening to this, google the library designed by Lupton at Bedales school; it's on two floors, there's an arcade around the top floor of all wood and there are alcoves in this library.  And it was, like you, for me it was the safe haven.  It's still there, it's a reason to send your children to this school, and there was a wonderful librarian who herself had been a pupil at the school many years before, called 'Gonda'; it was a funny school, we'd call the teachers by their first names, it was one of those places, yeah I know, there you go.  And as I say, all the parents seemed to be famous.  I mean, literally, I've got a photograph of three parents talking to one another, and I think it was Robert Graves, Cecil Day-Lewis, and Lawrence Durrell.
Ben Holden:
And the poem, 'Walking Away' by Cecil Day-Lewis which is one of my favourites, is in your anthology, which is about Sean Day-Lewis, another of his sons, Daniel is also his son.  That's a beautiful, beautiful, poem.
Gyles Brandreth:
It's a poem about losing your child growing up and parting.  Anyway, so the Bedales library was, I'd say, a formative library.  I'm a great campaigner for libraries, and they don't need to be traditional libraries, like the ones we've been talking about, which are very traditional.  Libraries can and should change, and those that do thrive.  I say this advisedly, because there's a sentimental streak; whenever a library is threatened, people emerge from the woodwork and say, "Don't close the library!".  I then say to them, "When did you last visit the library? How many books have you borrowed from this library?" and the words are still on their lips.  People love having a library, but today, it's like people who say, "Oh, I love a local shop", well then, use it!  The only way you're going to keep a bookshop alive is actually saying, I'm not going to take the shortcut and go on Amazon,- sometimes, you may need to, sometimes you may want to -, but there is no independent bookshop in this country that won't deliver for you tomorrow the book you order by five o'clock today, and you'll get a human being in there who understands what you are wanting.  And the book shops that are delivering are growing.  There are now more bookshops, independent bookshops in this country this year than there were last year; more last year than there were the year before, I think that is true.  And it's the bookshops that are providing the service that Venetia is providing us that thrive.
The same goes for libraries.  In the 1990s, I worked at the Department of Culture, and I remember sitting down with Danny Finkelstein who now works for The Times.  But anyway, we were at the Department of National Culture, or whatever it is, and we were looking at library policy, and Danny was saying, "Well, maybe we should get libraries to get coffee shops and maybe we should get Costa or Starbucks to come into the libraries.  Let's make them places where we get a computer company to...", - this is before computers were everywhere -, "...store computers, let's put creches, let's put fun nursery schools in, let's make it a place where people go as well".  And I think you mustn't get locked into the library that we knew in our childhood as the library of the future - a library is a place where you can borrow books and where you can read.  That's all it has to be.  It can be done in a multitude of ways.  Do you agree with that?
Venetia Vyvyan:
Absolutely.  We have a local library at the top of our road at home.  I can't go to the local supermarket without my youngest, who's 10, say, "Can't we go to the library?", and I have been known to leave her there while I do the shopping, because she absolutely adores it.
Ben Holden:
And you're absolutely right, Gyles, also in terms of going in there and just using the service is one way to help ensure they survive, because they do rely on those issue figures for renewal, and to prove their worth to the council rightly or wrongly.
Gyles Brandreth:
You and I, because we're sentimental, good-hearted people, think they also should be there as a warm place for people with nowhere else to go to sit in a corner near the radiator flicking through a newspaper, that has a social function too, but for a library to be a library, people must use it for its core purpose.
Ben Holden:
They do also provide all manner of amazing services, because we've been up and down the land to different libraries, and it's incredible, the multi-purpose, diverse elements that they bring to the communities as well.
Gyles Brandreth:
And you will be familiar with the word serendipity.  And you will know, because you probably listen to 'Something Rhymes with Purple', the podcast that I do with Susie Dent, a girl from dictionary corner, she's brilliant.  And she reminded me that serendipity comes from Horace Walpole, one of his novels, and serendip was the old name for Sri Lanka.  And if you research something on Google, yes, you can get the answer.  But if you go to the library, and you go to, let's say I'm researching one of my Oscar Wilde books, and I want to know what was in the theatre in the spring of January 1895, that's not easy to find on Google; but you go to a biography from that year, you go to an old newspaper from that year, and serendipity will take you to other incidental things.  That's what a library can give you.
Ben Holden:
And in the era of the dreaded fake news as well to actually go in and ensure that what you're looking at is correct, the information is accurate and authentic, and also the librarian or bookshop manager will help you navigate that as well.
Venetia Vyvyan:
When I was about eight or nine, I became absolutely fixated with Elizabeth Barrett Browning, and I went to my local library, and I told the librarian, I said, "Do you have a biography?", because it had been on Blue Peter, and she said, "No, but there's something in the stacks.  Come back in a couple of days, and I'll find it for you".  And she placed in my hands later that week a copy of 'Flush' by Virginia Woolf.  And she'd gone down into the stacks and she'd found it for me, and I never forgot that.
Gyles Brandreth:
Elizabeth Barrett Browning, 'How do I love thee?'
And what's interesting about that, it's one of the 'Sonnets from the Portuguese', and I assumed they were translations of Portuguese sonnets, as you would, and that's how they were published.  She published them as that, because they were original sonnets, but it was more acceptable for a woman to be seen as a translator, than as a poet.  Isn't that shocking, but fascinating?  And people always think, "Oh, these are songs from the Portuguese - they were translations", they weren't, they were inspired by the Portuguese, but they are her own work.
Ben Holden:
And how apt you should recite that, because we're recording this on Valentine's Day.  And I have to thank you and Susie and your brilliant podcast, because I may have written in my wife's Valentine's card today, 'Be my macushla'.
Gyles Brandreth:
Oh, there you are.
Ben Holden:
Because that word is beautiful, and a discovery from your excellent podcast.
Gyles Brandreth:
Tell us, we haven't asked you, what is your latest anthology?  Because you've done two at least with your father.
Ben Holden:
Yes, yes, we edited two poetry anthologies, 'Poems that make grown men cry', 'Poems that make grown women cry', tapping into emotion, freedom of expression, and that was with amnesty, partly hence the freedom of expression and gender identity, but also just celebrating beautiful poetry, and like your anthology, actually, I love an anthology where there are introductions, or there's a little bit of help and you're led by the hand; you don't talk over them, you do wonderfully in this one, you don't talk over the poems, so everyone can pull their own truths out of these gorgeous universal works of literature.  But if someone brilliant is leading you by the hand towards the poem, and you can't help but read it.
Gyles Brandreth:
There's a book by Lord Wavell who was a general during the Second World War, famous general, he fought in the First World War, and he, well remind us what the anthology was...
Venetia Vyvyan:
Well, it was said to be all, and I believe it was all the poems he knew off by heart.
Gyles Brandreth:
He remembered these poems, and he composed the anthology in his head, was he in a prisoner of war camp or something?  And he kept himself going by remembering these poems, and then, after the war, produced this wonderful anthology that people did love, and people have been generous enough, this is the ultimate compliment, to say that 'Dancing by the Light of the Moon' echoes that.
Ben Holden:
You're very kind to mention the other anthologies.  My latest anthology, again, touches on similar areas because it's called 'My first memory', and it's a collection of the first memories of great figures from history, literature, etc, and watershed moments of how they became who they became.  What about you, Gyles, do you have a first memory?
Gyles Brandreth:
My first memory is, I was born in Germany, my parents were part of the, something called the Allied Control Commission after the Second World War, where British forces, Germany was divided into regions, the Russians had a bit, the French had a bit, the Americans and the British, and my father was a lawyer; he was a magistrate in one of the British areas, but I don't remember being in Germany.  I know I was in Germany, because I had a governess, a nanny who was a man who'd been a circus clown, but there wasn't much work for circus clowns in Germany, I can tell you immediately after the Second World War [laughs], and he applied, my parents advertised for a nanny for their little boy, and this bloke turned up, and my mother interviewed him and thought he seemed decent, and, I think, felt sorry for this fellow who couldn't get any work.  And so my first nanny, I was brought up by a German circus clown, this explains everything! [laughs].  It does explain how I could walk the tightrope as a child, which was useful when I was an MP, and I can still to this day stand on my head.  But I don't, I don't remember any of that. 
I do remember, it must have been the early 1950s when I was three or four when they came back to England, my father was then a barrister, and being by the River Thames, Kings Bench Walk, and he was either moving into or out of the building there; I remember the building.
Ben Holden:
You were around three, because the average is 3.2 or three and a quarter.  And people think that's because one, the hippocampus which you write about, and those parts of the brain that function for memory are developed sufficiently for longer autobiographical memories to implant, but also because we start to speak, and we can start fashioning narrative and, obviously, as you said, books have been your life and words have been your life.
Gyles Brandreth:
My problem too is how many of my memories are false memories, because I tell stories, and fortunately I keep a diary, so I can check against the diary, but two things have happened recently; one, I went to the French Lycée, and I was a pupil at the French Lycée when President De Gaulle of France came on a state visit, and I described this, - they interviewed me for documentary, you know, they found children who were there at the time -, and I described him coming to the school, in his uniform, this is a great man, the leader of the free French in the Second World War, later, the President of France, a formidable figure, tall with a great stomach and a huge nose, and his uniform, I described all this; and then they showed me the footage, and there he was in a large suit, and I described the uniform vividly, how I'd been overwhelmed by the uniform shaking his hand, so you know…
Ben Holden:
You mentioned serendipity, I'd love it if you would browse the shelves and choose something with Venetia. 
Gyles Brandreth:
Speaking of my favourite bookshops, do you know Shakespeare and Company?
Ben Holden:
We've recorded an episode of this podcast there, with the great poet, Imtiaz Dharker.
Gyles Brandreth:
You've met them all, you're slumming with us!
Anyway, I went to Shakespeare and Company with my wife a couple of years ago, and we spend a lot of time in Paris, and we love going to Shakespeare and Company, and my wife knows that I'm never really happy in a bookshop, unless I'm sure they've got one of my books.  So what she does is she quickly scouts around the bookshop and says, "Don't worry Gyles, they've got all the books, it's fine, you can relax and enjoy your visit";  otherwise, she sees me hovering near where my books might be, trying to eye the shelves; and she found this book by me, and Shakespeare and Company is a secondhand bookshop.  So I pull down this book from the shelf quite excited, and there it was and I opened it, and I read the words, "Dear John, with love on your birthday, from your old friend Gyles", and it was dated four days previously! [Laughs].  I had given it to someone we went for dinner with on the Monday, and by Thursday night, it was already for sale at the secondhand bookshop.  I have dropped them!  I bought the book back, I put "With renewed admiration", and sent it back to him.  I've not heard from him since, and I don't wish to.
But a lot of precious things I've given away because of my wife, did I mention that when we began this podcast two days ago?  I may have mentioned that my wife has got the skips ordered.  So precious things I'm giving away, and I've given away all my teddy-bears to Newby Hall in Yorkshire; it's a beautiful stately home built by Christopher Wren, and so all the teddy-bears they live in the Brandreth Bear House.  So, some of the precious things, like I was lucky enough to know A. A. Milne's son, Christopher Robin Milne, who was a bookseller, of course, wrote a couple of lovely books himself, and he, for example, my Winnie the Pooh was blessed by Christopher Robin, by Christopher Robin!  My Winnie the Pooh held the paw of Christopher Robin!  And so things like that are too precious to have at home, and I don't want them to end up on the skip, so precious things have all gone to Newby Hall in Yorkshire, so other people can try them.
~ Gyles Brandreth is invited to browse the shelves of Barnes Bookshop and select a book of his choice ~
Gyles Brandreth:
We're browsing, and normally when I come in here with Venetia, she knows me, she just shows me my own books.
Venetia Vyvyan:
I love that, 'Sisters of Sinai' by Janet Soskice; it's about two redoubtable Scots women whose father was equally enlightened, and once they learned a language, he allowed them to travel, -this was in the Victorian age -, allowed them to travel to the country, and they actually ended up in Egypt, and they discovered a palimpsest with one of the Gospels on one side, which they were so excited by that they took back to Britain, on Mount Sinai.  So I do recommend that.
Gyles Brandreth:
Ok, anything else?
Ben Holden:
Do you know, Venetia, when a local author's been in, because their books have suddenly moved more prominently?
Venetia Vyvyan:
Oh, we only have a couple of authors who do that!  No names!  I think you might enjoy that...Andrea di Robilant.  It's about…
Gyles Brandreth:
Ernest Hemingway and his last muse.  Oh, that's up my street!  I'm liking the idea of that, so I think maybe 'Autumn in Venice' is what I'm going to have.
Ben Holden:
What a fun and fantastic duo Gyles and Venetia make, I could barely keep up with Gyles, so I hope you could!  And if you're wondering, 'macushla' is an Irish word meaning heartbeat, and my new favourite term of endearment. 
[END]
Thank you for listening to this Ex Libris podcast.
If you've enjoyed this episode, please rate, review and subscribe wherever it is you get your brainfood. That way, not only will you keep up with the podcasts, but you'll also help us champion libraries and independent bookshops.  To find out more about the authors and venues, as well as libraries and independent bookshops, please visit our website:  www.exlibris.com  You can also get updates on twitter and instagram, not to mention, win a signed copy of both Gyle's superb anthology, 'Dancing by the Light of the Moon' and my own recent collection, 'My First Memory.'  Find me @thatbenholden.
Ex Libris is produced by Chris Sharp and Ben Holden.
Ex Libris is brought to you in association with The Lightbulb Trust - which illuminates lives via literacy and learning, providing opportunities to shine.