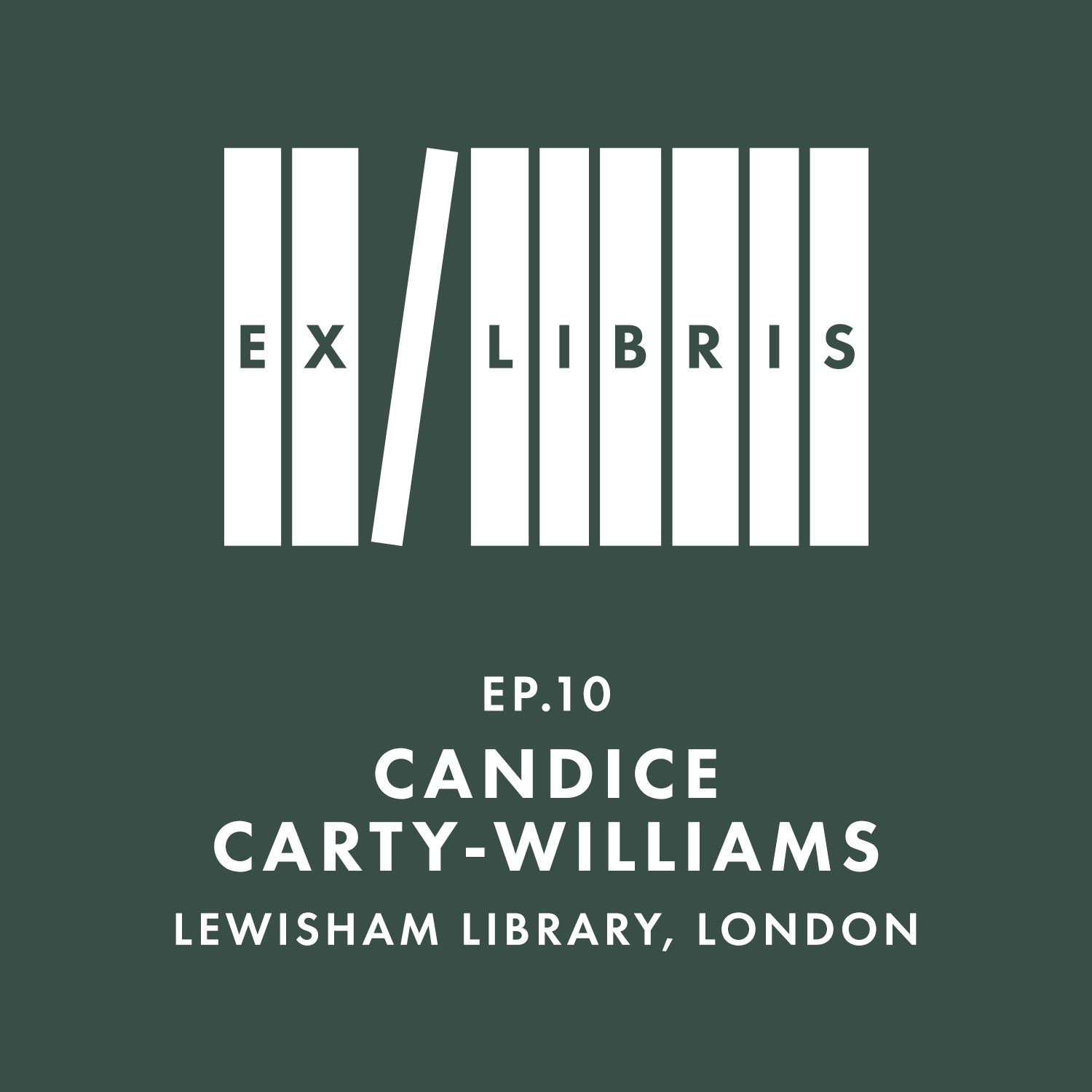 Candice Carty-Williams is a trailblazer.
That trail, in many respects, started at Lewisham Library in South London. This big, cornerstone library provided Candice a 'safe place' during her childhood. Passing by the library at night, she'd gaze with wonder at the lights illuminating the library's sign. Later, during her teenage years, the place provided her a sanctuary. It became a home-from-home, a seminal venue. Candice describes in moving and compelling terms for Ex Libris how it feels to return to the library now, after some busy intervening years.
Candice makes that return as a bestselling author. Her hit novel Queenie compellingly charts a year in the life of a 25-year-old woman, Queenie Jenkins, as she navigates life, love, race and family. Booker Prize winner Bernadine Evaristo calls the book 'a deliciously funny, characterful, topical and thrilling novel for our times.'
Like her eponymous heroine, Candice Carty-Williams is someone full of honesty, humour and heart. Her breakout creation has captured the imaginations of countless readers: Queenie was the highest-earning debut hardback novel in the UK last year and was shortlisted, among other prizes, for the Costa First Novel Award. It is now out in paperback (in a range of colours).
Joining Ben and Candice for this episode are Lewisham's Library Manager, Chris Moore, and Rachel New, Outreach Officer for Lewisham Libraries.
...
A full transcript of this episode of Ex Libris, featuring Candice Carty-Williams, runs below:
Candice Carty-Williams's novel, Queenie, compellingly charts a year in the life of a 25 year old black woman, Queenie Jenkins, as she navigates life, love, family, friendship, money, bad dates, sex, mental health, social media, work pressures, race, politics, and, well, London.  Queenie is a wonderful creation - funny, clever, unforgettable, and for me, most notably, brim full of heart.  She has captured the imaginations of countless readers.  The book was the highest earning debut hardback novel in the UK last year.  It was shortlisted for the Costa First Novel Award and is now out in paperback.  Candice, like her eponymous heroine, is a trailblazer, no question.  That trail, in many respects, started here at Lewisham library in South London.  Let's go inside and hear more about that with Candice, but also Lewisham Library Operations Officer, Chris Moore, and Rachel New, Outreach Officer for Lewisham libraries.
Interview
Ben Holden:
Candice, thank you so much for joining us in Lewisham library, and Rachel and Chris, thank you both too.  Candice, when we asked you where you wanted to meet, of all the libraries and of all the bookshops in the world, you immediately chose Lewisham library. Can you tell us why?
Candice Carty-Williams:
I grew up in Streatham initially and then we moved to Ladywell, which is just down the road, when I was around eight, and I got into reading in a big way just because my childhood was quite a lonely one, and so books were sort of my saviour and my solace, and all these worlds to escape into.  And when I was at school, that was the same thing, so I spent a lot of time in the school library.  When I was in secondary school, something happened that, actually, I really wasn't involved in genuinely, but a group of us were excluded, and my stepdad at the time said, "You can leave the house when school begins and come home when school ends, because you can't be here".  And so I came to Lewisham library every day, which was an amazing thing for me.  And so I have a lot of feels, because it was a really safe place when I didn't feel safe.
Ben Holden:
And so you'd come here every day for that period, and you continue to come here after that?
Candice Carty-Williams:
Exactly, but I'd come here before.  I mean, who says to a child, "Go and just find somewhere to be for the whole day"?  And luckily, I wasn't involved in any bad situations, because the library was here.
Ben Holden:
So you would be here all day and you'd be reading?
Candice Carty-Williams:
I'd be reading all day. I was reading, at the time, one book a day, and sometimes I would read two when I was here, just because I read so quickly, I always have, and so it was amazing just to feel safe in this space, because it does, it still feels like a safe place.  And I remember when I was a child, I'd always go past it in the car in the night time, even when I wasn't going to be there in the day, and see the Lewisham Library sign in lights, and think it was the most incredible, glamorous thing that Lewisham had to offer.  And so, of all the places that I thought I could go, because, you know, like a child's mind is kind of like, "What do I do? Where do I go?", but immediately, I was like, "That place is going to look after me".
Ben Holden:
You know, I like to say that they are society's safe spaces.  I love the lights, as well.  Carnegie always insisted that there be a light outside each of his libraries, the Carnegie libraries, - "Let there be light and enlightenment as well".  And I love the lights in that sign.  It kind of like it reminds me of the stage mirrors, there's a kind of glamour to it, as well.  So I can imagine it felt like a bit of a beacon.  And you would read omnivorously?  Can you remember any of the books?  Were there any that sort of struck a chord in that period, or even earlier, or after this library, that were really influential for you?
Candice Carty-Williams:
It was every Malorie Blackman book that I could find here, any Jacqueline Wilson book, Judy Blume also, and my nan was a real reader of Catherine Cookson books, and I didn't like those, but she also read Virginia Andrews books, and so I would read those.  So I started with 'Flowers in the Attic', and then I would find anything that I could to do with Virgina Andrews here.  So my reading sort of jumped up in such a big way when I was younger.  But I think that's the case, isn't it?  You just always end up reading or watching stuff that's too old for you.
Ben Holden:
It's kind of a great advertisement for exclusions.  But kudos, you used the time well.  And Chris, maybe you could explain a little bit about the library?  It's a pretty big place.  It's a well stocked, really welcoming place, and the building is '60s?
Chris Moore:
Yes 1960s, it actually just celebrated its 50th anniversary.  In fact, I think around about the time Candice was describing, it used to have a light sculpture as well.  So lights used to swirl around the building, and it was actually operated by a sort of wind mechanism, it was moving, so you would see the Lewisham Library in lights, as you've already said, and there were these lights that would actually go in bars down the building.  So I think it really is a beautifully sited building.  And I think, as Candice has described, it's a sort of beacon.  It welcomes people in and has been doing that for many years, and we're here for education, for culture, crucially, I think, for peace and quiet, as well, when people need that sort of space to be able to sit and study, work, but also for, you know, getting the kids in and having all their activities as well.  So it is a big building, that's why we have so many floors to sort of try and segregate those functions out a little bit.  I think what you described as your sort of journey is music to my ears, because that's what a library is here for.  It's basically to help people develop, discover, grow, move on.  And, you know, you've obviously gained a lot from that experience, so absolutely, what we're here for is what you've described.
Candice Carty-Williams:
I think there's something about where it's placed on the High Street, as well, that makes it, it's like before you get to the hustle and bustle of like, big Lewisham and the shopping centre, and also when you leave, you're just like, "Okay, there it is".
Ben Holden:
It's on the corner...from a crossroads, you can see it from, you're sort of coming at it from all different angles.
Candice Carty-Williams:
Yeah, by the roundabout.
Ben Holden:
How is it coming back, Candice?
Candice Carty-Williams:
It's weird.  So when I was on the way here, I was going through Ladywell, and I was like, "Okay, so nothing has changed in all the years…"  I've lived in many places since I lived in Lewisham.  I would say that I'm a blue borough girl.  I met someone once at a party and I was like, "Can you guess where I grew up"?  And he was like, "You grew up in Lewisham, innit?" [laughs] and I said, "Yes, I did".  But yeah, it feels really nice to be back.  But I think I'm probably one of the most nostalgic people I've ever met, so I will probably cry on the way home.  So, you know, it's amazing to be back and also to be back as someone who's like, I guess as an author, but it feels like quite a nice thing.
Ben Holden:
So you worked in journalism, and then publishing.  Can you talk a little bit about Queenie? You've had this incredible success, and congratulations, and it is a fantastic read, and she's an amazing character.  But can you talk a little bit about what compelled you to write Queenie, and where Queenie sprang from?
Candice Carty-Williams:
Of course, I guess, you know, I read so much when I was growing up, and when I was in my teens, there was a lot of young adult fiction that I saw myself in, so Malorie Blackman was amazing for that, many other authors too, but when I got to my early twenties, I was like, "Ooh, I'm not really seeing myself as much" - and that is a real problem, because you start to feel invisible.  If you're not seen by society, then you're just kind of finding yourself in the pockets that you do see yourself.  And so when I was seeing black women in TV and film, the depictions were all these sexy or sassy or strong women, and I was like, "Oh, I don't really fit into any of those brackets of what a person should be", and so then you end up being like, "What is my identity"?  And so I was like, "Okay, so maybe we need more fiction like this", and I was working in publishing at the time, and was always on the hunt for new voices.
Ben Holden:
You founded the Guardian and 4th Estate BAME short story prize?
Candice Carty-Williams:
Right, exactly.  And so I was like, "Okay, let's get some more voices in", because I know that lots of writers having met them and spoken to them just at events, before I did any book stuff, and they didn't really understand the process.  So I'd say, "Have you got an agent?" and they'd be like, "Oh, what's an agent?"  And, you know, an agent is the person who says to an editor who's going to acquire a book, "Oh okay, well, you know, this is to your taste, you should read it, you should buy it, you should publish it".  And if these writers don't know how to get their stories to agents, then there's a problem.  And so I thought, okay, let's cut the agent out, and let's do a prize so that people could just submit their story straight to us. And even if someone hasn't won the story, then at least we have a pool of writers and we can continue to grow that pool, and we can look at all these amazing stories and potentially publish them. 
And so I did that, and things were happening, and it was really great, but I was like, okay, it's not happening fast enough.  And so I was like, "Oh, how about you just write a book?", which sounds really simple [laughs].  So I went away, and I applied to a writer's retreat that Jojo Moyes was running, and I remember, I think the day before I got an email to say that I was accepted onto it.  And so I went and did that.  And as I was driving, I borrowed my friend's car and I drove all the way to this house, which is, I think three hours away, and I hadn't driven since I passed my test, but I made it, thank goodness!  But I got there and her husband greeted me and said, "You know, this is where we're going to be staying, if you need anything, let me know, JoJo is gonna be back in a bit".  And I said, "I don't know how to thank you", because I hadn't been in a place like that before, it was so far from London and it was just peaceful, and there was so much green around.  I've been in South London all my life, apart from the three years when I was at university in Brighton, and so I was like I don't really know what to do, or how to be in this space.  It was so quiet, like I'm used to, like I can hear so much noise now, and we grew up near the hospital, and so there were always sirens. So I said, "I don't know how to thank you" and he was like, "Oh, just write a bestseller".  And I sat down, and I just wrote, and I ended up writing, I think, 8000 words, but I didn't plan any of it.  My main thing that I was thinking about as I was driving was, "What do you want to say?"  And what I wanted to say was that black women contain multitudes, and that we have different stories and different ways of being, and we're not all strong, and we can't endure everything, and we go through lots of stuff.  And we go through this stuff that everyone else goes through, but people see us differently.  So that will always change how we receive ourselves and how we are received and how we navigate things.  And so that was really it.  That was the jumping off point.
Ben Holden:
It was relatively fast in terms of the first draft?
Candice Carty-Williams:
Six months for the first draft.
Ben Holden:
Queenie just sort of poured out.  It wasn't planned or plotted like some authors do?
Candice Carty-Williams:
Oh, no no.
Ben Holden:
As a reader, that's part of the joy, I think, as well, as it's just the energy and the rhythm and the drive, but also the honesty and the sort of rawness and the dynamism is all there, and that must have been stemming from that process.  And you were writing, presumably, while you were obviously working your day job?
Candice Carty-Williams:
Yeah, so I would leave work on Friday, I would go and get my food shopping, and then I would go and sit in this horrible studio in Streatham that I was living in, and I would not come out until Monday morning, and go back to work.  And so I did that for months, and all my friends were like, "Okay, well, we guess you're fine".
Ben Holden:
And the foundation was laid on that retreat, so you had this sort of cornerstone, and then you built out from there.  Did you enjoy it?  I mean, it was obviously sort of, as these things can be, almost like a trance.  Or, you know, do you look back and you think that was a very happy or enjoyable process, or was it tough, because it's a very honest, raw story, and it's a fictional book, but it must have been quite personally exhausting or challenging along the way?
Candice Carty Williams:
I just loved it.  I really loved it.  I really just sat and it was such escapism, because, you know, I was working a full time job, and you're always tired.  And, you know, life is just doing what it's doing, and those things were quite hard, but to escape into writing is always the way, it's like escaping into reading, I can just shut everything else out.  And so I loved it.  That was when I felt happiest when I was writing.
Ben Holden:
And remains the case?
Candice Carty-Willaims:
Yeah, most of the time, because when I was writing it, there was no pressure, because I was like, well, I want to write it, and what I've achieved will be to have written a book, I didn't know anything would happen with it, when you're writing your first book you don't.  And then when you're contractually bound to write a second, you know what you have to do.  And so yeah, so it was a really wonderful time for me.  And I always felt very happy.  And so, yeah, it's a different thing now…
Ben Holden:
I think that shows in the sort of exuberance of the prose…
Candice Carty-Williams:
Well, it's also, I think because I was younger, as I wrote it when I was 26, I'm 30 now.  I was obviously like, just a bit more confident back then as well, because some of the stuff that people tell me that's in the book, I'm like, "Oh my God, I can't believe I wrote that".  Right now, in the second one I'm writing now, I'm paring everything back, and I'm like, "No, it's okay, you're allowed to".  But yeah, the first one, I was like, there's an energy to it, because I could just say what I wanted to say and not think about it.  
I was at an event and a girl came up to me and she was really upset.  I was like, "Are you okay?, and she was like, "Well, you know, your book's really traumatic".  And I was like, "Yeah?".  And she was like, "Yeah, but it was really painful".  And I was like, "Oh God, I'm really sorry".  Because I think when I was writing it, I just hadn't considered that someone could read it and take that much pain from it.
Ben Holden:
Yeah, I mean, it is a tough read, in a sense, in terms of it's very, very funny and incredibly charming.  But then, I was quite struck by, you know, on page eight, Queenie, and it's a first person narrative, but Queenie confides right up front that she is not a person who ever felt particularly safe.  And I think, for me anyway, that immediately set that and also, of course, the manner of the opening, maybe you should tell listeners or people who haven't read it, where we start, because she's having an examination right up front and it's an intrusive, invasive, full-on sort of opening, in terms of circumstances as well.
Candice Carty-Williams:
It opens in Lewisham hospital, and she is having an examination.  I mean, it's kind of a spoiler, but she's had a miscarriage and she doesn't realise it.  And I started it with her having an examination of that nature, because I really wanted immediately readers to understand this black woman is vulnerable, because I don't think that happens ever.  I think that black women have always had to be strong, and to carry loads of things, and, as I said, to weather everything, and I think, for me, it was like, "Okay, but I just want people to understand that even physically immediately, this girl is in a position of vulnerability, and we're going to stay there with her for most of it, most of the book".
Ben Holden:
Yeah, and we do, and you put her through the wringer.  But she's such a strong character in many ways, obviously, vulnerable too, and there's a mental health element, but she moves through these challenges.  She's sort of a catastrophist as well.  And I know you've talked about her having a quarter life crisis, which is great, and is something that isn't often explored, something else as well as Queenie as a black 25 year old protagonists woman, but also the quarter life circumstances, and the social pressures on top of everything else that she's has to put up with.  Roxane Gay, has written that "It's an amazing novel about what it means to be a black girl whose world is falling apart, and needs to find the strength to put it back together", which is lovely.  It's really, I mean, you've got some incredible quotes, but that one stood out for me as well, and sums up the sort of strength that Queenie brings to the read.
Candice Carty-Williams:
I think it's also the strength that comes from being vulnerable, rather than this upfront ability to just navigate everything.  And that's what I wanted to show through her character, is that whole thing about being darkest before the dawn, like you just have to get to that place in order to be able to see things and bring yourself out of them.
Ben Holden:
Yeah, and like I say, you wrote it in a sort of burst of creativity.  But was it tough to get the thing finished and out there, and also I'm cognizant that you're working within publishing and you have a certain persona, you'd reached a fairly high level in the profession, Marketing Exec, was it tough to then put it out there? Or what was that process like?
Candice Carty-Williams:
So I got an agent, but I hadn't met my agent before, but I'd followed her on Twitter, she's amazing, but I did everything through the proper channels, because even though I worked in publishing, I wanted to do it properly.  And so, we did an edit together, which was really great, because I really, I mean, I quite enjoy the editing process.  I don't really, I'm not scared of it.  I think that, things like that, because you just work on it by yourself, - there could be an understanding that it's just done and it's perfect -, but I think these things are still collaborative, and they need to have other eyes and voices, because you're so in it that you can't see what isn't making it the best thing it could be. 
But then she pitched the novel to a load of editors, and there was like a solid week of rejection, where loads of editors were like, "We can't see where it would be placed.  We don't have any books like it, so we don't know how we'd publish it".  My favourite one was "We don't have any black editors, and it would require one, so it's not for us".  So there was lots of stuff in there.  And my agent said it was fine, because when it's published and everything's happening, you won't even remember those people.  And I was like, "Oh, I will...and I do!"  And so that was quite hard, but then it was fine, because it did get published, and I work with such an amazing team, my editor's incredible, and I really like her as a person and an editor. And I wouldn't have worked with anyone who I didn't trust, because I trust her, because she's so funny, and because she really gets the story, and because the book is so, it's not led by humour, but it's such a big part of it, and it needed it.  And I don't think I could have had an editor who couldn't make me laugh.
Ben Holden:
And Rachel, you were saying before we sat down and started talking with Candice about your reading experience, and you'd marked all the parts that you found funny, which is, you know, almost every other page there's, there's a gag or, you know, it's hilarious.  But in that sense.
Rachel New:
I was just telling Ben about the bit where Queenie spent two hours telling her date what racism means and why black lives matter, and that should not happen on the first date.  And then there's the bit where she says to somebody:  "Don't forget to wash your sheets, and your penis".
Candice Carty-Williams:
That is a Spaced quote, so I can't take credit for that, because I loved the TV show Spaced, but I had to get it in there somehow.
Ben Holden:
And so then the book comes out, and it's this phenomenon.  Without design, you'd identified in publishing that there was a gap in terms of voices that you could recognise, but Queenie just sort of storms into that gap.  And it's a phenomenon.  How was that?  Obviously very pleasurable, I imagine, and rewarding, but such a big success for your debut, as well.  That brings with it all sorts of unexpected pressures I imagine?
Candice Carty-Williams:
It was great.  I mean, it's really hard not to, I was very grateful, and I'm still very grateful, but it is really overwhelming.  So I was talking to Bernardine Evaristo about this, I just find it really hard, because I'm quite shy, and so having to do events, - the first event I did was the showcase for my publishers, and I had to go out and talk to an audience of 1,500 people, and I did not sleep the night before.  I didn't eat the day before.  I think I cried myself into oblivion on the way there.  And then I just had to do this thing, and I was like, "What's happened?", you know, because you just go from just being solitary and quiet in your house or in a library, and then you're just in front of all these people.
Ben Holden:
You had seen it though, from the other position of the Marketing Exec representing the authors, so at least you knew the world.  But of course, that doesn't necessarily prepare you for actually, the spotlights on you suddenly, and 1500 people look at you, I get it.
Candice Carty-Williams:
It's not harder, but it's different, because you are supporting loads of authors and being like, this is what you need to do, and then when it's you suddenly, and you still recognise that world, it's so terrifying for that, it's kind of worse for the eyes to then be on you who's always been in the background, and as a writer in the background.  I mean, I really just love the writing.  And I do the events, because I think they're important, because I want to talk to people and my favourite part of the event is when it's over, and I can do the Q&A, and talk to all the people that wait and want to have a chat about what they want to do, or what they want to write, or ask me questions about where the character came from, or what she means, or what this thing meant and why haven't you done this properly?  So that's my favourite part of it is talking to the people.  But that whole thing about being on a stage is terrifying. 
Ben Holden:
And if your natural disposition also is shy or not extrovert, in that sense, I guess we're all a little bit extrovert and introvert in different measures as well.
Candice Carty-Williams
I think there's an element of me just having to be like, "You've just got to act now".  And so just having to perform on the stage.  And that's fine, and then come off, and then I immediately go to sleep.
Ben Holden:
And is it getting easier?
Candice Carty-Williams:
No.  I mean, it's still, I guess I'm less nervous.  I'm not doing the crying anymore, which is good.  It's kind of in a different way, because I get stressed about everything else.  It's just one of those things, but I just love talking to the people about the work.
Ben Holden:
And what are the most rewarding responses you've had or interactions with readers, because it is a very meaningful book, and you are a bit of a trailblazer?  I don't mean that in a glib or sycophantic way, it's just a fact, you know, but it also is a book that speaks to not just black women, but again, the quarter life crisis element speaks to all sorts of people in that time of life, women, obviously more than men, but what are the most rewarding responses that you've had?
Candice Carty-Williams:
I have hundreds of messages a month from black women who are like, "I read this and I connected with this and I felt less alone".  And that was really important to me.  But I also, remember one of the first questions I got was this younger white woman who messaged me to say that she had a mixed race daughter, because her partner was black, and that she just assumed that because her daughter was half white, her daughter would just navigate the world the same way that she did.  But she was like, "Reading your book, I understand that there is a difference and that she will come up against stuff that I wasn't familiar with and didn't understand, but now I know that I have to sort of…" I think she said, "I have to give her the fortitude to be able to deal with things that I have never had to deal with".  And that was amazing for me.  Because it was like, yeah, like things are, there's not, there's nothing wrong with being like, "Yeah, there's a difference there".  It's about accommodating that difference, understanding it, that's what it's about.  And I got a message from, my Twitter DMs were open, because when I worked in publishing still, people would ask me for advice about how to get into publishing or how to do certain things...
Ben Holden:
So you were still working in publishing when the book came out?
Candice Carty-Williams:
Oh, yeah, for, I think, two months.  I was so tired all the time.  But my Twitter DMs were open, they're not anymore, sorry everyone.  I got this message from this white guy who looked like this kind of like American dude bro, and I saw that he was American, and I thought, "Oh God, he's come to say something horrible", and he said, "Hey, look, I know this book isn't technically for me, but I read it, and I had to take some time out of work because of my mental health, and reading your book has made me realise that it's okay, and that it's not just happened to me, because I thought I was the only person this has ever happened to".  And I was like,"Oh shit", I didn't realise that people, I guess, when you just do this thing that, as you say, it's all just been a sort of like big burst of like, rush and storytelling and energy and being like, "This is what I want to say", but I think, probably, I hadn't really stopped to think about how people would actually receive it, how everyone might receive it, and then sort of realising that was really overwhelming in a good way.
Ben Holden:
And like any great novel or poem or work of art, you know, you poured your heart and soul into it, but then we as readers, we put our own personal spins on it as soon as we pick it up and open it, and take our own truth from it, even though there are plenty of universal things in there ,as well as very specific socio-political, economic, etc. circumstantial things that Queenie has to deal with.  I was again struck right at the top in terms of your dedication, which is "To all the Queenies out there, you are enough, trust me", which is defiant and inspiring in equal measure.  And there must be a fair few Queenies who still walked through this door downstairs I imagine, Chris, you must recognise Queenie?
Chris Moore:
Absolutely.  And if this can inspire those Queenies out there, then you've done a fantastic job.  Working in a library, you know, you always want to feel that you are helping people somehow to achieve something, something better in their lives maybe, or just the next stage in their development.  But I think there's an awful lot of people who probably don't think they can ever get themselves out of whatever rut or situation they're in.  So I think this story is obviously going to be great help to all of those people.
Ben Holden:
Candice, your book sort of says it all, but what would you say to any listeners in Lewisham and further afield, but who are experiencing what Chris is talking about?  And you know, the challenges that Queenie or other kids here might face back in the day when you were excluded and found your way to the library?  What would you say to any of them listening?
Candice Carty-Williams:
I think I always operated under the illusion, it very much was an illusion, that I wasn't valid and that my life wasn't valid and my story wasn't valid.  And even though our stories are valid in a literal sense, in that, yes, you can write a book about them, they're also valid in your existence.  I think we all have something really special about us and that we are here, and that we're doing what we can is enough.  I mean, mainly, I just want people to understand that they are enough, and that you don't have to be extraordinary or strong or spectacular or like, you know, socially desirable to be the best person that you are.  I think that you just are by virtue of being you.  And I don't think enough people know that.  And that's why I want people to understand.
Ben Holden:
And I think also well said in the building that we're in, because if you walk into the library downstairs, the notice boards are awash with opportunities and reminders in different sort of pursuits and opportunities and initiatives that may enable people whatever age they are, old and young, to see that or learn that about themselves.  That's what libraries are partly all about.  How much would you say Queenie herself in terms of the fictional character was born here in this library?  Or am I now sort of over-egging things?
Candice Carty-Williams:
No, not at all.  I think like, you know, she's always been within me.  She's not me, but there's definitely a part of her that was a part of me.  And so her background is the same, she grew up in Lewisham in that way.  I mean, she grew up more in Lewisham than I did.  So, you know, we're just doing artistic licence, but I think there is no way that she wouldn't have been that lonely child that I was and in the book, you understand that.  But yeah, I think this would be a safe space for her for sure.  She doesn't do enough work, so she wouldn't do her work here, but she would like it here.
Ben Holden:
No, she doesn't come here in the novel, but outside the novel she does.  And what about your mates and friends from back home here around these parts, and your family?  How have they responded to your amazing success with the book?
Candice Carty-Williams:
They're quite good.  My friends are really amazing, my friends are incredible.  I have a really amazing set of friends who are very proud and very excited, but also they do more work to sort of like gas me up than I do, they're always like "Look, there's your poster, there's your thing!" and I'm always like, "Yeah, whatever.  That's my job like, that's my job, and I don't want to talk about my job like, we're hanging out", but they do a lot to celebrate me, and I don't really do that. 
And my family, they don't really, I don't think anyone in my family's actually read it, which is fine.  My Nan calls it 'my little project', and the other day, because I'm now the Guardian Review of Books Columnist, but my nan called me up and said, "I've just seen that, that's good".  She says, "When the ancestors look down at us, at least we can show our face", and I was like, "Yeah, all right".  So um, my family don't really, they're just kind of like, "Yeah, do your job".  But, you know, it's okay.  It's what it is.
Ben Holden:
Yeah.  And I should say also we're looking at copies of the book, and the paperback is out imminently, or by the time this podcast is released, will be out.  And the cover itself, I don't know who designed it, but hats off and literally hats off, because it's Queenie's hair, but it's absolutely beautiful, and also the colours.  So I luckily found some early release paperbacks.  Today, there was a table at Waterstones of them where I passed by, and they're beautiful colours as well.   And I suddenly, I've never had this before, I had this moment where I had to pick what colour I was going to go for, which I've never had with a book, but they're stunning.
Candice Carty-Williams:
And my publishers were like, "We're really gonna go for this" in a way that I didn't think, because I worked in publishing and I was like, "They're doing a lot of stuff that I've never seen before".
Ben Holden:
It is quite innovative and it is eye catching, but also really beautiful, actually, the hair is quite fine…
Candice Carty-Williams:
It's an illustrator called Gerrel Saunders, who does all these beautiful illustrations of black women's hair, and my American editor found it.
Ben Holden:
And of course Queenie's hair is a feature…
Candice Carty-Williams:
Such a feature, but also she's on the covers, she's faceless, which was really important to me, because I think it's just that thing where she could be any of us.
Ben Holden:
Yes, every woman in many ways.  So I have to ask, this was such a transformative year for you personally, professionally, but also with Bernardine Evaristo winning the Booker, Stormzy starting an imprint, you mentioned Malorie Blackman, Noughts and Crosses has been adapted, much excitement, - my kids, amongst many others, will be looking forward to seeing that, Stormzy's in it, I understand.  But where do you, you know, it's not that long ago that you launched that short story award initiative as a publisher, pre you becoming an author, where do you see the landscape now, because it feels like last year was a bit of a game-changer in sort of correcting things a bit within publishing and the broader reading sort of consciousness of this country.  Would that be fair, do you think?
Candice Carty-Williams:
I think so.  And I think that, you know, I've seen and understood that these things go in cycles, and that you get these initiatives and you get these big bursts of activity around diversifying reading, but, you know, that goes away after a year.  But I don't think it's going away, because I think that people are demanding to see change now.  And I think that social media has really helped that, because social media calls out every institution, every paper, every TV channel that does anything wrong.  I think that's amazing, because it's something that hasn't happened before -  people actually being taken to task now.  I think that what we're doing, many of us are laying the foundations for what should be a more representative society in many ways.  And I don't know if that's happened before, because initiatives are really great, but, I think, you know, the work is to be sustained and it is hard work.  I think that everyone is committed, but it's irritating because people that have to do these things like me, like Stormzy, [laughs], it's not our jobs.  We do it because we know it needs to be done.  You know, Stormzy is a musician, I was a marketing person, but you see these things and if I guess if you've got the energy and you've got the drive, you just have to work to put out and I think a lot more people have that, and I think when you see more people doing it, it gives you the energy to do it yourself.  So I think that there's a really long way to go, but I think that if we lay the groundwork, and you know, make it so that it's like fertile land for like, actual representative, I guess redressing, then things could be good. 
Ben Holden:
And those 10 publishers who shall remain nameless, who turned down Queenie are probably now saying, "You know, where's our Queenie"? There might be some imitator Queenie's in the pipeline.
Candice Carty-Williams:
But you know, I look forward to seeing their stories, and that's what, you know, any young black author who is thinking about writing a book or has been signed after Queenie, they reach out to me and I always meet them for coffee, I don't drink coffee, but I have tea, and I make them buy me a tea, but we always have a chat about like, what it's going to look like and what this could be, and what they can do, so I think it's really important to do that.  You know, I think it was also about saying to the industry that yeah, this book can sell, get more.
Ben Holden:
And so that sort of begs the question, what's next out of curiosity, or is it a top secret project, but Queenie is being adapted for TV right?
Candice Carty-Williams:
Yeah, that was a secret and it just got leaked, so everyone knows.
Ben Holden:
That's exciting.  And it does actually also, I should say, anyone who hasn't read it yet will discover that it does sort of read very cinematically, or certainly in terms of a TV show. The way you intercut, the non-linear structure and the sort of flashbacks to her relationship with Tom, does lend itself, I would think, to an adaptation, although it's a big challenge.  Are you writing that?
Candice Carty Williams:
I'm writing it for the screen, which is actually really fun, I really like it, I like it in a different form.
Ben Holden:
I used to work in film and my day job was screenwriting, so it's a very different sort of rhythm, but like I said, I do think the blueprint is, more than in many other novels, you do have some of it there.
Candice Carty-Williams:
Yeah, so it's being adapted for the screen.  I am writing it, which is a really great thing, because I had lots of meetings about it, and production companies were giving me different writers, because the pool of black female writers is so small, they were saying, you know, what about this person who wrote this play?  And it was like, "Yeah, okay, cool.  Let's think about that", and then the production company I went with were like, "You have to write it".  And I was like, "What?", I hadn't considered that at all.  And they were like, "That's kind of your job, right? Because otherwise we'll just lose your voice."  So I've been doing that, and it's been a really, you learn a lot about like, stuff, but also it helps I watch every single TV show that has ever come out.  So it's been an enjoyable thing and exciting.   And the thing I'm looking forward to most that kind of gets me through this sort of like, weird screenwriter's writer's block, which I never had with novel writing, is the idea of like casting and music, and just actually how it's going to jump out at people?  So that's what keeps me entertained. 
Ben Holden:
I have to ask, because the podcast is library and bookshop based, and I hate to sort of drag things down a little bit, but, you know, we've talked about all sorts of positive developments over last year, but equally, there have been over the last 10 years or so since austerity really hit, all kinds of problems for libraries, and it's fantastic that we're here in this amazing landmark library in Lewisham, it's very lively, downstairs and vibrant, fantastic offering for the community; but what do you make of the nationwide sort of scourge that we've had to deal with over the last decade or so, bearing in mind, again, that time of your life when this library provided such sanctuary?
Candice Carty-Williams:
I think when I started hearing about library closures a few years ago, like a sort of mourning, like it hit very personally, because I knew how much libraries had saved me, I felt really heartbroken for all of the children who wouldn't be able to go to this as a safe place, and who wouldn't be able to experience reading, you know that reading is such a privilege, being able to buy a book is a huge privilege.  Not everyone has that.  I couldn't afford to buy books all the time, that's why I spent all my time in libraries.  You know, I couldn't be the author that I was, without having read so much, and I read so much, because I could read books for free. But I think the problem is that the people who are doing these things are just not in these positions of understanding how impactful it is on so many levels, because they don't have those lives.  They have the schooling where everything is available for them, and then they have jobs where things are available for them.  And so many people don't have that, you know like, when you go and look in libraries and you see, yeah, some people are there just to use the internet, and that's fine, because not everyone, you know, job applications, people are like, "Why don't you apply for that job"?  And it's like, well, not everyone has the internet, that is the reality of things, and I think that, you know, I think it's not a problem until it's yours.  And I think that there are too many people working in positions of power that don't understand that, and don't have the lens to see that not everything is available and accessible.  And so library closures, I couldn't and can't believe it.  It's very painful.  It's very heartbreaking, because libraries are obviously hubs for learning, but also they are safe places, and also, they give worlds to people who can't just go and buy them.  So it hits me on many different levels.
Ben Holden:
Well, it's great that we can be here today and celebrate Lewisham Library which stands proud and the lights are still twinkling on at night, providing a beacon for other budding Queenie's and authors out there.  And, again, because this is a booky podcast, without meaning to pry or be too nosy, I do like to ask guests, and that's all our guests, how they choose to organise their shelves of books, and whether you're quite a regimented, sort of catalogued person, or whether it's all sort of colour coded like your beautiful novels, covers...
Candice Carty-Williams:
It's chaos.  Everything about me is sort of like quiet chaos.  I got some bookshelves built the other day, which is a really exciting thing for me.  They are pink, because that's my favourite colour and my novel is pink, but I've got some shelves in and then I basically just shove all my books in so they just look nice, but there's no colour coding but it's just like, you don't want to have like two yellow books next to each other, you want to like space that out, you know?  So it's like a nice catalogue, but like looks good rather than, there's no order, there's no order to anything in my life.
Ben Holden:
I turn to the librarian, Chris, presumably there's some order to your books?
Chris Moore:
I'm afraid I'm a typical librarian.  Everything is strict A-Z.  I've even attempted the Dewey Decimal Classification for my non-fiction.  So that's pretty much the way I do it at home.  It's more categorization than classification.  But the fiction's got to be A to Z.  And if anything's out of place…
Ben Holden:
It would be madness!  Rachel?
Rachel New:
I like my guests when they come to visit me to be able to browse the books and generate some interesting discussion, so I try to have some philosophy books and all sorts of different topics, psychology as well as fiction, so that people can just pick up a book and for it to lead to a conversation.  So I think I like to have variety, I have lots of bookshelves in different rooms in my flat, and I like to have a variety on each of the bookshelves, so that people can then see what represents me.  So it's important that my bookshelves represent everything that I like about books.
Ben Holden:
And continuing this, if it's all right, Candice, would you mind browsing the shelves?  The fabled, precious shelves of Lewisham Library for another spin, all these years later, and choose a book, and see what you gravitate towards today?
Candice Carty-Williams:
Yeah, I'd love to thank you.
Ben Holden:
And thank you all for joining us.
~ Candice Carty-Williams is invited to browse the shelves of Lewisham Library and select a book of her choice ~
Ben Holden:
Non-fiction, which is quite nicely categorised.
Candice Carty-Williams:
So many amazing books here.  I worked on this from the beginning before I left, which is the definitive history of racism, from the very beginning.  And also I love 'Stuart:  A life backwards' by Alexander Monster.  I finished that and I cried for about 10 days.
Ben Holden:
The great thing about doing these browses is that I get recommendations.
Rachel New:
That's one of my favourite books.
Candice Carty-Williams:
'Feminists don't wear pink' - another great one.  This is such a well stocked library.
Ben Holden:
Although you're a feminist, and pink's your favourite colour?
Candice Carty-Williams:
Exactly, and it's 'and other lies', sorry, I should have finished the title [of the book].
Ben Holden:
So we're hovering around sociology and politics.
Candice Carty-Williams:
'Riot City: Protest and Rebellion in the Capital.'  I think this is my choice. 
Ben Holden:
This is not something you've come across before?
Candice Carty-Williams:
No, never, but I think it's always good to understand, I mean, riot culture is really interesting, right?  And I think when you try to capture anything like riots or protest in art, it's always a bit tricky, because, like riots and protesters, they're just fuelled by energy, and I don't think it's easy to put that on the page.  But I'd like to know more about them and where they came from, so this is my choice.
Ben Holden:
'Riot City' by Clive Bloom.
Candice Carty-Williams:
Thanks Clive!
[END]
Thank you for listening to this Ex Libris podcast.
If you've enjoyed this episode, please rate, review and subscribe wherever it is you get your brainfood. That way, not only will you keep up with the podcasts, but you'll also help us champion libraries and independent bookshops.  To find out more about the authors and venues, as well as libraries and independent bookshops, please visit our website:  www.exlibris.com  You can also get updates on twitter and instagram, not to mention, win a signed copy there of Candice's brilliant novel 'Queenie'.  Find me @thatbenholden.
Ex Libris is produced by Chris Sharp and Ben Holden.
Ex Libris is brought to you in association with The Lightbulb Trust - which illuminates lives via literacy and learning, providing opportunities to shine.