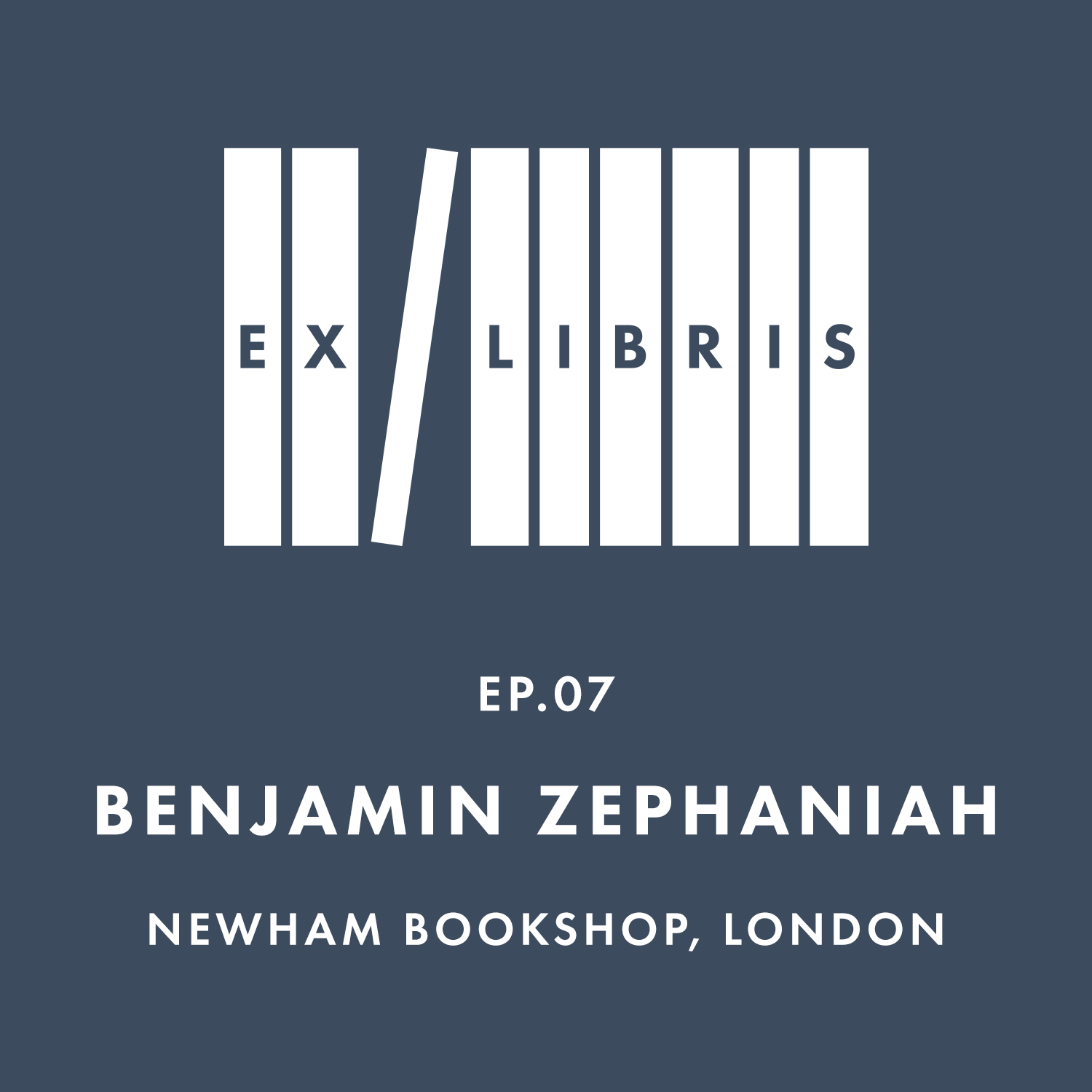 Benjamin Zephaniah speaks truth-to-power like nobody else. A Kung Fu stylist, dub musician, Peaky Blinder, renegade activist, vegan force-of-nature, and  much-loved 'people's poet', Benjamin has lived many lifetimes.
He tells Ex Libris in inimitably raw but sonorous manner about how poetry saved his life; of his mother's Windrush Generation and its Caribbean oral tradition; being dyslexic and finding a path away from prison; slamming the phone down on Nelson Mandela and exchanging notes with Bob Marley; and why there should be a library on every high street.
Zephaniah also speaks touchingly of the great personal debt - both financial and artistic - that he owes his fellow Ex Libris guest, celebrated bookseller Vivian Archer; not to mention her legendary store Newham Bookshop, which Benjamin fondly calls a 'home-from-home'.
The shop has been a mainstay in the community for 40 years. It is vital to the local area and widely lauded within the UK book trade at-large.
Many other writers have found the place to be of indispensable inspiration. 
Iain Sinclair, for example, called it 'a beacon'.
This year's Booker Prize winner Bernadine Evaristo describes it as: 'a fantastic community bookshop run by the wonderful Vivian Archer whose knowledge and love of books stand unrivalled. It is now an institution where everyone is welcome and all kinds of literature can be found for all kinds of reader. In today's declining world of independent bookshops, this one should be cherished. Long may it flourish.'
...
Please find below a full transcript of this episode of Ex Libris, featuring Benjamin Zephaniah:
Ben Holden:
It's a sunny day here in East London, I'm on the Barking Road. I've just walked past what used to be the old Boleyn ground; I remember going there as a gooner, standing in the away fans section against West Ham, - we won - past Upton Park. Yes, it's now flats, there's sprouting cranes and awnings, of course. Turn right just past the Bobby Moore statue, where he's holding the Jules Rimet trophy amongst his teammates, and you'll find another East London institution, Newham bookshop.
I'm here to meet with Vivian Archer, proprietor, and also her close friend, Benjamin Zephaniah. He doesn't really need much of an introduction. You might know him as 'Jeremiah Jesus', you might know him as a Kung Fu stylist, a dub poet, musician, artist, vegan. He speaks truth to power like you can, or do. Let's go inside Newham Bookshop and get talking.
Interview
Ben Holden:
Thank you both very, very much for joining us on Ex Libris. Benjamin, this place obviously has a special place in your heart. Can you explain why, and why you've chosen today to be here, of all the bookshops and all the libraries in all the world?
Benjamin Zephaniah:
Well, because it has a special place in my heart. You see, when I came down from Birmingham, I kind of lived in South London for a while and then I moved to East London. And I got involved in a cooperative, it was a kind of food cooperative, book cooperative, and they published my first book, actually. The shop was called 'The Whole Thing', the publisher was called 'Page One Books', and it was very hippy and alternative, but we always knew about this place, and it wasn't like competition, you know, you would share information and stuff, and we'd hear about the legendary Vivian Archer. That place closed down, and then, much later on, I moved to a house, which is not far from here, and I was always very keen on kind of keeping myself to myself. So, I came here a couple of times, and, what's the word, incognito? Nobody knew. I'd just buy some books and stuff like that. I think, one day, you recognised me, didn't you? One day, she said, "I know who you are". And then from that day, we just had a great relationship. You see, for me, this was like, what a bookshop should be like, you know, I don't know how she does it, but you come in and you'd ask Vivian about a book, or you're going through something in your life, and you tell her what you're going through, and there's always a book that she can recommend for you. She's either just completely read it, or got a friend that's read it and reviewed it, but she knows about it, you know, and it was at a time when all these, I won't mention any names, but bigger shops were springing up, but you'd go there and people, most of the time, didn't know the book, you know, they were just shop assistants, not all, and also, the kind of community events that happened here, or that were generated from here.
I've always been passionate about people that don't like books and don't like book shops, and they came here, that's been my passion for ages, trying to get people to read that don't normally read. I mean, in a sense, I owe this place a lot of money, because I technically had a room upstairs that I do all my interviews in. We just became family and it was the only thing that really saddened me when I was moving out of here, but I just had enough of the pollution, being stopped by the police and all that kind of stuff. I just wanted to go somewhere different. But, for that reason, it's always been like a special place for me. It was special before I knew it, but it got even more special when I got to know the place. I mean, if I come to London, I tend to come in this way, and it's weird, because even at night when the shops close, I'll drive past and look at it and make sure it's all here. And I know it's not just me, I know there are other writers that connect with the place. We know if you've done a book, all my book launches used to be here. And it wasn't like, how can I put it, a corporate book launch, I'd get local kids in. Remember when we had them acting out sections of my book, 'Gangster Rap', we had the kids kind of rapping to each other; that was all done here, you see, so a real home from home. In a sense, I owe this place a lot in my development as a writer as well.
Ben Holden:
And Vivian, you've won awards. You've won the 'Independent Bookshop of the Year' in London. You, yourself, have won the first ever 'Books in my Bag Readers Award' for outstanding contribution to book selling, you are a bit of a legend in the book trade. Can you tell us a bit more about the shop's history, because it's got quite an august history?
Vivian Archer:
The shop is 41 years old. It started as a project for parents to help children and adults to read, there were a lot of classes here that used to do that. It's always, always community is first, and we're very sensitive to everybody who lives in the area, to all those coming into the area, to make this a place that they feel welcome. When Benjamin said, people come in and talk about problems they might have, that's still very much the case here. They don't always buy books, and that doesn't matter, but they feel it's comfortable, it's safe, and it's welcoming, and I think that's quite rare in a lot of shops. But for us, that's always been key. But we've got a long history, but to us community is everything, and that's why I think we have such a good relationship with writers as well. I mean, poets are special to us; there's people like Benjamin, Michael Rosen, John Hegley, and they will come back again and again, because they know and appreciate what we do.
Benjamin Zephaniah:
I remember when I turned down the OBE…
Ben Holden:
That was in here?
Benjamin Zephaniah:
Well, I turned down the OBE and it was all in the news and everything, and Channel 4 said they'd like to do an interview with me and Yasmin Alibhai-Brown in the studio. I said, "I'm happy to be on the programme, but I'm not coming to you". It was the day I should have received it, I think. I said, "I'm going to be here with a group of kids. You come and see where I am. You come to me, see where my heart is". So, that's what I did. Yasmin was in the studio, John Snow was presenting the programme, who, by the way, is also an OBE refuse-nik. Yasmin at that time had accepted an OBE. So we began the programme, and I said, "This is where I am. This is where my heart is".
"Why are you not here, Benjamin?", and I was talking to Yasmin, and Yasmin was saying that one of the reasons why she accepted an OBE was because she wanted to inspire young Asian girls to become journalists. And I said, "Look, do you know where I live? Young Asian girls, they're already inspired by you, it's not about the OBE or anything". And I started to go on a rant, and she went, "Okay, Benjamin, stop, you've convinced me. I'm going to give back my OBE" in the middle of the programme.
I met John Snow the other day in the British Museum, and I bumped into him, and he said that he will never forget that, because he said, "People don't usually, even if they capitulate, they don't do it on air, later on they say, you know, 'you were right'". But she did it on air, she said, you've convinced me, and that's a very brave thing to do. And the next day she writes this article in, I think it was the Observer, about me convincing her, and I didn't come down heavy on her, I was just telling her that Asian girls respect her anyway. In fact, you could lose some respect by taking it.
Ben Holden:
I'm sure your powers of persuasion would have worked in the studio, but I wonder if she would have done it if it hadn't been that you were in your bookshop surrounded by the community and surrounded by kids, etc.?
Benjamin Zephaniah:
I don't know, but the next day, she wrote this really great article about 'How do you give an OBE back?', do you go to the gates of Buckingham Palace and fight back? But the reason I did that, because I wanted to show them that, first of all, this place is significant, these people are significant. And for me, it's not about getting awards from the state.
Ben Holden:
In your very, very enjoyable, brilliant memoir, which I've loved going over ahead of today, you have a great first sentence which is 'I hate autobiographies', which begs the question, why write one and did you enjoy writing it?
Benjamin Zephaniah:
I always say that autobiographies, when I think of autobiographies, I used to think of people that were kind of, you know, it's their dying words just before they died, that's the old fashioned way. Or recently, it's almost the opposite, you join a boy band or a girl band, and you write an autobiography and you're still 18, 'My life, at 18'?!
I just thought my life wasn't that interesting, but I had a really good agent, Rosemary Cantor. Did you know her? She was amazing. I think I may have described her in the book as looking like Lady Penelope. She always had great hair, wore all these nice, pencil skirts and just had these amazing glasses that just kind of from the 60s, really glamorous woman, and then we'd go to dinner all the time. She was my agent for my children's novels or young adult's novels. So, she didn't have a financial interest in it, but she used to listen to me talking about my life, and she said, "Benjamin, you've got to do your autobiography". And I kept saying no for those two reasons I've just said, no, no, no. And then she said, "Benjamin, I really want you to do your autobiography". There was something about the way she said it that day, and I realised what it was now, I'll come to that in a moment, and I said:
"Okay, I'll do it on certain conditions, under the condition that you don't go and get me a publishing deal, you don't look for the publisher, no contract, no deadline, no money up front. I want to take my time and do this. This is going to be my book, you know, I mean, they're all my books. I don't want any deadline. I want to write this at my own pace. And it's got to talk a little bit about my mother".
So partly my mother's biography, because I didn't think there were many stories about Caribbean women coming over in the 50s, and certainly (not) in Britain. And so that was it. So I went away and started writing it. She saw the first draft, loved it, she said 'forward on', and then she passed away; she never actually saw the end book, and I realise now, why she was so forceful. You know, she was like, 'Benjamin, I want to see your autobiography'. And she never told me how ill she was, and there was a few people in the business that knew how ill she was, but they were kind of sworn to silence. And so that really saddened me, I wished I'd have said yes earlier, but it's just the way it is. I didn't realise she was trying to say to me, I want to see your book before I die. But, she saw the first draft.
Ben Holden:
And it's 'The Life and Rhymes', but I'm surprised you felt like your life wasn't interesting enough, because it feels like you've led several lifetimes. And I think also, in terms of the autobiography, you have this real infectious honesty in all your work, which negates those sorts of charges that can be levelled against other memoirs that perhaps were putting you off, and that really comes through in the book as well.
Benjamin Zephaniah:
Well, I tried to be as honest as possible. I said in the first part of the book that I think some of them are so dishonest. I mean, I know people who have done autobiographies, and I know they're being dishonest. The only thing that I would have liked to put in my autobiography that I didn't put in because of legal reasons, other people, but I put anything in there, the good, the bad, the ugly, because I want to show people that, especially people that come from the same cultural, economic place that I come from, that, first of all, you can spin your life around, you can turn your life around. I remember at a time thinking, well, you know, I just came to terms with the fact that my life is going to be going in and out of prison, it was for a short moment, and I thought, 'I can do something better than this'.
But I know people who were in that same position and they haven't changed, they do think they're likely going to be just going in and out of prison. You've heard this 100 times before, there's something about men and a front they put up, and the lack of honesty they have, and the lack of I'm going to say emotional intelligence, you know what I mean? But actually, I just want to be really honest. People say to me, 'Why are you so close to your mother?' Well, when I was getting in trouble in school, nobody really asked me what was going on at home. So imagine there's a 13 year old me or something, and I'm not paying attention in school, and I'm seen as a naughty boy, and you're the teacher asking me, 'What's going on Benjamin?', you're not just calling me naughty, you're saying what's going on, what's going on at home? And I turned around to you and said:
"Well, you know, until three o'clock this morning, I had to listen to my father beating my mother. And then when I got up, you know, my mother was battered black and blue. There was no food for us. Dad just kicked us out the house and said 'go to school', and you want me to be nice?"
And there are people living like that now, but nobody ever talked to me about it, I just had to do it and be strong. I mean, the first time I was arrested, I was arrested for attempting to murder my father. I mean, it wasn't serious, it was a pen knife, but in my head, I mean, I was only a child at the time, that was it, because he was going to murder my mother.
So I do know one thing that after the book came out, I've got so many people come to me, and what surprises me is some people who were quite high profile, much higher profile than me and I said, 'Oh, I've had similar things in my life', but they don't talk about it. But I think if you have to, or if you want to, know my poetry and know where I come from, and know why I'm so angry and know how I've connected this stuff to politics, you should know the backstory.
Ben Holden:
And a lot of it, certainly in terms of the poetry, but all of this going back to your mother, a lot of it comes from her, doesn't it and her roots? And right at the beginning of the book, there's a lovely sort of scene setter right at the top, I'll read a tiny bit:
'I look around and count all the other tin baths hanging on the wall of the yard we share with our neighbours, hearing mum speaking to me in rhyme, she does this all the time. It's part of her nature, her singsong way of interpreting the world that makes me feel close to her'.
And you then go on to say: 'Poetry, storytelling and music were a part of everyday life. We just did it, it was how we communicated with one another.'
So there, right there, built in is the oral tradition, isn't it? And that's coming from your mother and her roots in Jamaica?
Benjamin Zephaniah:
Yeah, but let me tell you, you probably read it better than I could read it, seriously. I'm very dyslexic. You ask me to read my own book now, and I'd really struggle. I can do poetry in my head, but when it comes to reading...But when I'm writing, I'm hearing the voice in my head. Derek Walcott was once asked, - I think somebody was trying to pitch us against each other -, they said, 'What do you think about poets like Benjamin Zephaniah who write for performance?' And his answer was something like, 'Well, as far as I can understand, most people of Carribean and African origin, write with a voice in their head'. And I would say that's probably true. People like Seamus Heaney as well, you know, they write hearing the word sounding in their head. It's not just an intellectual exercise on the page.
The oral tradition is a wonderful thing, and it's survived for thousands of years in some places, but we must not over romanticise it. I didn't wake up and say 'I want to join the oral tradition', I just couldn't read and write. And the other thing, my mother was semi-literate. She doesn't really like me when I say this, you know, she could read very basically. But if you ask my mother where she got her wisdom from, where she got kind of teaching about how to grow up as a girl in Jamaica and everything, she'll refer to poems and songs, and stories, and Nancy stories and stories like that, that her grandmother told her or her mother. So, it was a living, breathing thing, it wasn't something that my mum chose to join, it was a really important way of surviving in the Caribbean.
And it's not my area of expertise, but they've done some amazing things with the old tradition in terms of keeping things alive that weren't just from the Caribbean or Jamaica, or any of the other islands; they come from Africa, and Anancy himself, the spider, comes from Africa and there are lots of other traditions and words, and some people say that even the way Jamaican patois, the way we talk, is like the English language with African grammar. So, you say, 'Where are you?, they say 'Weh you deh?' - translated into English that's: 'Where you are', but it makes sense in an African language, I mean, there's lots of African languages, but in most African languages, it would make sense. So you've taken the English language and just put an African, I'm not going to say grammar, you put an African swing on it. And it's lovely. I mean, even, there's people that can speak about this much better than me like Michael Rosen and people like that, but even the way that black and Asian people use English here, instead of saying, 'What's happening?', we say [-]. That was my generation, obviously, 'wagwan'. So you got that kind of English with the kind of African swing. And then you got young Asians come up, and their mixing with people who are also African, and then they go, 'What's gwanin?'
And it just makes great poetry, great street talk, and, most of all, it's kind of survival. I remember being around here once actually, just down Green Street, and a guy came up to me and he went, "You got any reefer man?", and I just laughed at him, he was a copper, and I said, "You're living in the past, the words have moved on bro."
You know, and it's kind of survival, you're changing the words all the time, new communities come in and they have different meanings.
Ben Holden:
Well you must know that better than anyone Vivian?
Vivian Archer:
Well, yes, I mean that's what I love about working here, having a shop here. We can always tell who's moving in by the dictionaries we sell. And it's such a vibrant community and it's such a changing community. And we're very proud that they feel comfortable coming in here asking about their books, sometimes in other languages, some of which some of our workers here speak. It's a very, very great community. And you know what Benjamin says about it is absolutely right. And we love it.
Benjamin Zephaniah:
I think we have to understand, us here in this room, you understand this, but I think we got to tell the people out there, when we talk about multiculturalism in Britain, it's the greatest thing that we do. And you got to stop thinking of it as a black, Asian or even Irish man.
I mean, go back to the early tribes, I don't know if you ever read my poem, 'The British', and I just take all these tribes and put them together to make a meal called a 'British', I do it like a recipe - the Jutes, the Silures, the Celts, the Angles, the Saxons, and then you come up to the modern day with Ethiopians and the Jamaicans, and then you just sprinkle equal rights and justice, equally sprinkled for everybody, you know, we've been doing that so well for thousands of years. And the problem, I hesitate to call it a problem, but in this setting, I'm calling it a problem, the problem with multiculturalism is that when it's working well, you don't notice it, you just get on. I don't have a girlfriend from India and go 'Wow, I'm doing multiculturalism', I just like the girl and I'm moving in. You know, we just do things, get a band together, and it just happens naturally. So you don't get news reports saying today in East Ham, the Irish community lived really well with the Jewish community, that lived really well with the black community. I mean, nothing happened, everybody just got on. But at the moment, there's a little bit of a problem, multiculturalism is failing, and you get all these people kind of…
Vivian Archer:
And I mean, it's never been an issue for us. This is where we live and we all live together. But as Benjamin says, nowadays, it is getting a little, you know, the whole references to, well racism, which sadly, is on the up. Not here so much, this is, you know, it's not bad here, but it's certainly a different world we're beginning to live in.
Ben Holden:
Well I know Benjamin, you were told by lots of people that you'd mellow as time went on, and you said that you're feeling angrier than ever, or you're still as angry at least, and that's because of all these sorts of ongoing issues that haven't gone away since your youth, and earlier struggles and campaigns, etc?
Benjamin Zephaniah:
A lady from the BBC approached me on the phone and said she wanted to make a programme about people who are disenfranchised and stuff like that, and she had looked into my background, I guess. She came and we just met, actually, then she didn't contact me again. And then I contacted a friend who knew her and she said, "She thought you were too nice". I think she wanted me to say, "Argh, I'm really angry with all white people".
I am probably more angry now than I've ever been, right? But I'm really lucky, I have a way of venting my anger through my poetry. And I can go on TV programmes and talk about it. I can talk about it here. But I understand that a lot of people, especially younger people that haven't got that outlet.
Where does my anger come from? I think it comes from years of struggle and the three things that I was really passionate about as a young person were I wanted to see South Africa free, I wanted to see East Timor free, and I wanted to see Palestine free. Two out of three, Palestine doesn't seem to be getting any better. But I felt that the struggle at home, we'd kind of reached a point where we would never see an organisation like the National Front again, I thought we would never see people marching on the street saying 'white power' again, there's lots of things about women's issues that I thought we'd dealt with, and then suddenly they came back and hit us with a vengeance. It really amazed me now that I'm going onto a show, and it's not just the BBC, it's other places, especially the mainstream media, and they say "I want you to come on and talk about your experiences of fighting racism", and for balance, they have a racist on with me.
Vivian Archer: 
It's worth mentioning the Newham Monitoring Project.
Benjamin Zephaniah:
Well, that was an organisation I'm passionate about. They started in Newham, the NMP we call them, Newham Monitoring Project, because of the death of a young Asian here. At the time, there were organisations springing up all over London, all over the country to a certain extent, to organise to fight racism. One of our slogans was, 'Unite and fight!'. This was the early 80's.
Vivian Archer:
And there was a BNP Councillor in Beckton, wasn't there?
Benjamin Zephaniah:
I remember when I first came here, they said Canning Town was a no-go area for black people. I remember, I got in a taxi once and said "Take me there" and he said no, and I said "Just take me there, just to have a look" and he went 'No'. I said, "Look, you know, don't worry about me, I'll look after myself".   He said, "I'm not worried about you, I'm worried about me!" - and he was a white guy! That's what it was like.
So, the NMP thing was monitoring racism, but it wasn't just the racism of the racist. A lot of people have to understand how racist the police were, openly racist. There's a very well known bit of footage and photograph of a demonstration, and there's these anti-racists there and the police are in the middle, and this police officer turns around to the police van, and he writes with his finger in the dirt on the van 'NF', and that's a police officer on duty. You were allowed to be a member of the National Front and the police in back in those days, I think they made that illegal now. So that was a struggle. And the slogan that came out of the Newham Monitoring Project was 'We are here to police the police', because that was one of our biggest fears, the police. If a racist got you on the street, you could fight them, you could deal with them, sometimes you win, sometimes you lose, you run off and whatever. When the police got you, they got you in a cell and gave you a kicking.
You know, there's a line in one of my poems, 'Dis Policeman Keeps On Kicking Me To Death' that says:
'Well, he beat me so badly,
I was on the floor
He said if I don't plead guilty,
he will keep me more
I was feeling sick,
I pleaded racists attack
And another police come to finish me off,
This one was black.
It's absolutely true. In West Ham station, they had me in there, they were giving me a kicking, and I said, "You're racist!", I mean, I was only young at the time. 'We are not racist, we will show you that we are not racist' and they just left the room and this black policeman came in and started beating me. You can laugh at it, but that's what it was like. Because I knew then, back then, and to a certain extent even now, one of the things that a lot of black people fear is a black copper, because they like to impress the white guys. That's a generalisation and I've known people who've joined the police force to try to do good, but that was our experience. So the Newham Monitoring Project was really, really important. The police would turn up at a house, because there'd been some problem there, and by the time they'd left, an Asian woman, five foot two, had been arrested for assaulting three police officers, you know, it's really crazy stuff like that.
Vivian Archer:
They had 24 hour helplines, you could ring them.
Benjamin Zephaniah:
We gave all young people cards, we had solicitors. That really inspired me when I came to London. When I was in Birmingham, we were just street fighters, you know, we'd fight the police, we would fight the racism that was there, and then we'd have to run. When I came to London, and came to Newham, they were street fighters, but they were street fighters with a degree in law. So yeah, we could organise now.
Ben Holden:
You write how you swapped a gang for another gang in your book?
Benjamin Zephaniah:
I mean, in the book, I think I was referring to a gang of poets and writers and musicians, but also people like the Newham Monitoring Project and people that were in the struggle, but kind of knew the law. One of the things that people take advantage of is if you don't know the law. One of the reasons why I'm passionate about education now is because they always tell young people that one thing you'll know about your oppressors, they're all highly educated, so who are you to turn around and say, 'Well, I'm not going to be educated', you have to know your stuff. Two of my heroes in this world, one of them is no longer with us, Tony Benn and Noam Chomsky. One of the things that those two people have in common is that they always say, understand your enemy, read your enemy, don't just read stuff that you agree with, read stuff that you don't agree with, know what the law is, know what makes them tick, know what elements of the law they're using against you, so what elements you can use back, and that really makes a difference. I think it was Malcolm X that said, 'Some racists hate black men, but most racists hate educated black men'.
Ben Holden:
And how was it in the context of progress, or not progress, it must have been difficult going back into, if we rewind again to your childhood and your mum's journey over to Britain from Jamaica, you're going back into that with her, for the book sort of coincided, if I'm right, with the spate of horrifying stories about the Windrush generation and how they were being treated by the state. That must have been really tough?
Benjamin Zephaniah:
Well, it's really interesting, because, as I said, I wanted my mum's story to be in there, because she was part of the Windrush generation and people didn't know about it and people just didn't understand unless you had a real interest in it, so I wanted to tell her story. But listen, if you buy the Vice newspaper, it's just going monthly now, but it used to be weekly, almost every week in there, they've got a story of somebody that has fallen foul of the immigration law, somebody that's lived there for ages and they go to France on a shopping trip, and they're not allowed back in.
In 1987, I was flying to Jamaica and I got on the plane as you do, and I was walking down, and there was a woman in the backseat and she recognised me, and she started screaming, "Benjamin Zephaniah, help me! I came to this country when I was four months old, and they're deporting me back to Jamaica, a place I've never been to." This is 1987, and all the way on that flight to Jamaica, she was just screaming and crying, and every time I tried to go and sit next to her, they'd just bat me off and made me sit down. But it's been happening for a long time, like I said, the Vice newspaper is following these stories, then the Guardian picked it up, and then David Lammy brought it up in Parliament, which is why people started to know about it, and Theresa May kind of made it official, didn't she, she gave it a name, she said 'hostile environment', so she made it official now. There was an organisation called the 'Extradition Squad' that was set up by Margaret Thatcher, and their job was to go around and find illegal immigrants and deport them.
~
Benjamin Zephaniah reads his poem 'The Death of Joy Gardner'
~
Interview continues
Benjamin Zephaniah:
Now I'm born here in Birmingham. I went to hospital once and I was bleeding, and they said "You got Aston Villa in your blood". I mean, that's how English I am right? I've been coming out, it happened to me three times back in the day, coming out of tube stations, and I like living in a country where you got no, you don't need a passport, and you get stopped by one of these officers, and they say. "Right, prove you're English, prove you're British", and you go, "Eh, look at my blood, it's got Aston Villa in it!". How do you prove you're English in a country where you don't need to carry papers, and all that kind of stuff? So, my point is this has been going on for a long time and there are very special reasons why it's been brought to the forefront.
It's not getting better, no. Some people think there's a body set up to help people and stuff like this, but actually, there was one poor guy the other day who was deported to Jamaica, and in a few days, he was murdered. If you go to the poor parts of Jamaica, and they think you come from England, they think you're rich. And the other thing that got this guy murdered was that I think many were sent back, they said he was a criminal and a rapist or something. The guy was clean. But they just heard yeah, he's a criminal and rapist, let's go beat him. It's very sad, it's not getting better.
Something can be in the media and talked about in a particular way, so people think it's happening now and they don't realise it's been happening all the time. Then it drops out of the media and they think it's stopped happening. You know, it's such a powerful thing, the media. If you read books, I don't use this word lightly, if you are an intellectual of any kind, it's different because you're trying to think for yourself, but don't live in that bubble, understand that most people believe the shit they get in the media. So if it's not in the media, they think it's okay. Most people think that most rapes happen when a guy jumps out of a bush, grabs a woman, and most rapes happen in a house with people who know people, you know. I mean, there's so many things, you can see the way the media kind of distort the way that people see the world. I don't know if you know my poem, 'Rong Radio Station":
My ears are battered and burned and
I have just learned that I have been
Listening to the wrong radio station
My mind has been brutalised now the pain can't be disguised
I've been listening to the wrong radio station
I was beginning to believe that all black men were bad men
And white men would reign again
I was beginning to believe that I was a mindless drugs freak that
Couldn't control my sanity or my sexuality
I was beginning to believe that I could not believe in nothing except nothing
And all I ever wanted to do was to get you and to do you.
I've been listening to the wrong radio station.
Thousands of people are listening to the wrong radio station and viewing the wrong TV station, and they can believe anything. I remember when I was here when the Gulf War started. Outside this bookshop, I met a guy, it was the build up to the Gulf War, and he said, "Saddam Hussein and Al-Qaeda going to get together and invade us". And I said, "Saddam Hussein hates Al-Qaeda, you know, hates them. He was one of the few people in the Middle East that set up an organisation to crush Al-Qaeda". The idea that all these people from the Islamic world, because they're all Muslims together aren't they, they're just going to get together?! And I think it was Tony Blair that said they've got 45 minutes, they can come and get us in 45 minutes. You know, people believe it and because, they think, there's educated people that operate the media.
Ben Holden:
Going back to your childhood, you knew from eight, there's a great section in the book, you're at the boys brigade, and all the other kids want to be soldiers, policemen, firemen, etc, and you say you want to be a poet. You knew then that you wanted to be poet from that? I'm wondering what you thought that as a kid, what that represented?
Benjamin Zephaniah:
When I was eight years old, I had this idea when I was thinking about jobs that:
'I'm going to be a poet, and I'm going to travel the world and my approach is going to be, like, funny...' - and I probably didn't say political, but - 'it's going to be about the wrong things in the world and the war, and I'm going to write a poem about peace; and at the same time, I'm going to make them funny, and I'm gonna make them sexy, and they're gonna have rhythm and rhyme, and I'm going to make it like music. My poetry is going to be like music, right? Yeah. Yeah'.
But I had this real vision of what I wanted to be when I was eight, seriously. And then the interesting thing is, I followed the crowd for a long time. And then, as you know, I got involved in crime and somebody wanted to shoot me and kill me. And I was armed too, and I'm lying in bed one night and I just think, 'Remember the eight year old you Benjamin, that's possible, you know, bro'. That's what I was telling myself, I remember listening to an LP by Marvin Gaye called 'What's going on'?, and I thought, 'What's going on with you, Benjamin?'. A teacher told me I'm going to end up dead or doing a life sentence. A lot of people said, there's no way out of it. I saw some of my friends being killed and doing life sentences, and I got up that next morning, and that was it.
Ben Holden:
It's amazing that poetry effectively, not to be too simplistic, but poetry pulled you out or pushed you forward.
Benjamin Zephaniah:
It saved my life, it really felt like that.
Ben Holden:
Bob Marley wrote to you, didn't he? What did he say?
Benjamin Zephaniah:
He said something like, 'Keep going, brother, Britain need you'. And there was some people here that were saying you've got good poetry, but, to be honest, a lot of them were saying good poems, but, you know, 'get a job'. A lot of important people were saying that what you were doing is rubbish. I remember when I published my first booklet, and went to Birmingham, and I had my then girlfriend with me, I went back to my dad. I was so proud. And it was, I hesitate to call it a book now, it was like a booklet, but it made a lot of noise at the time, because nobody had ever heard Caribbean voices like that in print, really. They'd heard some of the more literate poets, but not the kind of street poets like me, and people talking about me on the News and the television. And I kind of went back to my dad, who I didn't really get on with, and just gave him a copy of the book, and stood there really proud with my girlfriend, and he didn't even look at it, just threw it on the floor, and said, "Come on, who wants to listen to anything you've got to say?"
Many years later, I made peace with him, and he went and lived in Barbados, and he was driving these little buggies, he used to drive tourists around, and he looked behind him, and there was a couple in there and they were reading one of my books, and he turned around and went, "That's my son". And apparently, this couple gave my dad a lecture on me, and they were telling my dad things that my dad just didn't know, and it was all about why I was important to them and what I did for literature and all that kind of stuff. Could you imagine my dad? This was not long before he died, he's thinking 'I didn't know my son, I didn't know him'. And to be honest, I was going to say I didn't know my dad very well, but I did know him in a sense. I never want to bad mouth him, I didn't go to the funeral and all that stuff, because of me and my mum had a really rough time, he used to beat my mum and all that kind of stuff. So I try not to bad mouth him, but I was going to say, I don't know him, but I do know him in a sense. He's a chauvinist, he puts up a front, he didn't feel that he was married, if he had a woman, he was in control of a woman. And if somebody came to him and said, "I saw your wife down the road", he'd feel like that's losing control, she was there and I didn't know she was there, I should know all their movements. He was trying to live up to another kind of man that just is not very positive, very negative. And he had this amazing work ethic. He came here to Britain, worked for the GPO, sweeping floors literally or something like that, then worked his way up right to big manager. When he was buried, he requested he was buried in his post office suit, the GPO suit, in Barbados, where it's hot. Where he puts his importance is the front, you know. But yeah, I always had a very strong vision of what I want to do. And when it comes to my mum, to this day, I mean, she loves the fact that I'm famous, she just doesn't really know what I do.
Ben Holden:
As well as Bob Marley, notably, your poetry struck a chord with Nelson Mandela, and you had mentioned South Africa and apartheid as a big cause for you.
Benjamin Zephaniah:
His second visit here, he requested a meeting with me, because he'd read my poetry while he was in prison and heard some cassette tapes, remember those? And he was having a meeting with Thatcher, but, for some reason, he said, "I want to see you before I see Thatcher", like he wanted to be debriefed or something! I was really honest with him. I told him there was a time when Thatcher hated you, you know that, don't you? There was a time when she called you a terrorist. I said, "Mandela, a lot of people being nice to you now, and they're only nice to you now because you're free. All these young people and people behind you. But don't be tricked by the hypocrites".
I remember a time when me and Tony Benn were locked up for being in apartheid demonstrations. Jeremy Corbyn, I remember him being locked up. And what did the papers say afterwards? 'Benjamin Zephaniah supporting the terrorist, Nelson Mandela'. And he was aware of that, actually. I mean, the thing he said to me was that when he came out of prison, he really didn't want to be president. He told me this first hand. He never wanted to be President of South Africa, not after he came out of prison. Why? Because he said he was tired and he wanted to..., he used to have a debate about shirts, he used to love coloured shirts, and the reason why he said he loved coloured shirts was because, - I've been to Robben Island and this is absolutely true -, I was going to say it's grey, it's not grey, it's kind of brown, this brown dust everywhere, and the prison's made with this rock, and it's everywhere and you don't see colour; so he was really into wearing, he loved colour, and he hadn't seen colour for a long time, and he hadn't seen children grow up. Remember, there was a period where he was always with his grandchildren and his relatives, and they were all around, because he didn't see children grow up, he missed seeing children. And so there was that period of time, and he always had coloured shirts on and he always had his grandchildren around him, and he wanted to live life, but he knew that South Africa needed a figurehead.   He knew that he had to, it's capitalism, attract investment into the country and all that kind of stuff.
This is a heavy thing to say, but there's one time I had a phone conversation with him, and it was over a poet called [-], he was a poet at Nelson Mandela's inauguration. Good friend of mine, and just before he was going to go on tour, he was locked up for a robbery of a post office - it was a complete frame up. I mean, the amount of money they robbed from that post office is what he pays his musicians every night. And he was in prison, and the judge that sent him to prison swore allegiance to the racist regime, but wouldn't swear allegiance to Mandela's government. So I was on the phone to Mandela saying, 'Get [-] out', he's due for a tour, we're expecting him. And we had an amazing row. And I said to him what kind of judge wouldn't swear allegiance to your free South Africa, and Mandela said to me, "We need all the judges we can get". I put the phone down on him and slammed the phone. And there was a couple of people in my office that went, "You just put the phone down on Nelson Mandela!" And then we picked the phone up, and we apologised for being so heated. And I spoke to him after that, and he said he knew he'd made some mistakes in government, he wasn't perfect, and there was this kind of concentration and kind of bringing business in, and then when Winnie split with him and Winnie went to the township, that's why it was so popular, she went to the townships, and they saw her as a freedom woman, freedom fighter, woman warrior, you know, she was still dressed in khakis and Mandela was now in a suit, you know, attracting business. So, you know, we had lots of conversations about those kind of things, but overall, he was a very, I always say about Madiba, Mandela that he was a human being, he knows it, he made some mistakes, like any politician would. The one thing that makes him stand out to nearly any politician you can think of is that at a time when you could say that he had the right to come out of prison and go, "Right, I want revenge", he just came out and he went 'Look, the past is the past'.
Ben Holden:
We're talking about South Africa there, but you write in the book, 'I always felt I had the ability to move in and out of different worlds', and I think that's right, you've guest lectured in South Korea, North Korea. Interestingly, you spent a lot of time in China - you've lectured in Shanghai, Beijing, lectured in Tripoli, Mexico, Argentina, Memphis, Ohio, India, West Indies, and Leicester. But I think that seems fair, and your friend, Bob Mole, he wrote something very lovely and seems perceptive about you: 'He has the gift to understand the problems and culture of every new community he meets. He understands without needing explanations'. I think that's true. Having read your book and seen you perform, and met you once or twice, and you have some sort of facility with these different worlds. Do you have any sense of why that might be, or where that comes from? Do you think that's fair?
Benjamin Zephaniah:
One of the things I tend not to do, I don't know if I should do it more, is try and analyse myself. I don't know what it is. I think, I'm going to quote Bob Marley, he says: 'The biggest man you ever did see was once just a baby'. He said a another quote, 'Once a man twice a child', in other words, when you're a baby, you need your parent's help to do everything, to eat, to go to the bathroom, and I think, you become a big, independent person, and then, as you get old, you need more help.
And the other thing I know about people is that most of us are what we are because of an accident of birth. If somebody says to me, are you proud to be black? I say, no, not really, I just happen to be black. My mother is black, my father is black, if I was born white, that would be an extraordinary achievement - that would be amazing! But I was going to be black, that's it. The things I've achieved as a black man, I'm proud of what I've achieved. Am I proud of being British? Not really. If I was just proud of being British, I would have to be proud of colonialism and slavery and all kinds of things. But there are some things that we've done, I'm proud of British multiculturalism. Most of us are who we are because of an accident of birth. So when I'm arguing with you, I'm really trying desperately to understand why you've come to the place, the place that you've come from. You know, if somebody's got what we may think of as a backward view of the world, or of women or something like that, I try and understand why they think like that. And if I want to try and change their mind, then I know I've got to come with an argument that goes beyond their nationality.
Ben Holden:
I'm going to ask one more specific question in terms of this podcast and libraries, because Benjamin, in your book, you've talked about your dyslexia, and that you were only diagnosed later in life thanks to adult education services at the GLC. And you wrote: 'My classes cost only £1.00. I was instantly tested for dyslexia, and the woman who ran the test was the first person in my life to properly explain why I've been having trouble with literacy. Her explanation made sense and from gaining an awareness of the condition, I was able to overcome it. Nowadays, the government has indirectly abolished those services, imposing huge budget cuts on councils and closing down the libraries where such courses would take place'. Can I ask what you make of those closures of libraries?
Vivian Archer:
To their credit (Newham Council), they've not closed a single library, and we work very, very closely with them. And they go out of their way to go to every school to get kids to take out library cards, and as it stands, not a single library is closed in Newham.
Benjamin Zephaniah:
Where I live, every library is closed or is being run by volunteers. I feel passionately about it, you know, not all people can afford books. I remember before I could read and write properly, I'd go into a library, I'd get a book that I thought was interesting, I mean, I could read a bit, and then I would try and read it in the library a lot of the time, and why? Well, it was the late 70s and the 80s, the streets were dangerous, so it was a really safe place.
I remember there was a place called [-] in Glasgow, a really rough part of Glasgow, and they had a library in there and their thing was getting kids off the street and getting them reading. And every year, I'd go there and talk to them. These are kids that would never buy a book, but they thought that this particular library was really cool, they could hang out there. Somebody once said, sorry, I don't know who it was, that 'libraries are the university of the street', and I really think they are. And I just think we need to have knowledge on our streets. But knowledge is power, and I think, sometimes, people don't like too much power being spread amongst people. I may be cynical, but there's so much now which is all about making money, and when it comes to some councils cutting money, Newham is really lucky. Just, you know, not too far from me in [Harrogate?], just cuts, cuts, cuts. I get people writing to me all the time, 'Benjamin, we're going to occupy a library, can you come and join us?' That's the way I feel. I think there should be a library on every High Street.
I was in a library, and there's a book called 'The Philosophies and Opinions of Marcus Garvey', and I used to borrow it all of the time. The one I'm talking about was really bound in the old fashioned way, you know, really beautifully bound and had that kind of old smell to it. And it's all about being proud of being a black man and all that kind of stuff, and, you know, if we don't use our brains, they will keep us in slavery in chains. And, you know, Marcus Garvey is very important for the Rastafarian movement and all that stuff, and I used to borrow the book all of the time, and I went into the library one day, and they said, it wasn't there. I said, "Where is it?", they said "It's been taken off the shelves, you can't have it now". There's going be a new edition coming out soon, and I just loved that book, because I used to borrow it, I mean, when I say the book, I mean that individual book I used to borrow it all of the time. And as I was leaving, I saw it on like a trolley stacked with books that they were going to either destroy or something. So I nicked it. I took it. I took it home, and I had it for ages. Many years later, I told the story on TV and the library contacted me and they said, "It's alright. Do you want to bring it in?" and they stamped it and it's officially been released to me, and I've got it to this day.
Do you want to hear another library story?
One year, it was when 'Faith' came out, this novel of mine, 'Faith'.
They had announced the figures of libraries of how many books have been borrowed, and I think Jacqueline Wilson got to the top. JK Rowling was somewhere up there. So, I was at, I think it's Peters library service, and I said "I'll never be up there with all those", you know? They said, Benjamin, there's some figures we keep to ourselves - your book is the most stolen book from libraries.
Ben Holden:
It's a nice accolade.   And you said in the book that you now have a library of your own at home; this, as well as a little recording studio, etc. Talk us through your library, what that looks like.
Benjamin Zephaniah:
I don't have a library, I have a big collection of books. There is one bit of a study which kind of looks a bit like a library, and they're sectioned off in kind of subjects really. So when you walk in the front door to the right, there's novels. I'm not a great reader of novels, although I'm a writer of novels. So all those are when you walk in to the right; to the left, self-help kind of books on one side, and there's this big bookshelf, and then on the other side of that bookshelf, there's travel.
But the one in the middle, the one that really stands out, is just real, old revolutionary stuff. You know, I've got, black Marxism, I've got nearly every book. Remember that series of books that came out, it would have like 'Marxism for Beginners', 'Martial Arts for Beginners', and then it would have 'Sex for Beginners', stuff like that - I think I've got almost every one of them. And lots of theory stuff and stuff about slavery and that kind of stuff.
When you go into the living room now, there's one section, which at the top of it is picture books, because it's big and there's no other place for them, and then there's some on the coffee table. And on the coffee table at the moment is 'Cars of Cuba' and 'Lincolnshire Villages', and all my religious books. Now, if I had a chance to go to university and do an education, I would do theology. I am crazy about theology, you wouldn't know that, but I love reading religions and why people are religious, how religions evolved, I'm fascinated with that stuff. There you'll find books like 'The Unauthorised Version' by Robin Lane Fox. And there you'll find books about, you know, creation myths, books on Islam, books on Judaism. I've got a really old version of the Torah, the Bible, the Quran, then I've got books that analyse the Quran and all that kind of stuff, so all of them are there. And then when you go into where I work, I call that the library, there's a massive section of poetry, and autobiographies and dictionaries. I've got probably every dictionary that David Crystal's done, and then there's a little corner that's got some sexy stuff.
Vivian Archer:
Which you didn't buy from us!
Ben Holden:
So I'd like to ask, Benjamin, if you wouldn't mind scanning these shelves in the shop and choosing a book to go home with, with Vivian. Is that all right, if you have a look together and choose something?
~
Benjamin Zephaniah is invited to scan the shelves and select a book from Newham Bookshop
Benjamin Zephaniah:
Have you read 'The Lion's Den'?
Vivian Archer:
No, I know it, but I haven't read it.
Benjamin Zephaniah:
You know, I think I'm going to go with this one, 'The Lion's Den: Zionism and the Left, from Hannah Arendt to Noam Chomsky.'
[END]
Thank you for listening to this Ex Libris podcast.
If you've enjoyed this episode, please rate, review and subscribe wherever it is you get your brainfood. That way, not only will you keep up with the podcasts, but you'll also help us champion libraries. To find out more about the authors and venues, as well as libraries and independent bookshops, please visit our website: www.exlibrispodcast.com You can also get updates, as well as get a signed copy of 'The Life and Rhymes of Benjamin Zephaniah' from me on twitter and instagram. Find me @thatbenholden.
Ex Libris is produced by Chris Sharp and Ben Holden.
Ex Libris is brought to you in association with The Lightbulb Trust - which illuminates lives via literacy and learning, providing opportunities to shine.