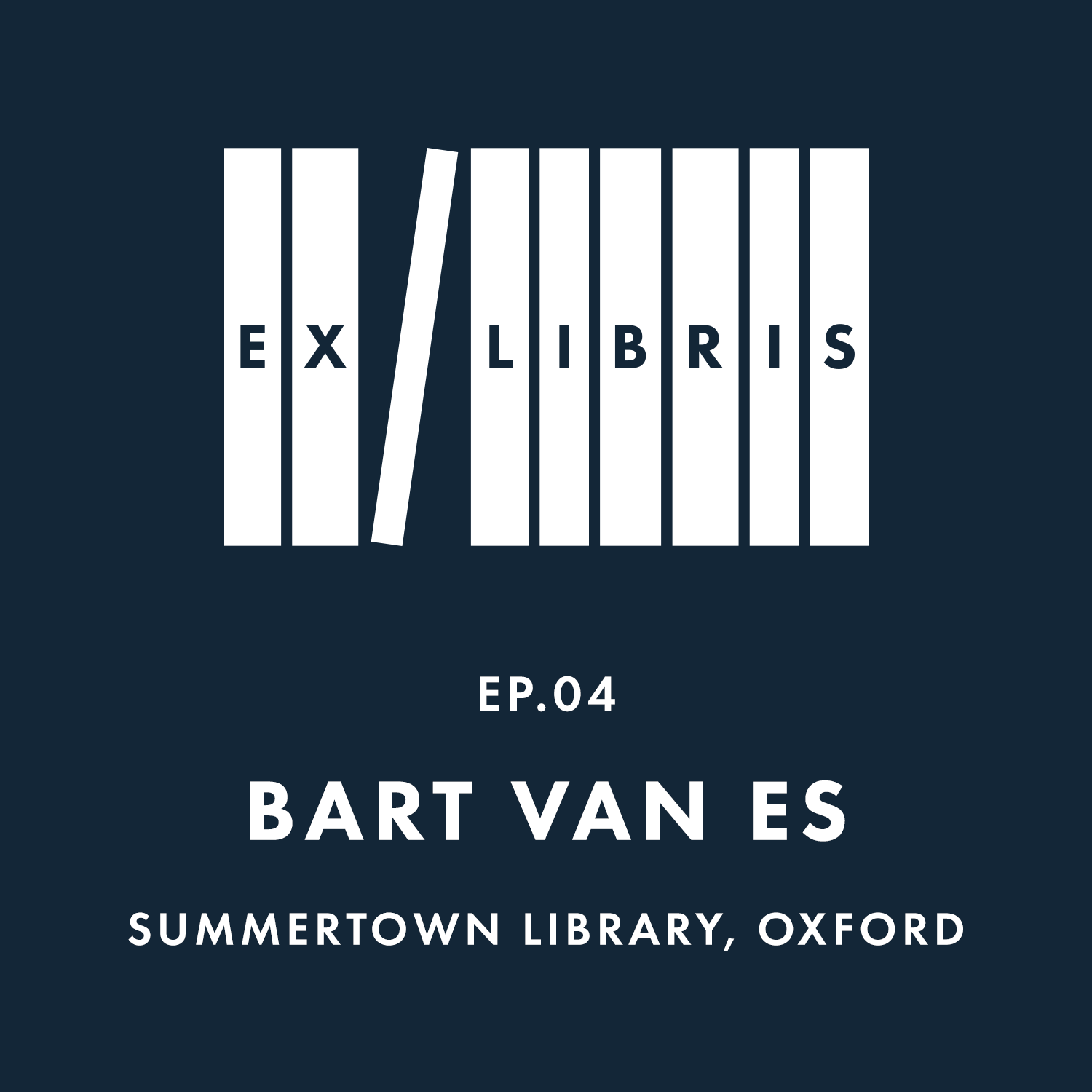 Bart Van Es won the 2019 Costa Prize for Book of the Year for his masterful memoir The Cut Out Girl.
Announcing the judges' decision, the Costa chair, the BBC presenter Sophie Raworth said: "It's a very important book. It's a story that would never have been told if he hadn't gone in search of it. We all thought it had huge resonance with today, the number of displaced people there are today and the number of stories that go untold."
Bart was born in the Netherlands and is bilingual in English and Dutch. He is a Professor of English Literature at the University of Oxford and a Fellow of St Catherine's College. 
In this moving and inspiring episode, Bart explains his painstaking research process and personal journey of discovery while writing the book. He also discusses with Ben the roles of libraries in our collective memory.
Bart selected his local library in Summertown, Oxford.
He and Ben were joined there by Kate Macleod, Assistant Director of Cultural Services for Oxford County Council. Her remit under that banner includes not only the region's libraries but also museums, archives, music, even registration and coroners.
...
Please find below a full transcript of this episode of Ex Libris, with Bart Van Es:
Ben Holden:
Today we're in South Parade, a leafy side street in Summertown, Oxford.  Nestled here beside a surgery, down the way from an Art Centre, and off a bit from an inviting little row shops, is a neighbourhood library.  It's bright and shiny, full of light, as well as books, and opens onto a glorious peaceful garden.  I'm here to meet Bart Van Es, a professor of English literature at the university, and also this year's winner of the Costa Award for Book of the Year for the 'Cut Out Girl', which I have no hesitation calling a masterpiece, not a word I often use.
Joining the conversation alongside Bart is Kate Macleod.  Kate is Assistant Director of Cultural Services for Oxford County Council. Her remit under that banner includes not only the region's libraries, but also museums, archives, music, even registration and coroners.
Interview
Ben Holden:
Thank you both very, very much for joining us here in Summertown Library.
Why did you choose Summertown? It's a beautiful, local community library, but why this place?
Bart Van Es:
Well, this is just my local library.  It's about five minutes down the road from me, it's where I took my kids to get that week's set of children's books.  And then quite recently, I had an event here where I read from my book and talked about it, and the place was absolutely packed.  So, there's a real sense of it as a community hub.  And I wanted to choose a library like this, rather than an academic library, because writing the 'Cut Out Girl' was a move away from purely academic libraries.  I worked a lot in academic libraries, but I also worked quite a lot in local libraries like this, mainly across the Netherlands. 
Ben Holden:
Kate, Bart mentions his event here.  I understand that the community library and the Friends of Summertown Library raised £85,000 to refurbish the library?  We won't get into the whys and wherefores of funding for libraries and why that should be necessary.  But it's a remarkable feat, it's fantastic, and it shows the love they have for the library, the importance of it in the community.  Can you explain and just give us some background on the place?
Kate Macleod:
There's a network of 43 libraries across Oxfordshire as a county.  Going back to 2011, 2012,  so post-austerity, the cuts were really starting to come in for all local governments, and the difficult decisions needed to be taken.  And like many, some of the proposals were to close some of the smaller local libraries.  And what was amazing is the heartfelt response that came from the communities to say no, these are really, really important spaces, and we need to maintain them. 
And so what we have now, several years down the line, is a network of what we call core libraries, so the main part of what is a legislative offer from the Council, but also a number of community supported libraries where we have friends groups, and we have 22 friends groups who support their libraries, either through volunteer hours or fundraising, and those have become much more community spaces where the community are able to have so much more of a say in what takes place in their space. And I think it's great.
Ben Holden:
There are hundreds of community libraries now, I think there are over 500 in the UK.  And, of course, it's not ideal, far from it, that there are also 50,000 plus volunteer librarians, and we're losing libraries and we're losing librarians, hence the podcast.  But let's accentuate the positive and say, yes, it's a beautiful library and it's all power to this community for celebrating and keeping it going, fantastic, especially through events like getting Bart into speak.
Bart Van Es:
And I think libraries are more than just repositories for books, they are cultural spaces. So, the more I started writing the 'Cut Out Girl' and coming to places like this, the more I had a sense that this is really one of the very few spaces in which all members of the community come together.  And also to connect it against the 'Cut Out Girl', I think that's one of the messages of the book, about how important connectedness is, and the dangers that occur in society if people no longer feel connected, if they just become these sort of atomised units, which I think there are various pressures in the world today creating, largely centred on the internet.  We need to get out and we need to meet people, unlike ourselves, and libraries are really important space for doing that.
Ben Holden:
Could you explain a little bit more the provenance of the book, and for any listeners who haven't yet had the pleasure of reading it?
Bart Van Es:
I'd always known that my grandparents had sheltered Jewish children during the Second World War in the Netherlands.  So I am Dutch, my parents are both Dutch, but I grew up away from the Netherlands, mainly abroad.  So it had never been more than a quite cloudy memory.  And, I was also aware that there had been this one girl who had stayed with them after the war, but that there had been a row between her and the family sometime in the 1980s.  I remember my mother crying about that.
So, it wasn't until 2014 that something kind of clicked inside me, and I thought, I've got to investigate this, and my mother still had contact with Lien, though the rest of the Van Es family had severed contact really quite strongly, it turned out, in 1988.  And my mother said, she probably won't want to contact you, she won't want to hear from the Van Es's, but I sent her an email, and that led to my meeting her in late 2014, and she was quite cautious, but I said I want to record your story in some way.  And I'd planned to come there for half an hour, and I ended up staying for 10 hours!  Once she trusted me, which was actually very quickly, she started telling me her whole life story, which was a story that took us from the moment when she was collected at her doorstep, in the Hague in the Netherlands in 1933, when her parents had to give her away in the hope that she could survive the Holocaust, when they had that deportation order to be sent to Poland; it takes us from that moment, to this wonderful vibrant person that I actually met in 2014, who had modern art on the walls, who had cultural supplements, and who told me, straight off, without families, you don't have stories, which, as soon as I heard that, I think that started setting off a series of chain connections for me, and they became the heart of the book, I suppose.
Ben Holden:
Did you know, in that moment, that this was turning into something, - it's very, quite viscerally, personal for you, and has all sorts of impacts on your family relationships outside of Lien -, but were you aware, thinking crumbs, this is a lot bigger?!  I have something here that is far more special and major.
Bart Van Es:
Well, I went with almost no plan at all.  As I say in the book, I didn't have any notes, I didn't even have paper or a pen!  When she started telling me about her life, we very quickly developed this pattern where I would just ask her everything, you know, what was your room like when you were a child? What did you wear? What did you eat? And that sparked in her a set of memories that also meant that she started finding physical artefacts that she hadn't looked at for 70 years, things like a poetry album which almost all Dutch girls used to keep, where you asked people to write a little verse on one page, and then put little cut outs facing it.
So, on that first day, I saw an incredible number of very moving things:  the letter that her parents gave her to pass onto my grandparents, which she never read as a child, of course; that cut out book or poem book; and various letters.  So immediately, I was immersed into this world.  And I decided I had to investigate this further.  So I put aside a month in January 2015, where I said, we'll do more interviews.  And by then, it was clear to me that actually, she'd hidden not just with my grandparents, but at nine different addresses across the Netherlands over the course of the war.  So my plan was then I would go and visit those places.  I would find out what I could in archives in libraries. 
And that then turned into this second thing, which is part of the book. It's really my journey of exploration, finding these places, talking to the people who now live in those houses, encountering local libraries, you know, communities and confronting the bigger story of, the actually very frightening level of collaboration that the Netherlands had during the war, which meant that 75% of Dutch Jews died in Auschwitz or Sobibor.
Ben Holden:
That was an astonishing discovery for me - my inlaws are Dutch.  And I can appreciate the Dutch straight-talking qualities that you, Lien and members of your family have, which probably filtered into some of those conversations, which were also deeply painful.  I mean, really, we're getting to the most painful sorts of memories.  And, of course, accepting the sort of slipstream of fact and fiction that memories imply, but that straight-talking quality probably helped a bit along the way, I hope?
Bart Van Es:
I think that's a quality that the Dutch pride themselves on is straight-talking, but one of the things I found out over the course of the book is that that is also something of a national myth. The Dutch, me included, have grown up with a story of National Resistance, of everyone being against the Germans, everyone, apart from a tiny minority, being ideologically good during the war.  But, what I ended up finding out was very shocking, is just how little resistance there was in the Netherlands early on, particularly when the Germans were winning, and when there was no threat to the non-Jewish inhabitants of the Netherlands.  You find out these really shocking things like big Dutch construction firms were bidding to build the 'Atlantic Wall' to, inverted commas, "defend the Netherlands from British liberation", and those were not forced labour people - those were people trying to make as big a profit as they could out of the new realities of being part of this larger Reich.
Ben Holden:
You have  kindly agreed to read a small passage from the book.  Going back, that's one of these initial moments early in the story in the narrative.  Do you want to frame it? And for the listeners?
Bart Van Es:
So the way the book eventually turned out, it's really a book of three different kinds of voice.  So one part of it is a kind of normalised voice from Lien's perspective, so first of all, as a little girl, and this section that I'll read is from her as a little girl and her experience of being collected at the door.  There's also my voice or somebody travelling and investigating this and meeting Lien.  And then, thirdly, there's a kind of omniscient historical voice that tells us about things like the Dutch collaboration or the response to a Holocaust in 1945 in the Netherlands, which is also rather shocking.
Bart Van Es reads an extract from his book, 'The Cut Out Girl'.
~
Interview continued:
Ben Holden:
I think I can hear in your voice the charge still, after all your success and readings and prizes and writing and thinking and reading about this, there's still a charge in your voice in that letter, and I can totally understand why, because it is so, so powerful.  And that passage there we have, also the immediacy of your prose, because you're writing with such precision, and perhaps that's partly born out of your academic rigour, but also, you're recreating her memories, as they must have been told to you, which is in the present, a revisionist act, so you're capturing them in the moment as memory works.  And yet, then the letter comes and punches us in the gut.  But that's a fixed point.  And that's in the present tense too, and yet, it's sort of the start of this. And there is, of course, a very different letter towards the end of the book, and towards the end of the timeline.  But it's an astonishing feat in terms of straddling those different sorts of rhythms and timelines.
Bart Van Es:
To start with your sense of my emotion, I read that letter for the first time on that first day I met Lien on the 21st December 2014.  And as soon as I read that letter and heard about this farewell party that her parents organised for her, which she didn't realise it was a farewell party, I mean, it haunted me completely, and it's never gone away.  I've never been able to read the set of letters that her parents were still able to send her, or that letter, without immediately feeling in the moment again, because it's just so immediate to you as a parent, but you can't imagine that such a letter could have been written in living memory, in quiet, neat, Holland, particularly, this is not Syria or South America. So, you know, I had that total immersion into Lien's memory, and the fact of seeing those documents.  So, I felt very determined to try and write something that would be true to that emotional experience.
And I suppose I was drawing on the multiple kinds of background that I have.  So partly that of an archival research historian which has been important to my written work, but also that of a kind of scholar of English literature, who's interested in what novels in particular can do, in terms of putting us in a place and giving us somebody's point of view.  So it felt to me legitimate to turn the interview footage I had, which was incredibly detailed on what Lien remembered; so she remembers that Mrs [H] told lots of jokes about place names, for example, that they went [through] on the railway journey, but she didn't actually remember the specific jokes.  So, one way of telling it would be to say Mrs [H] told jokes, and then that's the end of it, but that seems to be sort of less true than if you invent the jokes, but give us a sense of the child's experience.  And we as readers are able to kind of jump between a reality of knowing what will happen that's anchored in that letter, and the total to-the-minute kind of consciousness of a little girl, who is sort of unconscious or half conscious of this being something rather terrible.
Ben Holden:
Yes, we can already see in the extract the abnegation or denial of who she is, beginning as they walk - that journey is actually probably not very long, but it's huge in terms of the change in her identity being forced upon her.  And it's heartbreaking that we can hear children's voices as we always do in these libraries in the mix here in Oxford today, but to feel that change in her being jollied along by the jokes, and that you've provided those along the way to jolly her along, even as this tragedy is unfolding, that we can see and she can't, are there literary references in terms of that immediacy and that splicing of fiction and non-fiction that memory demands in the ways that you've written this?   For instance, this may be off grid, but Knausgaard or those sorts of recent fictions that straddle non-fiction as well, where the lines get very blurry?  Were there any influences along the way in terms of the fictional?
And how would you describe the book, obviously it's history and memoir, but in a generic sense, how would you describe what you've ended up producing?
Bart Van Es:
Knausgaard's not at all off grid.  I devoured all six books of Knausgaard, and I was reading Knausgaard quite intensely whilst writing the book.  I think that his is a very, very remarkable innovation in literary style, and he calls it a kind of literary method acting, to put yourself into a circumstance that you know happened, but of which you only remember fragmentary details.  Certainly  Book Three of that series, 'Boyhood Island', where he's talking about his very young experiences.  And he gives you at the beginning, the experience of a child in a pram done in this brilliantly tactile way, and then he sort of pulls away after it and says, "But I remember nothing of this", and it's this kind of bold statement, saying, yes, this happened, but no-one could ever narrate it accurately.  So Knausgaard was definitely an influence.
Sebald was an influence, more, I think, in terms of my voice in the book than in terms of how I was doing Lien's.  And then, structurally, I read Helen MacDonald's 'H is for Hawk' just before meeting Lien, and her boldness of combining really three apparently incompatible stories, of the story of T.H. White's biography, her emotional crisis, and this kind of history of hawking that made me realise that, actually, readers can put up with quite a lot, they don't need that much hand holding, they don't need an absolute chronology.
Ben Holden:
I believe that one also won the Costa, and it's a tribute to your book and hers that the Costa, of all these prizes, is given to the book that is the most enjoyable, and on the surface, hers and yours is dealing with some seriously heavy stuff; it's a completely engrossing, gripping read.  So that's a huge tribute to you and how you've executed it.  In the extract, you mentioned books, and you've mentioned these sort of artefacts, and of course it ends on the letter.  The book is something of a tapestry, not just in terms of the timelines and the various voices, as in the present, past and future tenses, but in a physical sense as well. And I have to pay tribute also to the fact that there are no maps in it, but there are plenty of photos, letters, etc. Could you speak a little bit about the process?
Bart Van Es:
I mean, one early title for it was 'The Scrapbook', because, Lien's poetry album is a kind of scrapbook, and the book itself is a kind of patchwork of memories and physical artefacts and times.  And the title as it is now, 'The Cut Out Girl' is also a reference to that poetry album, which has these little cut outs of girls in crinolines, usually, or flower arrangements, facing these poems.  And that became for me a kind of metaphor for Lien's experience of being kind of pasted from one family into another, from one world into another.
I was, particularly during that month in January, very aware of the way that memory is fragmentary and anchored in physical objects.  What really shocked me, actually, over the course of that month in January was how there were these kind of huge gaps in Lien's memory.  I started out with this total immersive way of experiencing her life.  So, that journey to the Van Es's that she has in '42 is very vivid to her, her early life with the Van Es's, and she quickly became sort of entirely a part of that family - that was really clear to her, but then as she suffered more trauma over the course of the war, - there was a police raid on the house that she very narrowly escaped -, her memory starts to become much more patchy and she says things like, you know, well, I  don't remember what the house looked like.  She didn't remember any of the names of people in a house where she was for nine months in hiding, and you could see that is clearly a product of childhood trauma.  And that gave a kind of skeleton.
But then, in one case, I went to a house where she'd been hiding, and this was totally revolutionary, because the woman there said, "Oh, you're to speak to the neighbour - he was born just after the war".  And I said, "Well, there's really no connection".   I was kind of reluctant, but it was only because she was standing in the doorway that I said, "Well, I'll go knock o the door".
This man, when he came out from his garden looking actually very aggressive and sort of saying, "What are you doing here"?  And I said, "Well, my aunt was in hiding next door", and he said, "Lienchen.  She's the reason that I was born". And, suddenly, this whole other story opened up, and it turned out that Lien had hidden in that house as well, and stayed with his sister, and his sister had these incredibly vibrant memories of her, and Lien didn't remember that house at all.  And it was like, wow, okay, there are just enormous gaps here.
I went and interviewed that old lady in an old people's home.  And she just said, "Oh, you know, we used to laugh upstairs in bed together".  And she described the journey that they had from Bennekom, which is where they were, to Ede after the allied landings.
Ben Holden:
By the way, I meant it as a tribute, there are no maps.  It's a tribute to your ability to paint pictures of these places for us and anchor the book in terms of locations that you don't need them (maps).  And it's very, very vivid.
Bart Van Es:
I actually really didn't want maps or family trees, because I thought that would give us a misleading perspective on Lien's life.  So, none of the photographs are labelled either, because, I think, if you have that kind of book, then you inevitably skip ahead, or you refer back to the table of contents, you look at a timeline.  I wanted to do something that would be about the experience of being transplanted and lost.  And that would have been impossible with maps and timelines.  Lien still today has an incredibly poor sense of chronology.  And she says herself, this is one of the sort of legacies she has from having been a hidden child, she can never remember years when things happened.
Ben Holden:
Is she grateful to you for allowing her that chronology towards the end of her life, or is this a mixed blessing?
Bart Van Es:
It's certainly not a mixed blessing, and she has described it as an enrichment of her life.  She wasn't looking out to record her story at all.  So, it wasn't the sense that, oh, finally, here is someone I can hand this over to.  She was pretty reluctant to talk to me when we first met.  And then when she trusted me, she said, "You know, it's history for me. I can talk about it without emotion". 
And, of course, she doesn't talk about it entirely without emotion.  But what the book actually ends up recording is her recovery, not just from the experiences directly during the war, but from the whole of her traumatic afterlife as a survivor.  So that, eventually, in 2003, Lien was able to travel to Auschwitz and read out the names of her family.  And she says that was an end point for me (her).
She's very happy that the book is there, and it's been important for her family, but I think she hasn't needed it psychologically.  It wasn't like it was a therapy session.  She had done the therapy herself.  So, it was never actually traumatic, interviewing her, even the terrible things that she described.  She was really just concerned with getting them as accurate as she could.  It wasn't as though she was suddenly back in those rooms where she'd been hidden.
Ben Holden:
So that's a big burden or responsibility, obviously, for you to get it as accurate as you can. And we've talked about the methods that you use.  Do you have these fixed points, as best you can in terms of memory, as we said, provisionary or recollection is a sort of revisionist act, whether you like it or not.  You've got these fixed points, and they're really documentary fixed points - letters, photos, etc, but can you explain the process vis-a-vis libraries as well?  And drawing upon your obvious pretty significant expertise in research, how that went in Holland and joining these dots?
Bart Van Es:
I had a very strong sense of responsibility, both to Lien's memory and to history.  I mean, if you're dealing with something like the Holocaust, there could be nothing worse than making some error where you say that a certain type of clothing was available, or a certain type of food, and that someone can suddenly say, "Oh, this is all fake news".  So I wanted to be absolutely certain that everything that I wrote in the book could have happened and that it had happened to somebody.
I started out with those interviews with Lien, but then as I went to those places, I would also go to the resources that were around there to get a wider picture.  So it started in the Hague. So, right at the beginning of the interviews with Lien, I went to the house where she was collected, which was now a physiotherapy gym, and walked around there, but also went to the Hague City Library - it's a bigger version of Summertown Library, and there's a big section on local history.  So, you could get things like construction histories of the Hague, I could work out when those houses were built; lots of details about street life there, the percentage of Jews on the street, all of those kinds of facts around the history, photographs. And I did that everywhere.  So, when I went to Dordrecht, which is the town she moved to, I spent a lot of time in Dordrecht City Library. 
There was that kind of local history which, you know, fundamentally I'm such a supporter of physical books; I'm kind of frightened by the way in which the current generation, to sort of sound a bit fogeyish, is so ready to trust the internet.   I find that with my own students at Oxford now that they just have an idea that you get facts by putting it into a search box.  And, actually, that's not really the (way); you're always getting something at several removes, and there's no anchor for it, whereas actually even a 1950s old history of the building of Dordrecht or something, it's concrete; you have to flick through it, you have to read sections, you have to think who wrote this, and when?
So, I spent a lot of time in local libraries, also after that month in January 2015.  Then I did more scholarly, archival work.  So, I got access to the prosecution documents against Dutch policemen after the war.  So, I spent a lot of time working in the National Archives.  I worked in the National Centre for Holocaust studies in Amsterdam, I worked a lot in Leiden University Library, and various other kinds of institutional archives - that's a different kind of thing to what a local library is.  So, I was using academic libraries, I was using archives. 
But, a lot of that period detail actually comes from small local libraries, where there will often be a General History Society which produces paper pamphlets as they did, for example, in Bennekom, the town where Lien ended up at the end of the war - you just wouldn't get that kind of thing with online searches.  So yeah, again, I mean, it's just such a sense of how these places matter and I am fighting the good fight as it were to sort of stop students and kids thinking that you are really doing research if you're looking at stuff on the screen.  We actually do have to see that the books exist and who has put those books out there, because otherwise it's potentially just this miasma of other people's versions of the truth.
Ben Holden:
The book does obviously have immense currency and urgency as well, at the moment, and, of course, you mentioned the dreaded term 'fake news'.  But the forces that are at work in the book are bubbling away again, sadly, in our societies, and these libraries, in a book that's about remembering and the importance of remembering, and how we remember, your description of how you went about stitching it together is testimony to the importance of libraries in that conversation.
Kate, do you want to talk a little bit about Oxford and the local resources, and again how these archival faculties are protected and resourced here in these communities?
Kate Macleod:
Absolutely.  We have a number of local study sections within libraries where people can come and learn about the history of their area and their heritage, but also come in and contribute to help others.  And I think that's another really, really important facet of public libraries is that people can come with a question and hopefully find the answer, whether it's in the content of a book, or whether it's in coming together and finding out from others who may be able to point them in the right direction. I think, in terms of where we want to take our library services, our cultural services, locally is for that to be ever growing, and for it to take on both the physical and digital elements so that people can start to share their story so that you will continue to grow that history and that legacy.
Different but similar in some ways, this county is going to grow, so we'll have a third more people living in the county in 10 years time.  So these are people who aren't here yet.  But when they arrive, they'll have their own stories, their own heritage and history, and how do we start to bring this together to feel more like a community?  I think libraries have a really, really important part to play in making those enquiries and asking people questions, particularly in the context, as you say, of this evil spectre that does unfortunately, bubble up throughout history.  And one of the fundamental things that it tends to do is it erases people's stories and that's what makes us human.  And so giving people that voice so that they can share and we, that the history of a place, the heritage, it evolves because it's made up of the people.
Ben Holden:
It's terrifying, frankly, to think that there would be a Lien out there, because there are, - this is but one story clearly in an ocean of stories from that period -, but it's terrifying to think that you would not have the resources to access that story, or tell the narrative that you have so meticulously produced.
Bart Van Es:
As Kate says, it is also about people.  So when I went to Dordrecht on the first day, the place I went to was a local history museum, which is called 'Museum 1940-1945', (the war really started in 1940 in the Netherlands); and that's partly a library, partly a repository of lots of local artefacts, but it's probably most fundamentally a community.  So, there, I ended up browsing the library, and this man who was one of countless volunteers there said, "Oh, what are you looking for"?, and I showed him the photographs and the documents I had.  And then he said, "Oh, Mrs. H, I think I've heard about her. You ought to speak to this local journalist who helps out the museum". And immediately this set of guys there started helping me, they were a kind of club, they were all volunteers doing this work.  Slightly troublingly, I was also the only visitor to the museum, so I think those places are important.  And there's a kind of danger that people think, "Oh, I can do it all online".  But really, people need to come into that space, they need to talk to people like that, who are passionately, immersed in history and doing that vital work of archiving and also discussing and connecting.
Ben Holden:
And this is, again, what's so scary that last year 130 public libraries closed in the UK. However, we're here to be positive...
Bart Van Es:
It is a challenge, because, I think, reading, it's not inevitable that it continues.  I find English students now are far less habituated to reading than they were 10 years ago.  Even English students at Oxford when I was a kid, most of my leisure time was reading.
Ben Holden:
Were you at the library as a kid much?  Was there a library or a bookshop that has a special resonance?
Bart Van Es:
I lived a very privileged life.  So I lived abroad until my teenage years and we sort of lived this quite strange expat existence, I think doesn't really exist anymore where you sort of move as a camp of people into a different country.  So we lived in Norway with a set of Dutch people, in Dubai with a set of Dutch people, then Indonesia.  So there weren't really libraries in those places.  But then another element of privilege, I went to a pretty posh school in Sussex, and one of the things that posh schools have is libraries, and it was there I really fell in love with serious literature.  An English teacher who said you ought to read Hamlet, I devoured Hamlet, and started reading my way through all of Shakespeare; I started falling in love with Victorian novels, and they were all just there, so I never even thought of this as a threatened resource.  And I certainly use my local library in the holidays as well and spent quite a lot of time there.  I don't think it's inevitable that that passion will exist.  I mean, I see it in my own children that it's very difficult to resist the temptation of the phone, not to have those messages coming up, and the kind of habituation to that ability to be absorbed in something and not doing anything else that I'm very keen to try and preserve.
Ben Holden:
Do you have a big personal library? How extensive is your own library? And, if I may ask, how do you organise it?
Bart Van Es:
I mean, of course, I have a lot of books, academics have a lot of books, and I am obsessively organised about my alphabetised books.  I'm not really a romantic about
books…
Ben Holden:
Do you break the spine?
Bart Van Es:
I mean, if I have a genuinely beautiful hardback, I will treat it with respect, but I'm pretty happy to use paperbacks most of the time.  I have a lot of colleagues who are just enormous bibliophiles and who get very passionate about seeing the original printed edition of something, and that's actually never been something that's particularly been powerful for me, I'm more interested in the content. So my use of books is, in a way, quite pragmatic.  I want them alphabetised with lots of stickies in so that I can have them.  And I'm even quite willing to use E-readers if I'm travelling, so I'm not so fetishistic about the object of the book, though, I prefer reading from a physical book.
Ben Holden:
Your book, in particular, I feel is a very tactile, but I think I would have lost a measure of value or enjoyment, or satisfaction, If I'd read it as an E-book, personally.
Bart Van Es:
The books that are important to me I almost invariably have as both E-book and physical book.  All the Knausgaards I have on my phone, because I travel quite a lot, and so I find that thing of just reading on my phone quite easy. But yeah, if I'm at home, I would prefer to have the book, but they're pretty bulky things to carry around.
People who come into my office, they're always shocked because there's not a surface with a book on it.  And when I'm having a tutorial, loads of books come off the shelf and I sort of sit there and show people things, but at the end of a set of tutorials, my office will usually be covered in books that are splayed on the floor or have things in them, but then I can put them all daintily back in their slots, because otherwise I won't find them again.
Ben Holden:
Bart, if you're happy to, it would be lovely if you were to choose a book from the library, to celebrate Summertown library, but also the serendipitous experience of libraries and the magical alchemy of coming into them.  I know you probably have a stack of reading that you're always doing and referring to, but it could be an old favourite or something you've been meaning to read, or anything you like.  That's sort of the beauty of walking into a place like this. If you'd be up for that?
~
Ben Holden:
We're in Fiction.  Is that deliberate?
Bart Van Es:
No, I don't really have any sense of what I'm up to at the moment.  But I tend to read classic fiction more than I read contemporary fiction, unless I suddenly feel that something is really major, as I felt with the Knausgaard.  I also absolutely adored the Ferrante books in a different way.  That sort of immersiveness in historical period I find fascinating. 
Ben Holden:
Have you read any Rachel Cusk?
Bart Van Es:
If there was a section that would be kind of creative non-fiction, I would go there.
Ben Holden:
'Outline' by Rachel Cusk, this is another in that zone.
Bart Van Es:
Yeah, this would definitely be the book that I pull out.  So, as with all books, you immediately read the cover, and it says,  "Like the Higgs boson, which appears only when bombarded by electrons, Rachel Cusk's nearly nameless narrator flickers into visibility through her encounters with a series of amazingly eloquent and fascinating interlocutors".
So, yeah, I will definitely be taking this one out.  Beautiful sort of simple things - I like the chapter headings just to have Roman numerals, very little sense of what you're going to get, such a kind of unexplored thing.  And we see Habermas and Penelope, all sorts of exciting things as I flick through, so I'll definitely be taking this to the desk.  Great, thank you, it's a great recommendation.
[END]
Thank you for listening to this Ex Libris podcast.
If you've enjoyed this episode, please rate, review and subscribe wherever it is you get your brainfood. If you'd like the chance of winning a signed copy of Bart's majestic book, 'The Cut Out Girl', then all you have to do is write a thoughtful review of the podcast, mentioning this episode.  To find out more about the authors and venues, as well as libraries and independent bookshops, please visit our website:  www.exlibris.com  You can also get updates from me on twitter and instagram.  Find me @thatbenholden.
Ex Libris is produced by Chris Sharp and Ben Holden.
Ex Libris is brought to you in association with The Lightbulb Trust - which illuminates lives via literacy and learning, providing opportunities to shine.