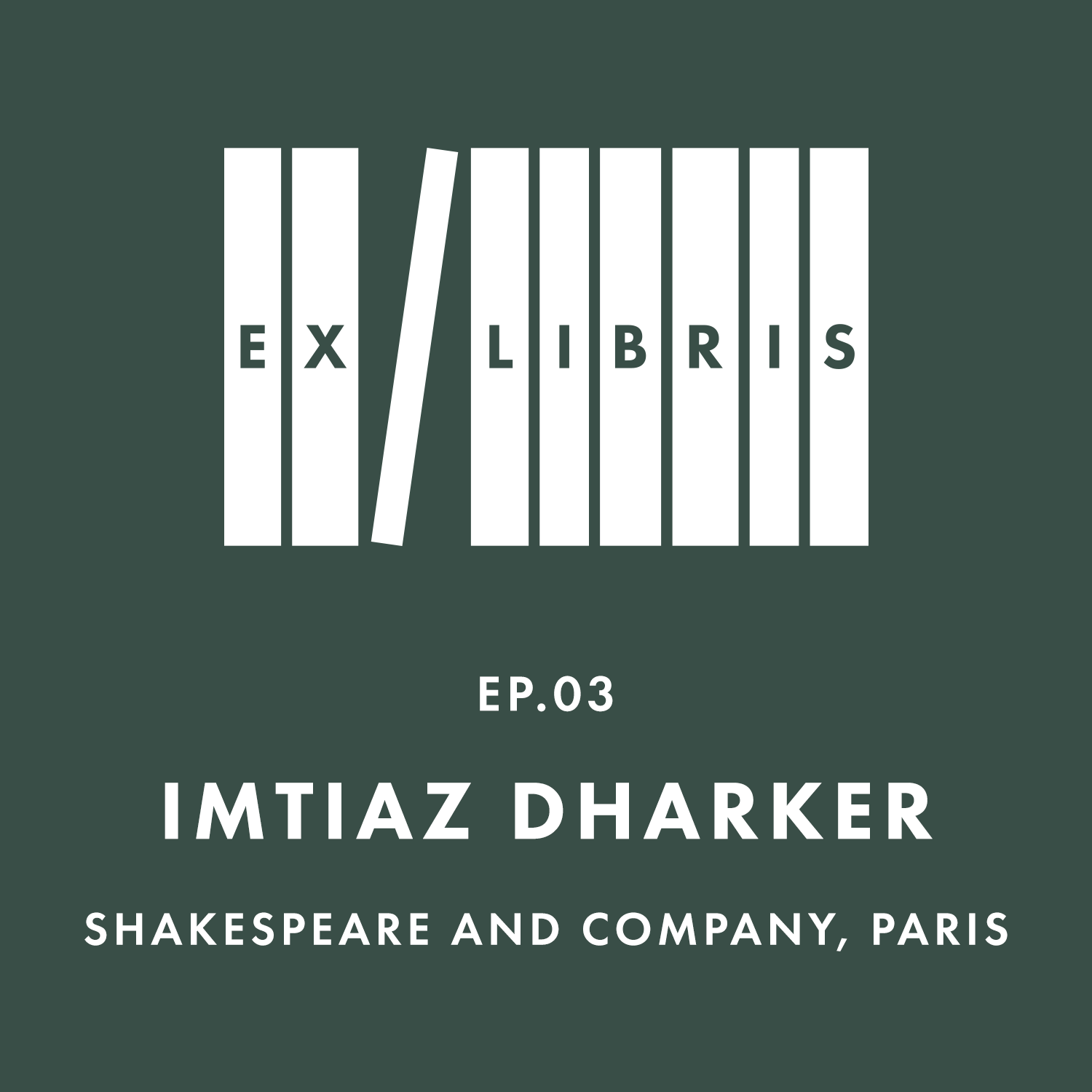 Imtiaz Dharker, winner of the Queen's Gold Medal for Poetry, selected the iconic Parisian bookshop, Shakespeare and Company. In this episode of Ex Libris, released to coincide with the store's centenary, Imtiaz and Ben are joined by the famed store's proprietor, Sylvia Whitman.
The trio sit and chat on one of the tumbleweed beds that are made available in the shop's library to aspiring writers. We are transported in this conversation not just to Kilometre Zero of Paris, on which faultline the shop resides, but also to a hinterland of imagination and wonder, thanks to Imtiaz's poetry and the rich 100-year-strong history of Sylvia's home.
Imtiaz has published several collections of luminous, acclaimed poetry. Carol Ann Duffy wrote of her work: 'Reading her, one feels that were there to be a World Laureate, Imtiaz Dharker would be the only candidate.'
….
Please find below a full transcript of Episode 3: Imtiaz Dharker
Shakespeare and Company, Paris
Welcome to Ex Libris, the podcast that, with the help of the greatest writers around, champions libraries and bookshops. These are our society's safe spaces, particularly libraries - they are palaces for the people, free of charge, where everyone is welcome and nobody judged, yet they are in peril.  My name is Ben Holden, writer and producer, and, more to the point, fed up with this state of affairs, so in each episode of Ex Libris, I will be meeting an author in a library or independent bookshop of their choice, somewhere that has become resonant for them, and I hope that after you have listened to this episode, it will feel special to you too.
Introduction
Ben Holden: 
This week I'm joined by poet, artist and filmmaker, Imtiaz Dharker.  Awarded the Queen's Gold Medal for poetry in 2014, Imtiaz has published seven collections of luminous verse.  Her poems feature on the British GCSE and A level syllabuses.  In her collections, her verses are always accompanied by exquisite drawings that are also drawn by Imtiaz, and her pictures have been exhibited in solo shows across the world, from India to Hong Kong, to New York.  Imtiaz lives in London, but her chosen Ex Libris venue has brought us to Paris.
Imtiaz, this is an incredible place, an institution.  One of the most famous bookshops globally, but nevertheless, I have to ask, of all the bookshops or libraries, in all the cities, in all the world, why Shakespeare and Company?
Imtiaz Dharker:
Well, I heard a rumour of this place as far back as the seventies, when I was still living at home in a fairly strict household in Glasgow.  And, I heard about this bookshop in Paris where writers could stay the whole night living among books and sleeping with poetry, and it seemed to me like an incredibly exciting idea, and I dreamed of running away to this place. 
For me, the idea of Paris was a place where anything was possible, where I could be anything that I imagined myself to be.  And, of course, I'd read by then Baudelaire, Verlaine, and Rimbaud, and was nostalgic for their Paris too; but the idea of this bookshop somehow crystallised for me everything that I wanted of life, because I was hungry for the kind of freedom that I imagined would be here, a place where there would be free thought and ideas without borderlines. 
Finally, I did run away from home, but not to Paris, but to India, and in many ways, I grew up in India and it was an inspiring place to be, and it was also an experience that shocked me into writing poetry.  In some quiet, secret part of my mind, it still persisted and I held it there like some kind of myth of a bookshop, and I didn't know whether it actually existed or not.
Somewhere along the way, I also saw Wender's film, 'Wings of Desire' - haunting images of angels in black raincoats listening to people's thoughts in a library; their thoughts and hopes and fears; and in my mind, this became linked to my mythical bookshop.  I never believed that I'd actually find it, and for years it really was impossible, as I was too poor to travel, definitely not to Paris.  I did get to London, and I remember standing outside of the offices of the British Poetry Society looking at its closed doors, thinking "This must be where poetry lives", but I couldn't get in.  So just imagine the difference when I finally did go to Paris in the late eighties and I was walking by the Seine one evening, and just off the road, there was a shop bursting with books and golden lights spilling across the pavement and all kinds of people around it, buzzing like bees around honey, and I was pulled in along with them.
It was only when I walked into the shop, and walked up the stairs and into the library, that I began to realise that this was the place of my dreams, and I then put a name to it - 'Shakespeare and Company'.  There was something so familiar in the smell of it, the feeling of books surrounding me with their safety and attracting me to their danger, and I sat on one of the benches, and I have to admit that I cried, so coming back to this place still brings that back to me, and that's why I'm back today.
Ben Holden:
To those listeners who haven't been here, how would you describe the place?
Imtiaz Dharker:
Well, behind me is the Seine and Notre Dame, and the whole of Paris, and the whole of the city, and in front of me is the sign, 'Shakespeare and Company'.  It's an old building, 16th century apparently, and on the outside, there's a look of things that have been added on, because this whole place has grown as if it couldn't help but opening its arms wider and wider to take in more and more of the people who love books, so I get that feeling when I'm standing outside looking at it.  It's nestled back on the road, sheltered by trees, with steps dipping down, so it looks like a bit of a proscenium.  There are people on the steps and at the tables on the pavement, some are reading, some just chatting over a coffee.
Ben Holden:
The founder of this iteration of Shakespeare and Company, George Whitman, called it his "Rag and bone shop of the heart"; He said:  "I created this bookstore like a man would write a novel, building each room like a chapter, and I like people to open the door the way they open a book, a book that leads into a magic world in their imaginations".
So, without further ado, I think we should open the book and walk into this magic world of imaginations, and somewhere inside, Sylvia Whitman, George's daughter is hopefully waiting for us.
Interview
Ben Holden:  Sylvia, could you please try and distill for our listeners the history of this place?
Sylvia Whitman: 
Well, the story starts with Sylvia Beach, who was a very witty, energetic, fearless American who came to Paris and decided to open a bookshop here in 1919, and as Gertrude Stein said, Paris at that time was the 20th century; it was the place to be - all roads led to Paris.  And so Beach's bookshop quickly became a literary Mecca, a sanctuary for the great writers passing through, or anglophone writers staying in Paris at that time, as well as French writers in the area.  Fitzgerald, Hemingway, Stein, as well as André Gide, Paul Valéry, Aragon - and so, one of the most famous stories about Sylvia Beaches is that she became the publisher of 'Ulysses'.  At the time, it was declared obscene and banned, and so no-one dared to publish it in its entirety, but she offered to, and became in 1922, "The smallest of small publishers of the biggest of big books", as she put it.  And she, in 1941, had to close her bookshop during the German occupation under threat of the Nazi officers, but she remained in Paris and was a very influential figure until her death in 1962.
The next chapter is with my father who came to Paris after the Second World War as a GI; and he had been a bookseller before coming to Paris, before the war, and he discovered this amazing base here; this building that is 17th century and used to be a monastery, and the ground floor was for sale, and he decided this was where he wanted to live and sell books; and so he opened his doors in 1951. 
This bookshop has been connected to the writers of the Beat generation.  William Burroughs spent a lot of time in this room researching 'Naked Lunch', and Alan Ginsburg spent a lot of time here, Lawrence Ferlinghetti, as well as people like Anaïs Nin, Richard Wright, James Baldwin. 
Ben Holden:
And you grew up here in the apartment above the shop?  Can you tell us a little bit about how that was?
Sylvia Whitman: 
It was mad.  My dad didn't limit the amount of people he allowed to stay here, so there were some mornings where we would have to step over the bodies to open the bookshop, and there were so many people sleeping that we'd forget to wake everyone up, and customers would come in and there would still be people sleeping in certain sections. 
It was a wonderful way to encounter really interesting characters from all over the world, but it was a very unusual upbringing.  One night, I went to go to bed, and there was an old bearded man in my bed, and I complained to my father, and he said, "But he's a brilliant poet!".  It was really quite mad, but I appreciate it so much today.  I was quite lucky to spend some time away from the bookshop in my upbringing, and therefore not find it banal or irritating, and actually find it magical and a wonderful way to live.
Ben Holden:
Imtiaz, you were born in Pakistan and you moved quite early to Scotland.  Growing up, were you surrounded my books?
Imtiaz Dharker
Certainly not in the way Sylvia's was! There were some books in the house of Urdu poetry, but I couldn't read them, because I didn't know the script.  And then there was the Quran which I read five times by rote, not understanding a single word, but I did have to read it aloud, - we were all made to rock in time to the rhythm of it-, and there was music in that that I think had a power beyond just the meaning of the words; it was, in a way, a kind of meditation.
But poetry was part of everyday life for my parents.  They'd recite lines from memory and it was thrown into the daily conversation; it was part of daily life.  So, they passed on the poetry to me, but it was more of an oral poetry.  And the film songs were all from poems, and there was Hafez, Ghalib and Faiz. 
But, early on, there weren't books in the house so much; I discovered books in the public library, and I devoured those.  I'd start at one end of the shelf and not stop until I reached the end of the shelf.
Ben Holden:
Was there a moment where you realised this is what you wanted to do, or dreamed of writing poetry?
Imtiaz Dharker:
I don't think I'd have articulated it like that at that time.  All I was doing was putting a pen or a pencil on paper.  But when I did that, when I wrote the words or made a line of a drawing, I knew that I was completely free, and that that space belonged to me, and that no-one else could tell me what to do with it.
I wasn't allowed to go out very much, and my heart actually ached with the longing to travel, so when I saw a plane take off, it was like a terrible hurt for me.  But, in some ways, I think being constrained and confided to a room with myself made me find other ways to be free, and books were a way to do that - to find a way out to the world, and to invite the world back in.  The poems are a way of coming back to the room for me, with all the world in my hands, and go back to the child that I was and say, "Here, this was what you wanted - take it, and enjoy it".
Ben Holden:
There's that lovely Nietszche quote that says:  "We only obtain true maturity as an artist once we regain the seriousness of the child at play".
Imtiaz Dharker:
Yes, I think children really do see play as work; they treat it as the job that they are doing.  It is an intense, earnest attitude to play.
Ben Holden:
Your poetry has very open arms; it has a very kind voice when I read it.  Just as George Whitman's famous mantra was "Be not inhospitable to strangers, lest they be angels in disguise", Imtiaz, I understand that your home had a similar philosophy? Can you talk a little bit about that?
Imtiaz Dharker:
The house I grew up in was a little like this bookshop.  It was always open to people who came from outside.  I think there was always that idea that the guest is an honored person, and that the guest is given the best.  And I found that even in India when I went there; working in the slums, there would be people in the slum, they'd have nothing, they'd be so poor, but the guest would be given everything that they had.  That attitude is one of generosity and openness, and having enough.  The idea is not that we don't have enough, but if we share, there will be enough.
Sylvia Whitman:
Another founding ethos of the bookshop here is:  "Give what you can, take what you need."
Imtiaz Dharker:
And that's so much like Ghandi's quote which is:  "There is enough in this world for man's need, but not for his greed."
~
Imtiaz Dharker reads and extract from 'Barkat':
If, by chance, you wake, and find on your pillow
jasmine blossoms, cold with dew,
you will know that you are loved. 
The bud is the knot where everything
Begins, someone having gone in the dawn
to gather the flowers for you, the petals
of songs your grandmother sings.
Soja chanda soja
Meri raj dulari soja
You may have nothing
but a large heart, and just enough
food on the table for a guest,
but the best of conversations
are garlands in your clever hands,
strung through with poetry.
Tuhe nindiya sataye soja
Soja chanda soja
This song is an untied knot.
It will not lie idle
on the pillow or hide in the bed,
but will run out on the street
and when the traffic lights turn
red, stand at your car window
with bare feet, saying
Take this. Take it. I made it for you.
Ben Holden:
Sylvia, there's also that lovely quote from your father about this shop itself being a book, and opening up chapters and pages, and it still feels like an imaginary world when you're walking in.  Would you say your philosophy is still along those lines, in terms of housing emotions, and these books that you grew up around?
Sylvia Whitman:
George always said that he never wrote a novel, but every corner of this bookshop was a chapter from his unwritten novel, and I think you do sense that personality and spirit in every corner.  I also love the fact that he used to say that everyone in this bookshop is a fictitious character, so leave your everyday self outside the door, and the idea is that you come into the bookshop and you enter the space as if you were to enter your imagination.  I hope that we've still retained that spirit; and that is something that I feel on an everyday level, that there's something very magnetic and imaginative about the space, not only the physicality of books and the beautiful design of books, but also that a bookshop is somewhere where you can be alone together; it's that wonderful combination of solitude and gathering that is something we want to encourage here.  And also, making it somewhere where people, especially children, can come in and feel a sense of magic.
Also the presence of the tumbleweeds really is the heart of the bookshop, in terms of feeling connected to this space.
Ben Holden:
Can you tell us a bit more about the tumbleweed tradition, and how it lives on today?
Sylvia Whitman:
George spent a lot of his youth travelling; he left Boston with $40 in his pocket and went to Mexico City, and then travelled extensively in South America, and was really struck by the hospitality that he received, and so he felt that it was just natural to return that.  When he opened the bookshop, on the very first day, he invited a couple from Australia to sleep in the bookshop, and in exchange for a bed, he asked, and we still ask, for people to write a one page story of their life, to help us for two hours per day, and to read a book a day. 
And so that tradition has continued, amazingly; it's actually become the most important part of the bookshop to me; this sense of being open to strangers, when we're not very open to strangers in society these days.  The incredible effect that that has - people are so amazed by it, and we have letters in the archives from people who had come into the bookshop planning to steal a book, and George saw them and would say:  "Could you mind the till for an hour, I've got to get out to the supermarket, and you can sleep here tonight - here are my keys."  And so, obviously, they didn't steal a book and ended up having an incredible experience.  I think, now, we've housed over 40,000 people.
Imtiaz Dharker:
Even just having that permission, that 'borrowed time', that time that's kept just for this, must have changed the way they looked at time and writing. 
Sylvia Whitman:
Exactly, and often a lot of them were aspiring writers, so this is actually a real necessity for them, to be in this bubble for a moment to reflect on things that they might not be able to in their everyday life.
Imtiaz Dharker:
I was wondering about the people who spend the night here.  Do you think they ever see the ghosts of the past writers?
Sylvia Whitman:
Apparently they do!  Apparently, in the Dostoyevsky section, there's someone who appears regularly!
Ben Holden:
Imtiaz, in terms of night, and in terms of creating a space in which to imagine and inhabit your sensibilities and consciousness as a writer, you have quite an unusual process it could be said.  Do you want to talk a little bit about how you go about finding that poetic space for your work?
Imtiaz Dharker:
First of all, I walk about.  I walk and I find that the rhythm of walking unleashes something that sets a poem in motion.  And then I sit around cafes and stations, and all kinds of public spaces, lying in wait for a poem, lying in wait for those conversations and half conversations that people have, that can trigger a poem.  And then I write on A4 sheets of paper, because I never really know if the line I am writing is going to become a poem or a drawing, but it's only when I take all of those pieces of paper home, that I'm able to give in shape. 
And very often I can start a line, say at 11 at night, and find that I've been working on that line and it's four in the morning before I know it.  There's that moment, just before dawn, when time seems to stand still, where it holds its breath, and that's a moment that I find it's as if the writing falls into that space, as if it's a space where writing is allowed to happen.
I think a poem, in many ways, is a way of playing games with time; it's like leaving a signature on time.  The line in a poem has to do with how the poem moves in time, and it goes on kind of a walk or a dance, and in that moment, I'm in some ways mirroring what's happening during the day, but in that stillness of time, letting the poem walk in a different way; it has feet and can get into a stride of its own, and you recognise the music when it happens. The white at the end of the line is like the silence in the night; it's when time stops and takes a breath, and decides whether to turn the next corner or move onto the next line, or the next verse.
~
Imtiaz Dharker reads her poem, 'Heavenly emporium':
He takes the pieces of china home
and places them together, not
to recreate the thing
they were, but to make
a shape wiser than a cup or plate,
the broken edges uncontained
and patient enough to lie in wait
for the tide to turn, for the full moon.
Ben Holden:
How do you know, then, when a poem that does turn a corner is going to last the distance?
Imtiaz Dharker:
I never know.  I never know if the poem is right, I never feel it's finished - you ask any publisher and I'll still be changing lines after I've sent it off.  I sometimes change lines after the poem is published.  I sometimes read a different version to what I've actually published! So, I feel as if a poem is something that, in my mind, never really ends.
Ben Holden:
Can we discuss 'Poetry Live!', started by your late husband, Simon Powell, and I think that's how you met Simon.  How important is it to you today that poetry be read aloud?
Imtiaz Dharker:
Well, over 25 years ago, Simon had this brilliant, beautiful and completely mad idea that young people shouldn't just read poetry off a page but hear it spoken by the poets who write it, and that he could take this out to thousands of young people.  So, what they hear is the voice, the breath and the accent of the poets themselves, and see that the poets are real, living people, who look much like them and have lives much like them, and are talking about quite recognisable things, doing this in a language they understand. 
What happens then is that yes, they listen, and they come in rowdy and just happy to get a day off school, but when the poem is being read, they're listening at pin-drop silence.  And what we find is that when they go back to the page, they're seeing the poem in a different way, and hearing it in a different way, and they have a better way into it.  So seven poets travel around the country reading to thousands, it's 25,000 students a year - Carol Ann Duffy, Simon Armitage, John Agar and others; but it doesn't really matter who they are; they're breathing, living people, and this is what the students are seeing.
Ben Holden:
Sylvia, how do you think of poetry's significance within a shop?
Sylvia Whitman:
I'm seeing a resurgence of poetry at the moment, and we have expanded our poetry section, not because we sensed an increase in demand at the time, but because it's a very important section for us.  And, thinking about our sister bookshop, 'City Lights', who has this amazing room just of poetry, and we wanted to go in that direction, and so we just opened this poetry room up and we were so happy to see the success. 
And, I don't know whether it's because of the unsettling times that we're living in, if you think of the line from T S Elliot, "This is one moment, but know that another shall pierce you with a sudden painful joy", whether at these times, people want something that goes straight to your heart; or is it social media, and this is a really good form for social media, and there's a lot of instagram poets and people have been coming in asking for their works.  I don't know what it is, but it's so heartening as a bookseller to see this resurgence.  Do you feel that Imtiaz?
Imtiaz Dharker:
Yes, I agree with this.  I think especially in a time when there's so much white noise; there's so much chaos and unnecessary noise, that when they find that still moment of poetry, they respond to it.  And also it's a shared experience, in a time when church is a different kind of a place, people are not getting the same kind of shared experience; at least, this is a kind of secular experience where people share something that lifts them up and takes them out of themselves, and I think young people especially are responding to this.  Because poetry is speaking in a language that goes beyond the meaning of the words; it says things that the heart knows before the mind has a chance to catch up. 
Sylvia Whitman:
Some of our most memorable events have been poetry (events).  Readers get a lot out of hearing the poet's voice, out of hearing the music, and sometimes we do have accompanying music.  Recently we had Kate Tempest, Saul Williams, Scarlett Sabet, Salina Godden, and people were utterly captivated.
In 1958 (Allen) Ginsberg gave a reading with Corso, and someone was reading before them and Corso shouted, "This is not real poetry!", and when he was asked what real poetry was, he stripped naked, stood up, read his poems, and he had two friends who acted like bodyguards, who threatened to beat anyone up if they left during the recital.  And then Ginsberg followed naked, and that was when William Burroughs gave his first reading of 'Naked lunch' and George said, "No-one knew whether to laugh or be sick".
Imtiaz Dharker:
I think that's an interesting point as well, because it raises the question of what is real poetry?  And I think nowadays, the idea of what is real poetry is wider and wider, and as such, makes exciting times.  I find these very exciting times, because the idea of poetry is bigger and bigger now.
Ben Holden:
Imtiaz, you talked about poetry in the context of time, and you've said there's this capability of poetry to loop time.  In the context of Simon and 'Poetry Live!', is it fair to say that poetry brought you together, and it enabled you to live together with him?
Imtiaz Dharker:
Yes, I think that's absolutely true, because poetry has this whole feeling of presence and absence, the ability to use memory and time to keep time.  In a way, keeping time, it's like dance in a way.  I have this poem which is named after the sanskrit word for 'Beat', and I was thinking of a beat that accompanies a Khatak dancer.  If you think what the feet do, it's a moving outwards from a point and coming back to a central point; and for me, that's the whole idea that keeping time changes the idea of time; it's almost as if the timeline loops and time can co-exist, past and present.  And I feel in many ways that's what I'm doing in keeping Simon, keeping the person who's absent present, and it changes the ideas of loss and lost time.  And in the line between the beats is the ['Kali'?], the empty space, the sideways swipe of the hand, which is the absence, which is also very much part of the line itself - the presence - the silence between the line.
Ben Holden:
And Sylvia, your father lives on so abundantly in this shop, and memory is a constantly a provisional act; memory lives in the present, and the books are characters of their own.  This place itself feels like a timewarp and when you walk in, you feel like you're in another dimension.  Again, for you, on a personal level, he's still here - that must be quite comforting?
Sylvia Whitman:
Yes, absolutely.  You do feel not only his aesthetic in the shop, he always wanted gaps between the shelves, so that one reader could exchange a glance with another reader on the other side, very romantic; but then also his values.  The citation 'Live for humanity' painted on the step going into the fiction room - I feel that not only in the way the bookshop looks, but also in the values that the bookshop is founded on, and I hope we are continuing that today.
~
Imtiaz Dharker reads her poem, 'The trick'.
In a wasted time, it's only when I sleep
that all my senses come awake. In the wake
of you, let day not break. Let me keep
the scent, the weight, the bright of you, take
the countless hours and count them all night through
till that time omes when you come to the door
of dreams, carrying oranges that cast a glow
up into your face. Greedy for more
than the gift of seeing you, I lean in to taste
the colour, kiss it off your offered mouth.
for this, for this, I fall asleep in haste,
willing to fall for the trick that tells the truth
that even your shade makes darkest absence bright,
that shadows live where there is light.
Ben Holden:
Imtiaz, you've moved around a lot.  We've talked about London, Glasgow, Paris etc.  Carol Ann Duffy has said you would be the only candidate for world laureate if such a post were to exist, which I completely agree with.  And you've also said in one of your poems that you don't fit.  In verse, you said, "I don't fit, like a clumsily translated poem", but this sense of displacement, dislocation, being on the edge of things, and you've also called yourself a cultural 'mongrel'; this is all very positive though and it's the lifeblood of your work, isn't it?
Imtiaz Dharker:
I've always felt as if I'm hanging on by my fingernails, half understanding things and just about to fall off.  But in a way, I think that's quite good for a writer, not to be comfortable, not to feel you are safe in one place.  Even the idea of home in many ways, - what is home? Home is changing constantly.  Even for an exile, or a refugee, or for someone who has emigrated, they may have an idea of home that feels like a safe place, but, actually, home is gone behind their backs. All of that has changed. 
And Gertrude Stein again said:  "What good are roots unless you can take them with you?".  So, for me, home has always been the places where I find other writers, my relatives are ancestors in books, and that's why, in many ways, coming to a place like this is coming back to a huge family that I discover and rediscover another relative I didn't know I had, and that's what a place like this does. The randomness of it. The fact that you have safe places for a moment without knowing it. That you can walk into a dangerous area too, because that's what books are too, they're not about safety, they're about pushing you into dangerous ground as well, but that's what every place is; nowhere is ever just safe anymore, you don't want it to be; it has all kinds of traps and trip wires.  For me, this bookshop especially, to come back and find it, was a great moment.
Sylvia Whitman:
We just put a quote by James Baldwin in the window, I can't remember the exact quote, but the sense is you think you're in pain and lonely, and then you read. 
Ben Holden: 
The idea is you feel that what you're going through, and how you're feeling, is the first time anyone's ever been through this, and then you read.  And I think home, for me, as a construct only really exists when you're a child, and then it becomes a state of mind.  And Imtiaz, this place feels like home for you?
Imtiaz Dharker:
Yes, and I did recognise, first of all in the philosophy of the place and then everything I saw when I walked into it, I recognised that openness and that generosity which is what you wish for from home.
Ben Holden:
I have to ask, although we've talked about displacement being so key to your sensibilities, you're also very sharpened about topography and geography, and it's very important for your process.  What about the location of this shop? Have you been led here because of its geography and the faultlines underneath this store?
Imtiaz Dharker:
Yes, the idea of Paris and the idea that this shop is actually sitting on kilometre zero, which is the beginning of all roads in France, and if you look at it the other way, the end of all roads in France.  So, that seems to me such a beautiful, circular image for all of what we are doing which is journeying outwards and the possibility of back again, but it is kilometer zero, the dark heart of nothing.  I mean I see that as what is happening all of the time, the outward and the coming back.
Ben Holden:
I have to ask Sylvia also, Shakespeare and Company is obviously a landmark, but we're also opposite Notre Dame.  Now, Notre Dame is a husk of its former self and it's a sobering sight for us.  If you don't mind me asking, what was that day like for you?
Sylvia Whitman:
On the day, we received lots of messages from relatives and friends, and the only way I can describe it was that it was like watching the moon in the sky split in two.  And I realised that this building somehow seemed immovable for me, somehow it seemed impossible that anything could change about this building, so it was utterly shocking; it almost felt like a very horrible nightmare. We were very fortunate that we were about 15 minutes away from losing one of the towers and no-one died, so we're actually really lucky. 
Now, in the aftermath, there has been this sense of sadness looking at the building,..., and I do hope there will be a quick reconstruction, because it feels like an ill, lost friend at the moment.
Ben Holden:
There was a fairly major fire at the shop, am I right, in around 1990?
Sylvia Whitman:
Yes, there was, in this library; and in the midst of the fire, George came in and threw out his most precious books, because a lot of the library came from Simon De Beauvoir's English language library, so they were very precious to him.  But, in a very George-like way, the very next day, he re-opened, and said, "Don't mourn. Let's get back to business, let's organise!", so it was quite dramatic, but he kept going.
Ben Holden:
This shop is often full of tourists and all manner of people browsing.  How do you reconcile its position as a landmark with that sort of caché with visitors to Paris, but also with day to day functionality and its key role as a local, thriving bookstore?
Sylvia Whitman:
This is something that I think about every single day; it's a real challenge.  Whilst we're incredibly lucky to be a destination for people from around the world, and even a destination for people who wouldn't normally go to a bookshop, so it's a fantastic opportunity to showcase writers, books, publishers that we care about, and to meet people from around the world.  On the other side of this, it's a real priority for us to remain a local bookshop that is a nice and welcoming place for local readers and writers, and also a place where you can be comfortable browsing for hours, because isn't that one of the joys of being in an independent bookshop is that you're not pressured into buying something?  This library, in fact, the whole of the first floor, is not commercial, so the idea is that it is a space that people can come and sit and meet and read for 12 hours a day.
Ben Holden:
I love that you have a library in the bookshop and always have.  And it started with Sylvia and George predominantly as a lending library?
Sylvia Whitman:
Yes, Sylvia was much more organised; she actually had lending cards and she lent the books out.  Ours are really at people's disposal to pick up and read, but we don't encourage them to take them with them!  It's a really important part of the bookshop, and encourages the sense of this being a space that is not primarily commercial, and this was one of the most important things for George; and he felt he was following in the footsteps of Sylvia and creating a place that was more of a lending library than a commercial space, and he would indeed be quite irritated sometimes when people wanted to buy a book!
Imtiaz Dharker:
Do you have people now who come here and work on a whole manuscript?
Sylvia Whitman:
Yes, we do.  There's one man actually, I haven't dare ask him what he's working on, but I've seen him everyday for the last six months working in one corner or another.
Ben Holden:
Where do you think Shakespeare and Company is going?  With all the closures of independent bookshops, do you have any view on the landscape?  Also, do you have any other bookshops you like?
Sylvia Whitman:
So many! I'd like to do a world journey visiting all of the bookshops I'd like to see around the world, because there's so many and in extraordinary spaces, like a bookshop in a theatre, in a cathedral, or in a boat.  Like you, I feel instantly at home when I go into a bookshop.  It's as if there's a kind of unspoken community, we're all connected.
Ben Holden:
I'm also thinking about the digital age and how people are now consuming and buying books?
Sylvia Whitman:
Well, we have almost tripled in size and business in the last few years, and that's quite extraordinary, and it's made me think a lot about that direction and the responsibility that goes with that.  I have been trying to read a lot of books by Rebecca Solnit, such as 'Hope in the dark', as well as the books 'Utopia for realists' or 'Poetry for the future'.  They're books that are very informative about the reality of today, and yet not scaremongering, so there's a sense of hope. 
And so there's two ways we're doing that. One is trying to present books we really care about, through displays and events, that we think are important for people to read.  We've just put a quote from Rebecca Solnit downstairs that says inside the word emergency is the word emerge - from emergency new things come forth.  And I think the other way is to work with associations like Médecins Sans Frontières who are doing a lot for refugees, or Room to Read who create libraries in places where people don't have access to libraries, and Arts Emergency who put people in touch who are not from the literary world and want to break in, but have no contacts. 
In general, independent bookshops are revered in France; it's a wonderful country to exist as an independent bookshop - the river is lined with booksellers, there are over 1000 independent bookshops in Paris.  Last month, the French parliament passed a law against 'GAF attacks' which is an acronym for Google, Amazon, Facebook; these companies now have to pay a 3 % fee on revenue they make in France.  It's so inspiring, I'm so proud that this is a country that's taking action.  To re-establish fiscal justice is bringing the fiscal system into the 21st century.  There is no reason why one of these huge corporations shouldn't pay tax like anyone else with economic activity in France is paying.  I think this is one of the reasons independent bookshops are still thriving in France.
Ben Holden: 
Mitterand passed a law known as 'Langs Law', so that bigger booksellers couldn't undercut smaller, independent stores.
Sylvia: 
This is so valuable to us. It means that chains can't undercut more than 5% of the price of a new book. If feel there is a lot being done.
Ben Holden:
How do you order your bookshelves?  George, as I understand, didn't like to order alphabetically, which for a bookseller is, once again, extraordinary, but he preferred a more holistic approach?
Sylvia: 
Yes, he called these 'interesting marriages'; he'd have a history of the CIA next to a biography of Henry Miller.  (On Sylvia's personal book collection) They are alphabetised, but only the ones I've read.  They are friends, and I need to go back to them when I need to find a line I've read for me or a friend. But the books I haven't read are in total disaster piles and under the bed; it's chaos.
Imtiaz Dharker:
I'm with George on this; I don't put anything alphabetically, because in a lot of ways that wouldn't make sense to me.  It has to be clusters of things that go together, like poetry would be in one section and even in poetry, it would be books I think speak to each other. The books on my shelves are having constant conversations, I don't think they're ever really quiet; they are shuffling and whispering to each other all the time.
Then, of course, like you, I've got the books I haven't read yet; they're not even on shelves.  My books have gone off the shelves; there are not enough shelves to deal with them.  Some are stacked in clusters.  Occasionally, when they fall down, it's quite interesting because you get to look at another set of things and they have a new kind of conversation, a  kind of accidental conversation.
~
Ben Holden:
Now we might do a short tour, with the idea that Imtiaz, along the way, might browse the shelves with the serendipitous wonder that brings and choose a book.
~
Sylvia Whitman: 
This is the new poetry room.  There's a quote I love by Jeanette Winterson we've just put up that says:  "Fiction and poetry are medicines; they heal the rupture reality makes on the imagination."  We also have section for French poetry, love poetry, Beat poetry.  Have you read Ferlinghetti?
Imtiaz Dharker:
Oh yes.
Sylvia Whitman: 
He just turned 100, and so this is a new collection by 'New Directions' of his greatest poems.
Imtiaz Dharker:
He was a regular here, wasn't he?
Sylvia Whitman: 
It's really got the best collection of his poems here.  Just listen to this line from 'I am waiting':  "And I am awaiting perpetually and forever a renaissance of wonder."
I'll give you than one ('Ferlinghetti's greatest poems', published by New Directions).
Imtiaz Dharker:
I was going to have this one as the one I chose, thank you!
[END]
Thank you for listening to this Ex Libris podcast.
If you've enjoyed this episode, please rate, review and subscribe wherever it is you get your brainfood. That way, not only will you keep up with the podcasts, but you'll also help us champion libraries.  To find out more about the authors and venues, as well as libraries and independent bookshops, please visit our website:  www.exlibris.com  You can also get updates from me on twitter and instagram.  Find me @thatbenholden.
Write a really perceptive, nice review or shout loud enough about this episode on social media, and you could even win a signed copy of Imtiaz's latest two poetry collections:  'Over the mood' and 'Luck is the hook'.
Ex Libris is produced by Chris Sharp and Ben Holden.
Ex Libris is brought to you in association with The Lightbulb Trust - which illuminates lives via literacy and learning, providi